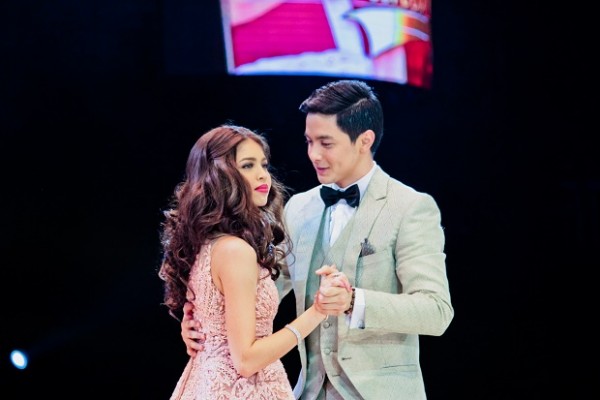 First, a disclosure: I've never seen a segment of #AlDub, and I have no interest in doing so. Of course it's impossible not to have heard of #AlDub, that unlikely pairing of rich boy and poor but pretty yaya that has become a popular trope on a noontime variety show, not to mention a global phenomenon for shattering Twitter records.
It is now being touted as a masterclass in marketing in the digital age, as well as a study of cultural and socio-anthropological attitudes in a hypersexualized Philippine society fuelled by constant titillation and immediate gratification.
Much has been written about how it's struck a chord with Filipinos for celebrating wholesome traditional Filipino values like patience, respect for elders, and chastity—values that have fallen by the wayside in favor of scantily-clad Playtime dancers simulating sex with congressmen and male celebrities dressed in butt-cheek-baring underwear strutting down a stage with a woman on a leash while the crowd roars with the enthusiastic delight of ancient Romans watching gladiators in combat, clubbing each other to the death at the ampitheater.
No, #AlDub is framed as a throwback to simpler times when courtships were old-fashioned, driven by pure feelings instead of tech and base desires. It's packaged as being about the virtues of restraint liberally seasoned with a sense of self-sacrifice and regard for the community. About waiting for the right time for true love to happen, because, you know, if you stare at each other long enough through split screens it could happen, just keep your libidos padlocked.
Some American even wrote about what the show could apparently teach the world, i.e., the values enumerated above.
While the article was praised by many and subsequently shared on countless Facebook status updates—Oooh look, this American "gets" Filipinos more than we do ourselves!—it struck me as a form of orientalism. Perhaps it was unintended, but it was a patronizing bit of commentary on the Filipino psyche, venerating those dismally outdated clichés of good-natured smiley-faced resilience in the light of cataclysmic calamities, the obsequious deferral to authority, the complete subjugation of the self to the family or community, etc., etc., etc.
Another disclosure: I couldn't read past the part that began to discuss Manny Pacquiao.
This may rankle some people, but #AlDub and that American observer's comments do hold up a mirror to who we really are as a people, and the image that it reflects back is of a nation that holds itself hostage to that very orientalism, to the point where we begin, to quote a friend of mine, "to believe our own exoticized versions of ourselves."
What rankles me about #AlDub and this whole "sa tamang panahon" message is the way it encourages passivity, dovetailing ever so conveniently with our "bahala na si Batman" fatalism. It keeps us perpetually stuck at the same stage of arrested development, disregarding the thing that is utterly viral to our own evolution as individuals and as a nation: a sense of agency.
I have read that the characters that make the #AlDub tandem have never physically met in fiction, nor brushed against each other surreptitiously, but their attraction to each other is palpable and authentic, shorn of the cynicism with which most onscreen love teams in these islands are manufactured and marketed.
However, some grandmother—a man in drag, now that's another popular comedic device in Philippine culture—is the one who decides whence the twain shall meet. As it turns out, the right time was last Saturday at a massive arena packed with fans who could barely contain their kilig levels when the two protagonists with a Deus ex machine of a grandmother/employer were finally allowed to meet, hold hands and serenade each other.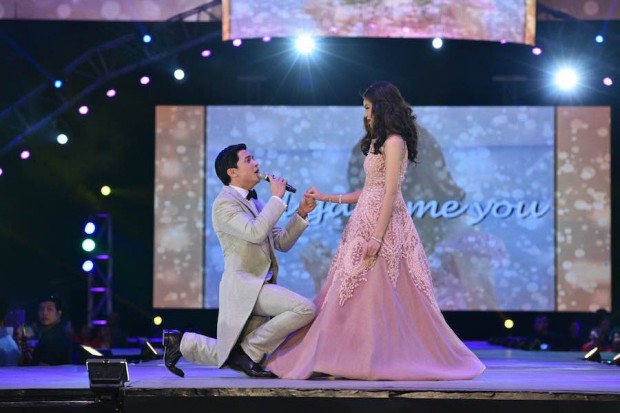 So far, so cute, so corny, and so dangerous. I won't even get into the politics of it all, much less the physics and the psychology of it all—all that energy to send 41 million tweets that were essentially about, well, how we are permanently trapped in a teenage fiction of our own making, wanting a happy ending, waiting for a happy ending, willing, but not necessarily working, for a happy ending.
Again, it all points to a sense of agency, in life in general and in romantic relationships in particular. Why does someone have to tell a girl and boy when the right time would be to meet? Why can't they determine for themselves when that would be? Why push this notion of chastity, when virginity is neither a prize nor a gift that a woman offers up to a man, but a physiological state she can imbue with as much symbolism as she chooses, one that she can "lose" when she decides she is ready to do so?
It's a mentality that's fucked many of us in the head, with women coming into relationships with unrealistic, fairy-tale expectations, and with men once more distinguishing "good" girls from "bad," marrying one kind and fooling around with another, the Madonna-whore dichotomy that has rendered many a marriage in this country sexless after the children are born. (Yet one party is almost always not celibate.)
We all need to grow up and learn to have healthy, open discussions about love and sex. We all need to understand that the opposite of prudery is not libertinism or promiscuity, it's discernment and judgement. Choose whom you love and whom you sleep with—they're not necessarily always the same person—foolishly or wisely, giddily or soberly, but make it your choice, your decision.
I'm willing to bet that hours after the #AlDub spectacle ended last week, late in the night, quite a few people trawled Grindr or Tinder for a hook-up, or stared at the fleshy appendages thrusting on their screens and masturbated to Internet porn. Maybe some of them even fantasized about Alden or Yaya Dub while they were at it.
Just like teenagers.
B. Wiser is the author of Making Love in Spanish, a novel published earlier this year by Anvil Publishing and available in National Book Store and Powerbooks, as well as online. When not assuming her Sasha Fierce alter-ego, she takes on the role of serious journalist and media consultant.
For comments and questions, e-mail [email protected].
Photo courtesy of Inquirer.net