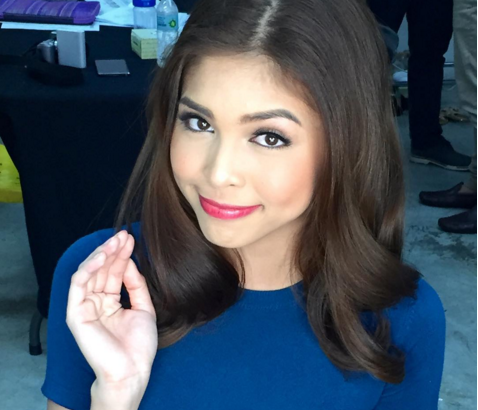 Leave it to the AlDub tandem to make everything go viral. In a 10-second clip, Maine Mendoza, also known as Yaya Dub, surprises a sad commuter riding a jeepney. The star opened up the window of her car and greets the guy in what could be an attempt to lift his spirits. This seemingly charming act, though, was met with doubt in the comments section after the video was uploaded. The guy, after all, was wearing a uniform from a fast food chain Maine is currently endorsing.
The video was taken from inside Main's car, and shows her eagerness to open up the window. "Kuya, bakit ang lungkot mo? Ngiti ka naman dyan! (Hey, why are you sad? Put a smile on that face, will you!)," she tells him. The sad-looking guy looks up and realizes it's really Maine—yes, just one-half of the sensation shattering worldwide Twitter records—greeting him while he was probably stuck in APEC traffic.
If the KalyeSerye's star's goal was to lift his spirits, she sure made his day as the guy grinned from ear to ear during the encounter.
Commenters were quick to say how "lucky" the guy was to chance upon the star and how truly "humble" she is. But one pointed out:"[McDonald's] crew ata si kuya (He looks like he's part of the Mcdonald's crew)." This happens to be one of Maine's current endorsements.
In yet another controversy last week, Maine was said to be misguided in her support for the lumads, as shown in a photo, which circulated online.
A subtle marketing strategy, you say? No one really knows and not a lot seems to mind. But whether this was a genuine act from the DubSmash star or a well-thought out marketing stint, it sure went viral. Kudos to that AlDub magic.
[
Bandera
]
Photo courtesy of Maine Mendoza's Instagram account