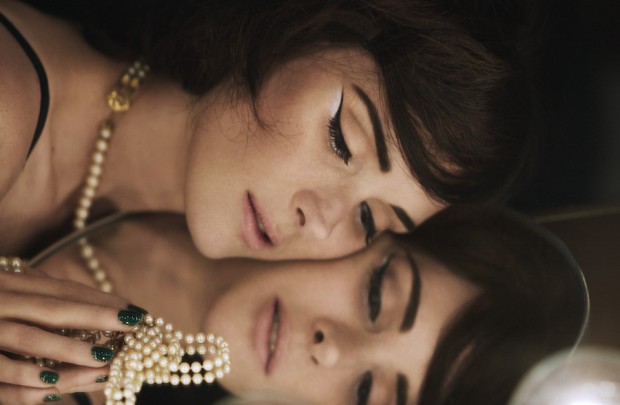 Winona Ryder has been keeping a low profile these days with her last major film appearance being 2010's Black Swan, resurfacing only earlier this year for Marc Jacobs' F/W 2015 campaign.
Well, looks like the designer can't get enough of his lithe, grungy muse since he's cast her as the face of his Marc Jacobs Beauty campaign—a first for the doe-eyed beauty.
The campaign was "leaked" by the designer himself on his Instagram account earlier today, with the announcement: "A brilliant mind, talent, and physical beauty like no other, I am delighted to share this image of Winona with my IG fans and followers today."
"I don't think I've ever done a beauty campaign before, so that's very flattering," she tells Allure in an exclusive interview. "[Marc] doesn't go for the cookie-cutter woman, for lack of a better expression. To me, all of his muses are gorgeous but in a very unique and ageless way." The campaign was a full-day affair shot by long-time Marc Jacobs collaborator David Sims with makeup by Diane Kendal, hair by Guido Palau, and styling by Katie Grand. While only one image has been released from the campaign, it appears to take inspiration from the glamorized flapper era. According to Multivu, a digital short by David featuring Winona will appear on the Marc Jacobs Beauty website come spring.  
"What I love about Marc—and there are many things—is that we both have a very similar penchant for past eras, and the history of fashion and culture," Winona notes.
On his Instagram account, Marc notes the film he took cues from for the campaign: I am reminded of one of my all time favorite films: The Last Year at Marienbad. The flawless cool, elegant and timeless chic of actress Delphine Seyrig has long been a reference of mine. The force of the surreal calm, and painstaking fetishistic polish of this film and its heroine are truly 'ON FLEEK' and continues to inspire me to date.
That she would ever front a beauty campaign comes as a complete surprise to the '90s icon, considering that she was often cast in "ugly duckling" roles early on in her career. "I was not considered a beauty. I was the opposite of what was going on in film. In the '80s, it was all about blonds (sic) and a very different look. The first five things I did, I was cast as what was literally described in the script as 'the ugly duckling.'"
In what planet would Winona ever be considered ugly? Oh, right: Hollywood.
Past showbiz transgressions aside, we're pretty sure now that no one would ever cast Winona on the wrong side of unattractive—I mean, the woman doesn't even need makeup to look beautiful. "You would think that by now, with what I do, I would know how to apply makeup. But I'm actually quite terrible at it and very, very lucky that I don't need to wear a lot in my everyday life. I've always just stuck to tinted moisturizer and you know…" she continues in her interview.
Of course, if she did have to pick one item from Marc's beauty line, it would be "the stick eye shadow [Twinkle Pop Stick Eyeshadow]. It's in a tube that you can roll up and it's really soft. It looks like a very thick, creamy eyeliner, but it's a shadow. I have this trick where I put it on and then wipe it away so it has that next day look."
Once a grunge girl, always a grunge girl. Never change, Wino.
[
Allure
]
Photo courtesy of Multivu