By now you're probably all shopped out with the sheer number of bazaars, sales, and promos that have practically been begging you to take out that credit card. However, there comes a point during your annual Christmas shopping when no deal is worth schlepping to the mall and navigating holiday traffic and packed parking lots.
Take it from us: skip the hassle and take your money to a place that knows no cashier checkout lines—online. Many websites have got a 12 Days of Christmas promo going on, but we all know that the best ones happen on the 12th day. Here are some of the best online deals that start when the clock strikes at 12, and last only until tomorrow at midnight.
May speedy Internet connections be ever in your favor.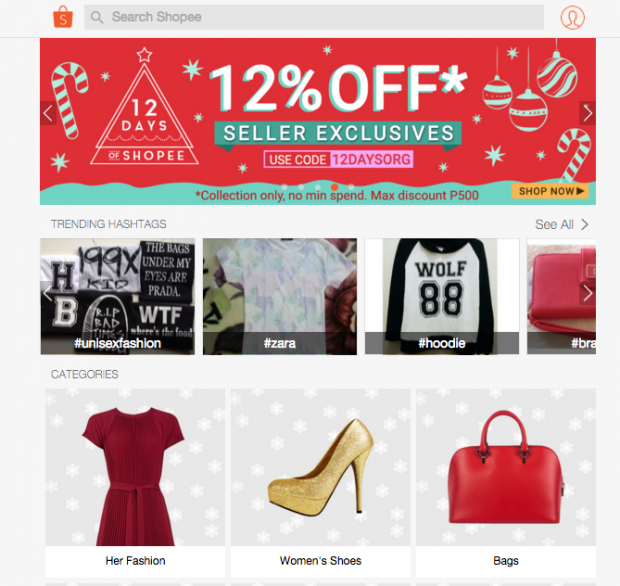 #12DaysofShopee Seller Exclusives
Shopee, Asia's newest smart and secure social mobile marketplace officially launched in the Philippines this week and already they've got some exclusive discounts to celebrate the 12th of December. Until tomorrow, the mobile online store is offering 12-percent off (with a minimum purchase of P500) from select merchants when you use the code 12DAYSORG. On top of that, you get a free gift when you shop with their favorite sellers.
If you get your order and it's not what you expected, you can rely on the Shopee Guarantee, which refunds buyers in full if products aren't received in the previously agreed-upon condition.
For more information, visit their official website, and download their app on iTunes and Google Play.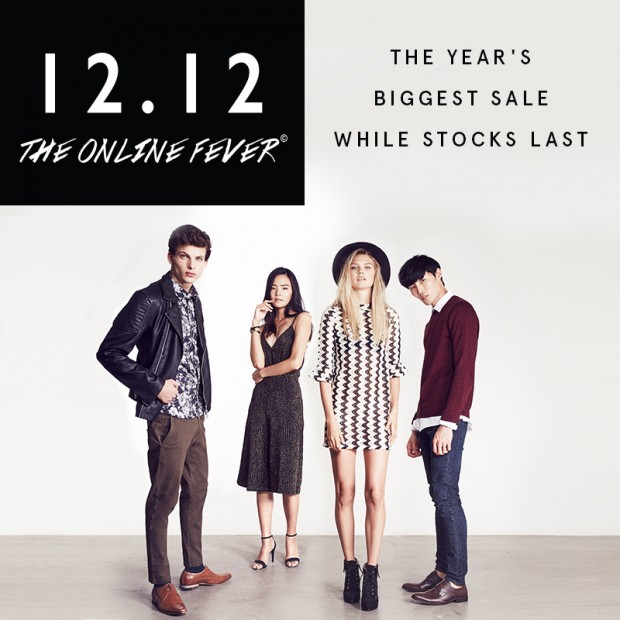 Zalora's 12.12 Online Fever
Zalora Philippines will be hosting the biggest online fashion sale in the country starting tonight, at midnight. Bringing back their annual 12.12 Online Fever, shoppers will get the chance to experience deals from online retailers spanning from fashion, food, beauty, and travel. The sale will go live on their website and mobile app. They've also got a 12.12 Lucky Dip contest going on with a P3,000 shopping spree at stake.
"This is the one day of the year when customers can expect the best fashion offers from both local and international brands that are available only on Zalora," said Paulo Campos, co-founder and managing director of Zalora Philippines.
For more information, visit their official website and download their app on iTunes and Google Play.

Lazada Grandest Christmas Sale
Lazada's Grandest Christmas Sale started last Dec. 10, but they're rolling out their biggest deals tomorrow (which is technically only a few hours away). You won't regret staying up late as you scan the site for sales that are up to a whopping 95-percent off on consumer electronics, home appliances, fashion, health and beauty, and travel and luggage. I mean, where else can you get a Microsoft Surface Standalone Tablet for P9,999; a Trinx Mountain Bike for P4,999; and a W7 HD WiFi Sports Action Camera for P1,949?
They've also got a fun virtual Spin the Wheel game, which allows shoppers to discover secret deals and discount vouchers that are applicable to any item on the site upon checkout. Plus, everyone gets unlimited spins, so you can keep those hopes up until Dec. 12 is over.
For more information, visit their official website and download their app on iTunes and Google Play.