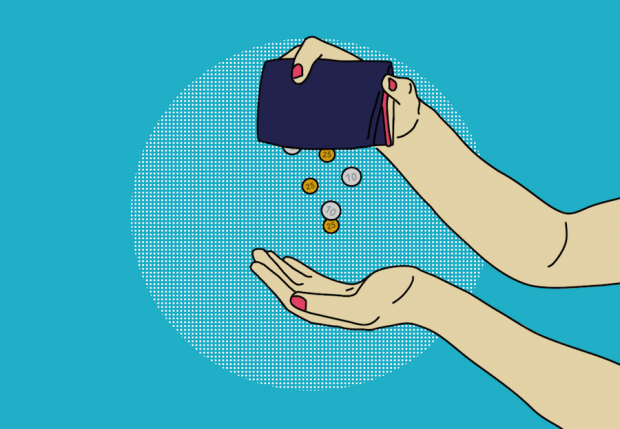 Welcome to Ask Poppy! I'm Poppy, your go-to girl for all of life's woes. And when I say ALL, I MEAN IT. I'm not an expert on anything except maybe for being me, which makes me totally qualified to do this.
Hi Poppy,
This is a very difficult problem. Do you ever find yourself with enough money to survive, but then all of a sudden, you're flat-out broke? I don't know what happens, Poppy. I have moolah in my wallet and by the end of the week, or right before my next paycheck, it all goes bye-bye. The worst part is, I don't even know where it went.
So yeah, like, I wanna save up and all but how do I do it? I'm uncontrollable and very, very bad with handling my own finances. I'm in my mid-20s and people have been saving up since they were babies! What do I do? I'm starting to be really worried now.
I'd treat you to dinner Poppy, but I'm broke AF.
—Tiff
Hey, Tiff!
The problem with us uncontrollable gastadoras is that there's just a lot of things that you can do with money. Living in a city with almost 10 malls all within a 30-minute drive, I just spend a lot of my waking moments walking around them, just looking at all the shit that those capitalists are throwing at my face.
Being a freelancer most of my life, I have NEVER experienced getting a Christmas bonus. I asked the love of my life the other day how it feels to get an extra month of pay without ACTUALLY DOING ANYTHING. He looked at me with his dead, stoned eyes and gave me another shitty quote from A Walk to Remember: "It is like the wind: you can't see it, but you can feel it." I wanted to punch his face, but he's cute and we both like Mandy Moore. He then explains that most of it just ends up paying for our dinners, his debts, gifts for other people, and buy new underwear. It's great that he pays for dinner, but sometimes he's stingy AF.
What I've learned from him is that he really keeps his finances in check, a thing that I have never done in my adult life. But girl, there's always an app for that. Personally, I use two apps: Spendbook and my local bank's online app. Spendbook is great because the interface is gorgeous and using it is a breeze. It's great that local banks are now keeping up with the times because their apps work well. After a couple of weeks of tracking your spending, you'd be horrified at how badly you manage your money and your life. Consider it your wake-up call because once you know where your money is going, you can easily adjust the way you live accordingly.
Screw your wants
Here's another tip, Tiff: Stop buying shit that you don't need. People used to tell me this, especially my mom who works hard as fuck for her monthly outlet shopping binges in New Jersey. BUT I WANT THEM, I would say to those who don't understand. But then now, I'm at a point where I don't know where to put my shit because my tiny apartment cannot handle all my geeky needs, like a Darth Vader helmet that lets you change your voice whenever you wear it. It's a $60 value that was on sale for only Php1,500. I was fucking singing "God Gave Me You" when I saw the price!
One other thing that really pushed me to build up a savings account is the fact that one day, I might have dengue. Tiff, have you ever had dengue? It's absolutely the worst. And you're going to have to spend a lot or else you'd die from lack of care. It's not only that. One day, some guy's sperm will travel up my uterus and stay comfy in there. What the hell would I do? If I decide to take care of it, I'm going to need money. If I decide to actually take care of it for the next nine months and well, forever, I'm going to need money.
The future is so fucking scary, man. You're going to have to be tough, Tiff.
Work, bitch
Let's say that you REALLY cannot handle your spending. What should you do? Strive for better pay. You can always get another job on the side, and another, and another. The way I see how my peers and I live, we're always doing something here and something there, and when you add those up, then you can really live the life you want.
Aside from what you're doing now, ask yourself what else can you do. Go old-school, the public teacher way and sell artisanal tocino to your officemates, or buy cheap stuff and make them look good in photos so you can price them higher on Instagram. The BIR does not know that you're making money off the 'Gram; use it to your advantage and profit from other people's poor judgment.
You know you can get your shit together; you just have to be prepared to work harder and change your lifestyle. It really takes a lot of will and determination to not end up poor and homeless.
All these material things, these fancy dinners, these unnecessary expenditures can lead to happy moments. But these happy moments are fleeting as fuck. Hanya Yanagihara wrote this in her book A Little Life: "You pounce upon the happy moments, you hold them up as proof—even though that one moment cannot compensate for all the other moments, the majority of moments."
As for me, I'd rather prepare for a better life than dwell on one happy moment that broke my bank. It's good that you're admitting that you have a problem with spending, and there's still time for us to fix this before life eventually knocks us cold.
We can do this, Tiff.
Stay #strong,
Poppy
Got a question for Poppy? From love and relationships to weird questions you dare not ask even your psychologist, Poppy is ready to answer them all. Send in your questions to [email protected] or post your question over Twitter or Instagram with the hashtag #AskPoppy, and you just might get the answer you are looking for.
Art by Dorothy Guya