We're just a few weeks shy of 2016. Bumper lights from cars in traffic seem brighter than the star perched on top of your tree. The jingles are louder, and the people are hustling more than ever.
But don't let that get to you. It's almost the end of the year, and you made it out alive. Take the breather you think you deserve. That may mean attending an event (or two or more) here below.
Food
#1 Kulinaria at Portico
Dec. 12, 4 p.m. to 11 p.m.
Sandstone, Portico Activity Area, Capt. Henry Javier Street, Orandbo, Pasig City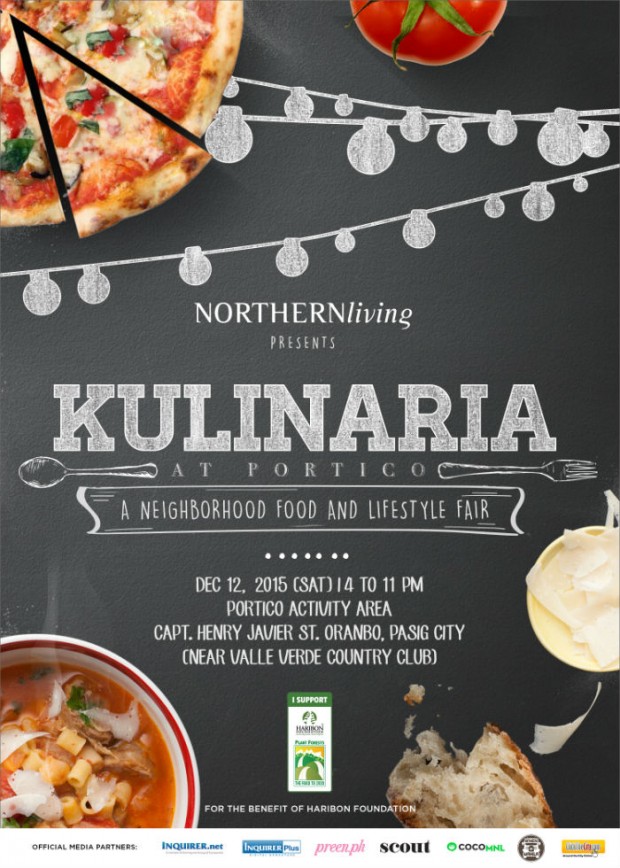 For a night of gastronomic relaxation, head over here and enjoy performances from Somedaydream, Olympia, Paolo Mallari, and Niki Colet. Participating food stalls include Tatang's Cebu Lechon, Rodrigo's Roast Beef, and Skull & Bones.
#2 La Feria BGC Urban Marketfest 
Dec. 12  to 13, 3:30 p.m. to 12 m.n.
Terra 28 Park, 28th Street, Bonifacio Global City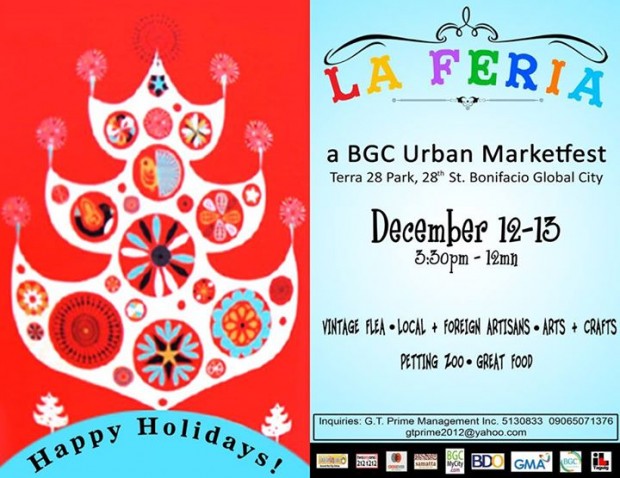 It's the ultimate weekend affair with a backyard outdoor cinema, vintage flea market, arts and crafts, petting zoo, and of course, great food.
#3 Sweet Saturday at Garage 88
Dec. 12, 10 p.m. to 12 m.n.
Garage 88, 2/F Karport Compound, 32nd Street, Bonifacio Global City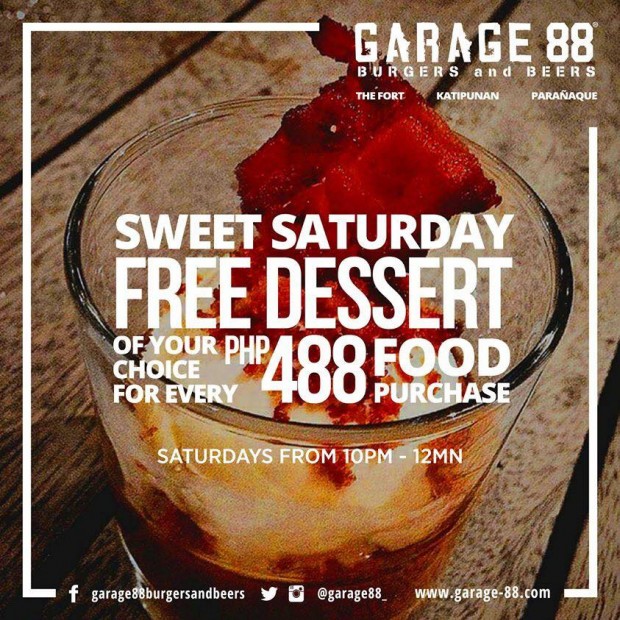 If only every Saturday were as sweet as free desserts. For every minimum purchase, Garage 88 treats you to a complimentary dessert of your choice.
Art
#1 HOHOL: Zine Edition
Dec. 12, 3 p.m.
Pablo Gallery, Cubao Expo, General Romulo Avenue, Cubao, Quezon City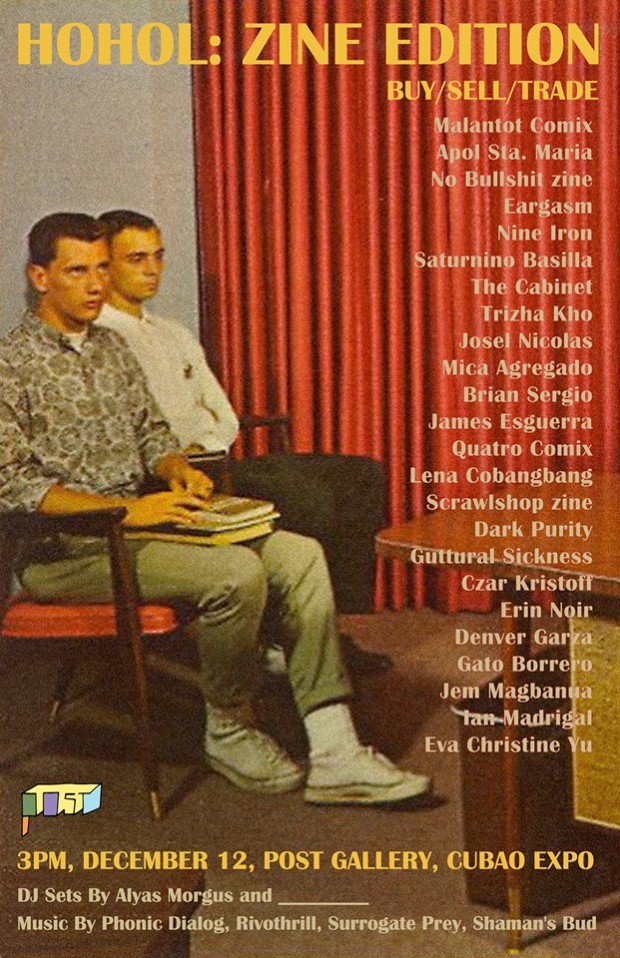 Feeling eccentric? Head up north for an array of zines, comic books, arts, and trinkets available for trade and sell. Phonic Dialog, Shaman's Bud, Surrogate Prey, and Rivothrill are also performing.
#2 Bangkal Paintings
Dec. 12, 6 p.m.
Makati Cinema Square, Chino Roces Avenue, Legazpi Village, Makati City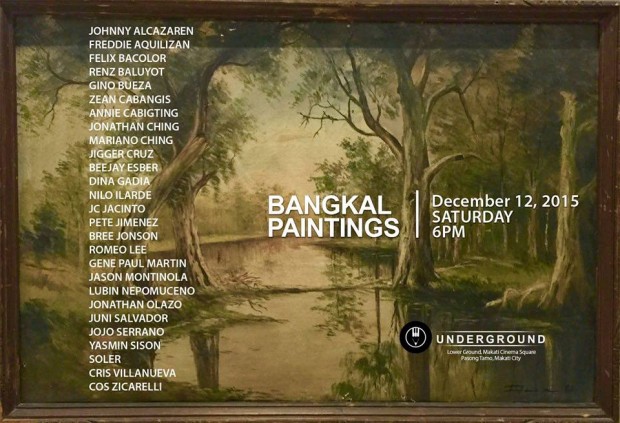 Underground, a quaint gallery in the heart of Makati Cinema Square, launches its Bangkal Paintaings exhibit, with more than 20 artists, as curated by Nihilo Ilarde.
#3 End AIDS Photography Exhibit
Dec. 5 to 19
Pineapple Lab, 6071 Palma Street, Poblacion Village, Makati City
In commemoration of World AIDS Day last Dec. 1, Project Headshot Clinic is opening its impactful COMMIT photo exhibit to the public, featuring personalities such as Carlos Celdran, Paulo Avelino, and Daiana Menezes.
Launches
#1 Bershka Holiday Style 2015
Dec. 12, 6 p.m.
Bershka, SM Aura, McKinley Parkway, Bonifacio Global City
Staple brand Bershka is celebrating another year of fashion chic with good, drinks, and music. Expect partners Red Mango, Bobbi Brown, Beyond Yoga, J. Co, and more to make the experience more worthwhile.
Parties
#1 Sonic Carnival Feast on Sounds
Dec. 13
SM Mall of Asia Concert Grounds, Ocean Drive, Pasay City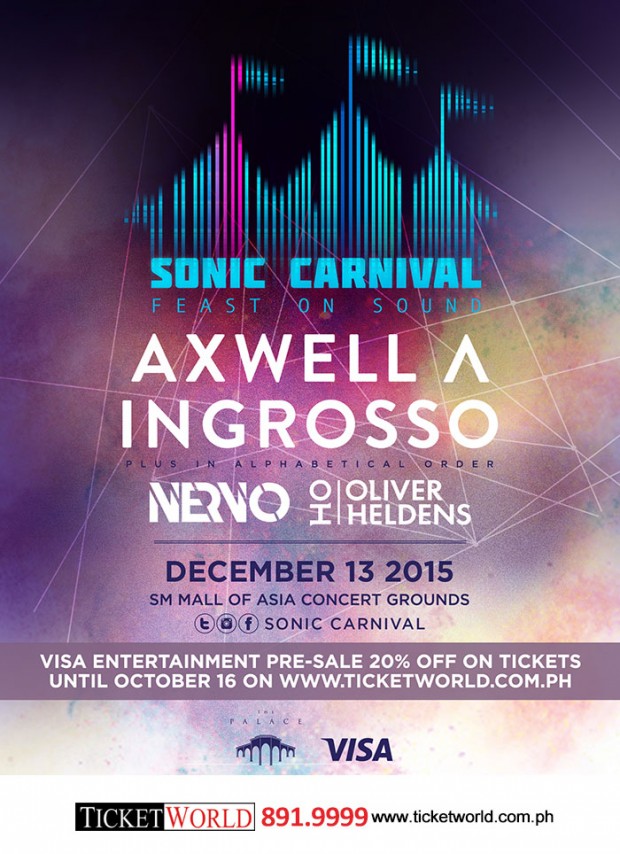 The party circus is back in town for the third annual Sonic Carnival, and it's packing more punch than ever, with seasoned DJs Axwell and Ingrosso, NERVO, and DVBSS.
#2 Saturday Shindig at Reserve
Dec. 12, 11 p.m. onwards
Reserve Gastro Tavern, Burgos Circle, Forbestown, Bonifacio Global City
Head down to Burgos Circle's favorite gastro tavern to witness "Manila's Top DJs on Rotation," Rammy Bitong and Alex Wong.
Film
#1 Alagwa
Dec. 11
Teatrino, Promenade, Missouri Street, San Juan City
A 2012 Filipino drama film about a father struggling to search for his lost child in the city makes a one-night-only return.
#2 Sleepless by Prime Cruz
Dec. 11
Teatrino, Promenade, Missouri Street, San Juan City
Voted "QCIFF2015 NETPAC'S Jury Best Picture, Sleepless is screening this weekend, plus a Q&A after with the cast including Glaiza de Castro and Dominic Rocco.
#3 Chasing Ice at Ateneo De Manila University
Dec. 13, 2 p.m.
Escaler Hall, Ateneo De Manila University, Katipunan Avenue, Quezon City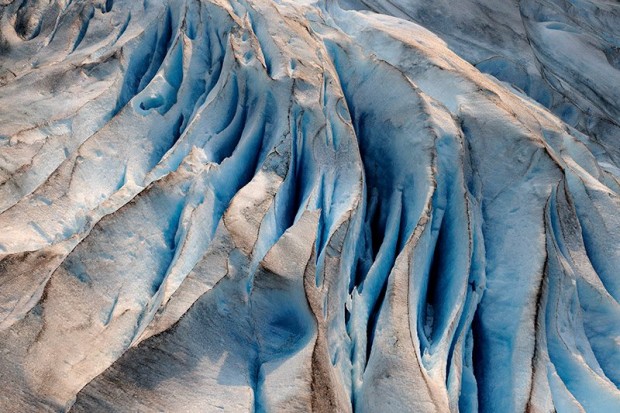 The full-length eye-opener makes its debut at Ateneo de Manila University. It follows the connection between melting ice and the rising sea levels in our beloved archipelago, as directed by Wendy Clavano.
#4 Creed
Dec. 11
All SM, Ayala, and Robinsons Cinemas
The movie that follows the journey of boxing champion Apollo Creed, who seeks training from the legendary Rocky Balboa opens this weekend.
#5 The 33
Dec. 11
All SM, Ayala, and Robinsons Cinemas
Another film opening this weekend is 33, documenting the disaster that shook Chile and the world last 2010 when a goldmine collapsed and trapped 33 miners. This is their ode to survival and the human spirit.
Theater
#1 Children's Plays for Adults
Dec. 12 and 13, 3 p.m. and 6 p.m.
Power Mac Spotlight, H. Santos Street, Makati City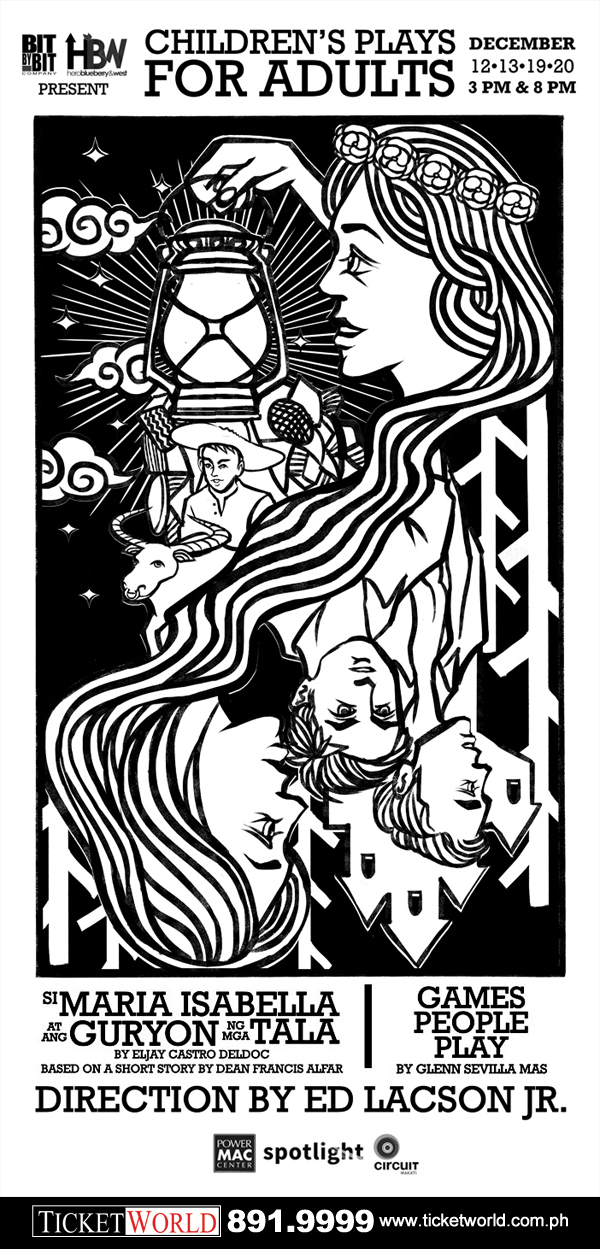 Two of the year's must-watch plays open this weekend. Si Maria Isabella at ang Guryon ng mga Tala by Eljay Castro Deldoc tells the story of a young girl who embarks on a 60-year quest to build a large kite to help her fulfill her goal of becoming a star in the sky, and Games People Play by Glenn Sevilla Mas, about three characters who revisit their childhood.
Shopping
#1 15th Global Pinoy Bazaar
Dec. 11 to 13, 10 a.m. to 10 p.m.
Glorietta Mall, Office Drive, Makati City
With the theme "Celebrating Filipino Christmas," the 15th Global Pinoy Bazaar will feature different clothing, accessories, footwear, home ware, personal care, art and design, food and beverage.
#2 Grand Christmas Bazaar
Dec. 11 to 13, 11 a.m. to 9 p.m.
Elements, Eton Centris, EDSA corner Quezon Avenue, Quezon City
Enjoy great bargains and shop for your Christmas presents at the Grand Christmas Bazaar. Eat great grub while you're there, too.
#3 Karl Edwards Bazaar
Dec. 12 to 13, 10 a.m. to 7 p.m.
Acacia Tent, Acacia Estates, Levi B. Mariano Avenue, Bonifacio Global City
For your Christmas shopping needs and great deals from the best urban shopping event in the city, head to the Karl Edward Bazaar.
Sports
#1 I Run for Integrity
Dec. 12
Liwasang Ullalim, CCP Complex, Pasay City
Be one of the 12,000 runners participating in this historical running event, supported by the Integrity Initiative, against corruption.