It feels like it was only yesterday when we were counting down to the 25th. Now that it's actually just around the corner—barely 24 hours before the midnight feast begins!—we'd like to make sure this Christmas is a lot more enjoyable for you.
If you're tired of the usual house-hopping, mass-attending routines this time of year, how about you take a trip to a new digital theme park or get cultured at nearby art exhibits?
We've rounded up a list of things you can do from tomorrow till Sunday.
Performances
#1 Christmas Eve with Bleu Rascals
Dec. 25, 8:30 p.m. to 11:55 p.m.
SM By The Bay, Seaside Boulevard, Mall of Asia, Complex, Pasay City
What better way to spend Christmas day than by cozying up to cool performances by the Bleu Rascals? The all-Filipino trio serves up Texas-Style blues that trigger nostalgia and memories of good, carefree days.
#2 Marlisa Punzalan Live
Dec. 26, 7 p.m.
Venice Piazza, McKinley Hill, Taguig City
Winner of the sixth season of X Factor Australia, Marlisa Punzalan returns to Manila to promote her latest singles "Unstoppable" and "Forever Young" in her live concert.
Parties
#1 Ugly Christmas Sweater Party
Dec. 25, 10 p.m.
Black Market, Warehouse 5, La Fuerza Compound 2, Sabio Street, Makati City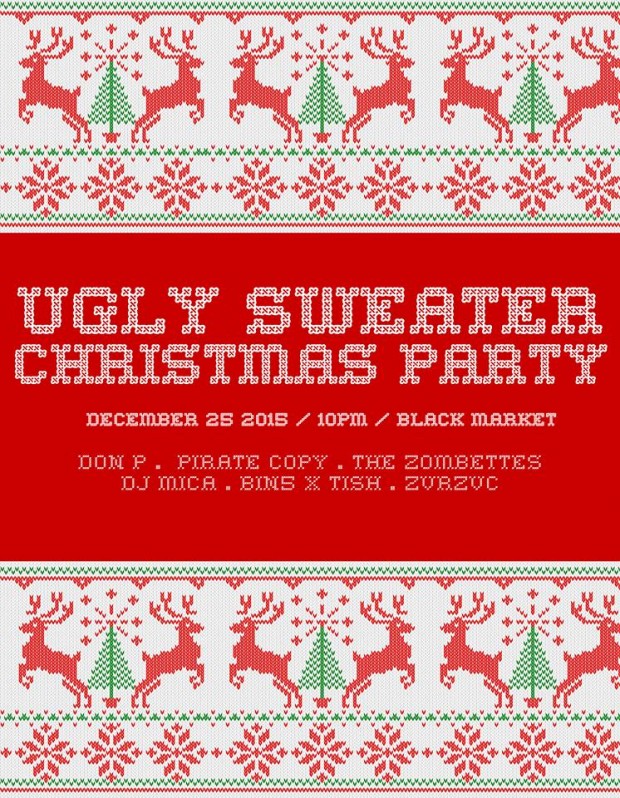 Christmas sweaters don't always have to be so embarrassing. Wear the ugliest, funniest one you have and party to tunes by The Zombettes and Don P over at Black Market.
#2 Council
Dec. 25, 10 p.m.
The Brewery, The Palace, 10th Avenue corner 38th Avenue, Bonifacio Global City, Taguig
It's an eventful weekend at the Brewery! We suggest you drop by this Saturday to complete your Christmas agenda, and catch a gig of this rising act.
#3 Skye Saturdays
Dec. 26, 10 p.m. onwards
Roofdeck, W High Street Building, 28th Street corner 11th Avenue, Bonifacio Global City, Taguig
Get your weekly dose of house and electronic dance music at Manila's first roof deck bar! Expect exciting beats by DJs David Ardiente and Angel Villarote.
#4 Wild Out
Dec. 26, 10 p.m. onwards
URBN Bar and Kitchen, 3rd Floor, Fort Point II Building, 28th Street, Bonifacio Global City, Taguig
If you've been nice all year long, it's time to get naughty at URBN's Wild Out! This bar knows how to throw a party all the time, so bounce back to your beat-hitting shindigs right after your wholesome reunions.
Meet and Greets
#1 Meet and Greet Santa Live
Dec. 25 to 27, 4 p.m. to 7 p.m.
Robinsons Place Manila, Pedro Gil corner Adriatico Streets, Ermita, Manila
Tag the little ones along to a place where they can meet Santa while they still believe he's real. Get your photos taken with him as he tours around Robinsons Place for a three-hour meet-and-greet session.
Masses
#1 The Nativity of Our Lord Jesus Christ Mass
Dec. 25, 9 a.m., 4 p.m., and 5:30 p.m.
Fairview Terraces G, O Maligaya Drive Street, Quezon City
If you're not into the traditional masses held at churches, and if you've got a lot of holiday shopping left to do, hit two birds with one stone by attending mass at the Fairview Terraces—and hit the stores right after.
#2 Christmas High Mass
Dec. 25, 11 a.m.
Newport Performing Arts Theatre, Newport Mall, Resorts World Manila, Newport Boulevard, Pasay City
Resorts World will also be holding a high mass this Friday morning. Enjoy the change of scenery, and tag your returning relatives along to see Resorts World's grand interiors and posh restaurants after.
Food
#1 Train of Christmas Goodies
Ongoing until Dec. 29, from 12 p.m.
Newport Mall, Resorts World Manila, Newport Boulevard, Pasay City
Choose from a variety of holiday treats at this sweet bazaar hosted by Megaworld Lifestyle Malls! Local concessionaires are bringing diverse fare for you to choose from, and you can even still grab a few food gifts here, too.
#2 Prince Albert
Ongoing until Dec. 31
InterContinental Manila, Ayala Avenue, Makati City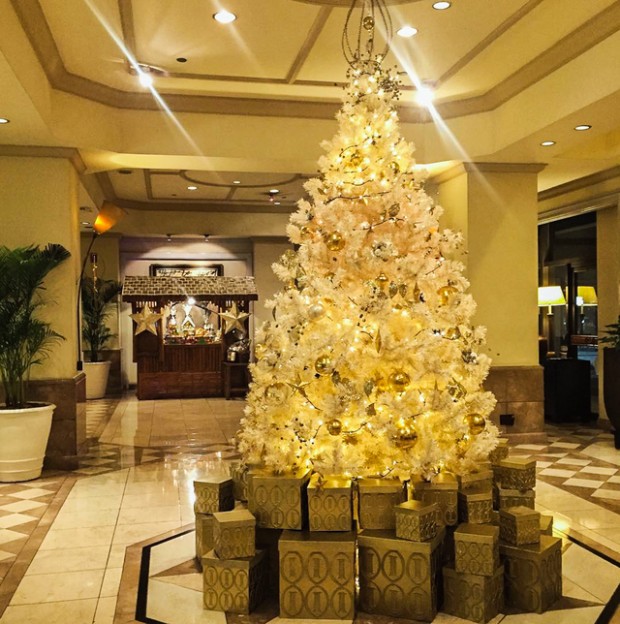 Unfortunately, the InterContinental Manila will be closing its doors by the end of the year. But before it ends, they made sure to hand out the complete recipe of the famed Crepe Samurai from Prince Albert. Simply order a plate of Crepe Samurai and it will be served with the free recipe!
Activities
#1 The Future Park
Dec. 25, 11 a.m. to 1:30 p.m, 2 p.m. to 4:30 p.m. and 5 p.m. to 7 p.m.
Century City Mall, Kalayaan Avenue corner Salamanca Street, Poblacion Village, Makati City
Be one of the first to try out the Philippines' first digitally interactive theme park! There will be a dazzling exhibit of games and installations that are sure to entertain everyone, from the littles ones to the grumpier relatives.
Lightshows
#1 Astreopora Light and Sound Art Installation
Ongoing until Jan. 10, 10 a.m. to 11 p.m.
Sky Park Lawn, SM Aura, McKinley Parkway, Taguig City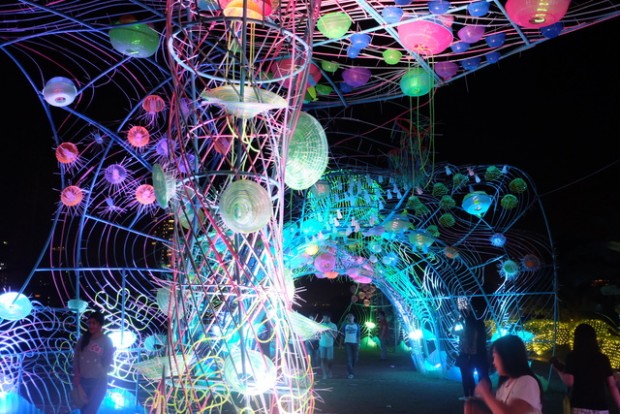 This breathtaking installation by Leeroy New celebrates the Philippines' major biodiversity and close connection to marine life.
#2 The Ayala Triangle Light Show 
Ongoing until Jan. 3, every 30 minutes from 6 p.m. to 9 p.m.
Ayala Triangle Gardens, Bel-Air Village, Makati City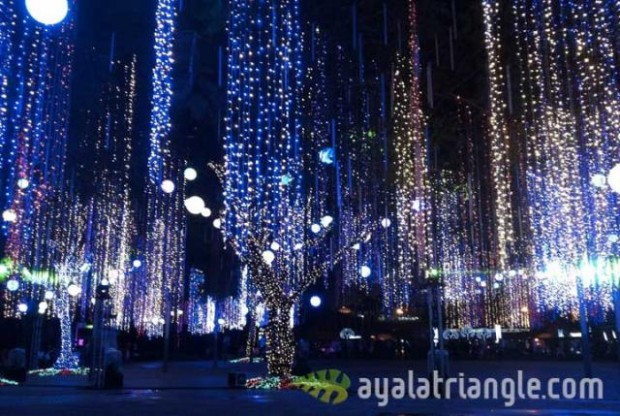 This year's theme "Beats and Hues" is unlike any other. With a variety of music genres from electronic dance music to jazz and to a hint of African rhythm, you're sure to have a great, bright evening here.
#3 Starlight Spectacular
Ongoing until Jan. 3, 7 p.m. onwards
Newport Mall, Resorts World Manila, Newport Boulevard, Pasay City
Catch a glimpse of what could probably be the biggest parol you'll find in the city. The beautiful piece features a fiberglass lantern and 2,000 dancing lights that will dazzle everyone who chances upon it.
Art Exhibits
#1 Pinoy Ultimate Jeepney 2015
Ongoing until Jan. 4
Newport Mall, Resorts World Manila, Newport Boulevard, Pasay City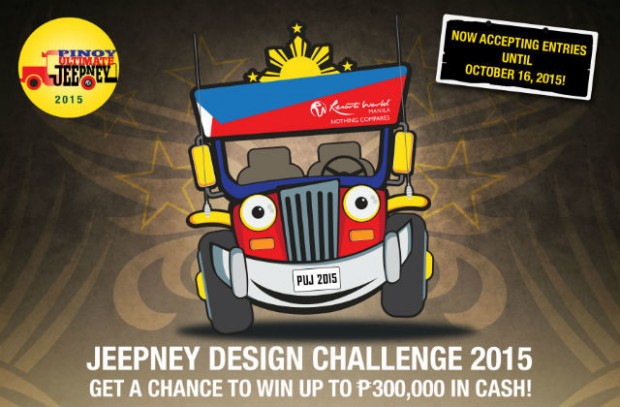 View local artists' jeepney design entries with the theme, "What Makes Pinoys Smile?" which pays homage to Bacolod's Maskara Festival. Also take part and cast your votes for your top PUJ design picks! We never know when these designs will come to our jeepneys soon, too.
Films
#1 Honor Thy Father
Dec. 25
All SM, Robinsons, and Ayala cinemas
Erik Matti is the guy you have to thank for bringing in non-traditional Christmas flicks back to local movie theaters. While everything else reeks of escapist slapstick comedies, his film focuses on the tragedies brought about by our immediate corrupt realities. (Also, you have to watch John Lloyd Cruz in his first daddy role ever.)
#2 #WalangForever
Dec. 25
All SM, Robinsons, and Ayala cinemas
Jennylyn Mercado has it all except romance that lasts a lifetime—in her upcoming film, at least. (We can see Dennis Trillo side-eyeing us here.) Directed by newly minted romcom maestro Dan Villegas, the film revolves around the oft-dropped hashtag about love today. Jericho Rosales stars alongside Jennylyn, and we're optimistic about how things will turn out.