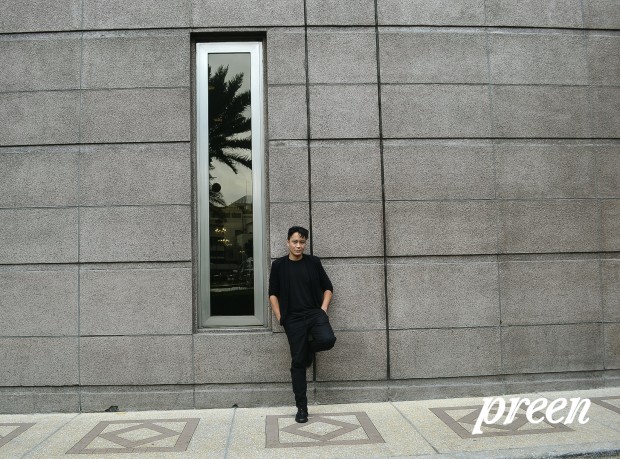 Robert Cordero is obsessed with the Instagram account fantasydressup.
And in the morning that I met him a day after landing in his home country, he had to show me what it was all about.
 I had to know why the New York-raised, multitasking Robert loved it: What inspires this NYC-based designer of BAMIN bags, natural entrepreneur, and regular contributor for titles like Business of Fashion? If learning about his drive meant indulging in his obsessions, I might as well ride on this buzz.
He eagerly handed his iPhone over. On it was a photo of a blonde Kim Kardashian wearing an oversized gray Céline coat. Something felt off—Kim K isn't this tall and thin. But something was genius here: the flawless manipulation, the playfulness, the inside joke that translates into a fashion possibility.
Robert identifies with many things. Before BAMIN, his affiliation with digital fashion companies, and his fixation on fantasydressup, he started out as a native of Iloilo, a globetrotting resident of NYC, and a Parsons graduate eager to navigate fashion's ecosystems.  
"I'm intensely curious," he says, explaining his brave jump into journalism back in 2005 as he juggled other entrepreneurial duties. "I like to learn about new things. I love consuming information that is very new to me."
"I try to tease out the most interesting part of [my subjects'] work," he says, gesturing later to the favorite pieces he penned. "I did a couple of stories on Business of Fashion called 'First Person.' It's about designers telling their stories.
"For me, as an entrepreneur, I learned a lot from writing their stories and speaking to these designers who tell me how they built their businesses. I did that before with Anya Hindmarch, Phillip Lim, and Rag and Bone."
In between jetsetting to places like Paris, Beijing, and London for interviews and coverage, it dawned on Robert what a tough industry fashion is. "It's not an easy business. I learned that the people in it are the most important part of the business. They have to be passionate about what they do."
That's why he's still here.
Robert is a staunch advocate of a customizable culture. His fashion brand BAMIN (Build and Make It Now) gives people utmost access to the product, inasmuch as letting its customers choose styles, materials, colors, and patterns of their liking.
"I wanted products that respond to a function and an aesthetic need. [What we have now are bags] that morph into whatever you're doing," explains Robert. "I make sure they always have a specific value to people's lives. A lot of the products out there don't have that functionality."
Like fantasydressup and the many other Tumblr and Instagram accounts that he digs, Robert practices a DIY ethos that speaks to tech-savvy shoppers enamored with their mobiles as they enjoy memes.
"[In fashion,] a lot of consumers are told what to do: You're told what to buy or what to wear by magazines and stores through trends," Robert muses. "But I wanted people to come and own their creativity."
That explains his giggles over Rihanna's perfect manip—old trends, looks, and faces are pieced together to make something good and new. Convinced that this is the way of the future, Robert just wants us to do the same thing with fashion, and our choices, too.
 See Robert Cordero's designs by visiting BAMIN's official website.
Photos by Acushla Obusan