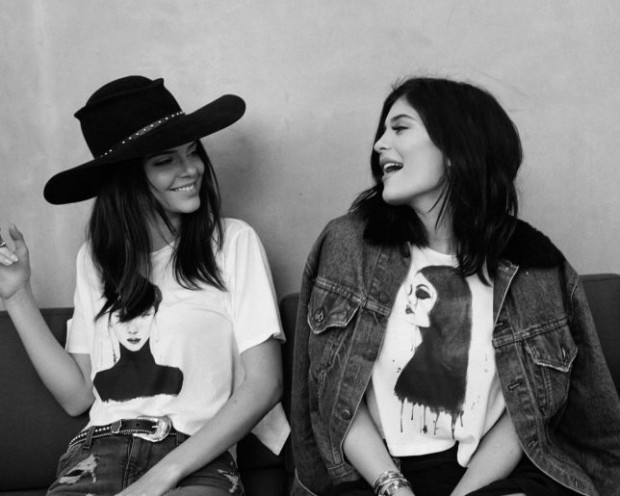 Kylie Jenner, with her sister Kendall, gives you first-hand tips on how to look fab on New Year's Eve—that goes for your outfit and makeup! You might just have a day to practice this look so our girls tell you just how they'll do theirs.
For the outfit, Kylie wants you to "make sure the outfit captures how you want to feel in the new year." The makeup is where she gets down and dirty on the details. "[Do] a dramatic eye, maybe try something that's smoky or sexy. I think it's fun to experiment with lip colors on NYE for a fun evening party look. A bordeaux lip is a good twist on red or something on the darker side," she explains in full.
2015 was a good year both and they sure should pay homage to the year that was by looking this chic. While Kendall was busy taking her modeling career to an all-time high, Kylie was focusing on selling out her Lip Kit by Kylie set in 30 second and basically just taking over all of social media. But busy as they may be, these two young girls plan to celebrate New Year's Eve just like any of us—surrounded by loved ones and friends.
When Nylon asked the sisters about what their plans are, Kylie answered, "Definitely with my friends. I like to be dressed up and celebrate and get excited for what's ahead." But it isn't just all about partying for her. "NYE is my time to reflect on everything that happened in the year before and envision how I want to grow," the 18-year-old says.
Kendall shares the same sentiments on how to welcome the big day. "I've had plenty of fun NYE nights just being surrounded by friends and family for something more intimate." For her it's about the company. "Sometimes it's good to avoid the crowds and plan a gathering with the people you know are easy to be around and are always down to have a good night," the 20-year-old model adds.
Looks like we're about to have a New Year's Day, Jenner-style!
[
Nylon
]
Photos courtesy of Nylon