And just like that, the year is over. It's now time to recycle those unfulfilled New Year's resolutions for 2015 and strive to do them next year. It's also time for another round of holiday feasting and then some.
But if you're tired of the annual holiday routine, we have a roundup of things you can do as you anticipate the new year. How about attending a huge NYE countdown at the hottest clubs or a decadent dinner for two at a luxe hotel? Or, ditch the NYE thrill all together and catch up on award-winning Metro Manila Film Fest flicks?
As you go all out with the old and in with the new, see what's good in our list below.
Music 
#1 Bass Jackers
Dec. 31, 10 p.m. onwards
Chaos Manila, City of Dreams Manila, Roxas Boulevard, Pasay City
Usher in 2016 with a crazed party at Chaos Manila with the renowned EDM duo Back Jackers.
#2 Top Suzara 
Jan. 2, 10 p.m. onwards
5/F 12 Monkeys Music Hall and Pub, Century City Mall, Kalayaan Avenue, Makati City
After the New Year's Day parties, settle down as Top Suzara, Freestyle's ex-vocalist, croons to you with his own hits.
#3 Otto Knows
Jan. 2, 11 p.m.
Chaos Manila, City of Dreams Manila, Asean Avenue corner Roxas Boulevard, Pasay City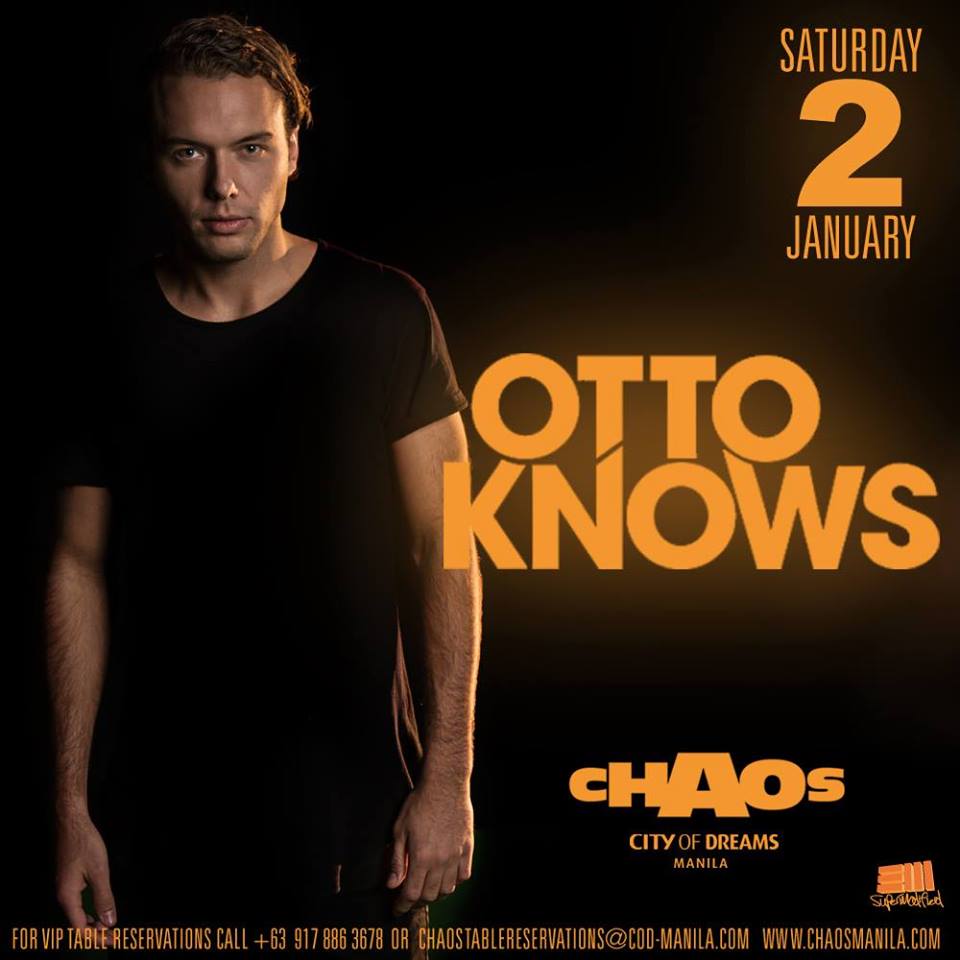 If you still have the new year adrenaline, you can party it up with Swedish DJ Otto Knows at Chaos Manila.
Shopping
#1 Christmas Tiangge 2015
Ongoing until Jan. 1, 8:30 a.m. to 8:30 p.m.
G/F RFC Mall, Molino Road, Las Pinas City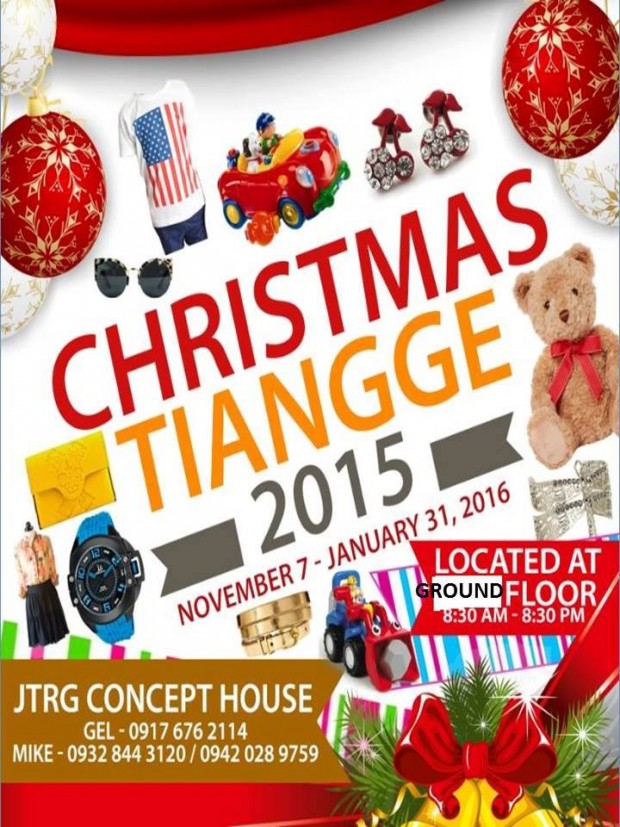 Head down south to catch the last bit of the holiday sales! Clothes and other finds are in their best (read: lowest!) prices here.
#2 Christmas Bazaar
Ongoing until Jan. 7, 10 a.m. to 9 p.m.
Robinsons Novaliches, Quirino Highway corner Maligaya Drive, Novaliches, Quezon City
But if you're residing up north, check out this Christmas bazaar near you instead. Fun activities such as dance contests and stand-up comedy shows await you.
#3 Christmassaya 2015 Bazaar
Ongoing until Jan. 17, 2 p.m. to 12 m.n. on weekdays and 2 p.m. to 2 a.m. on weekends
Riverbanks Center, A. Bonifacio Avenue, Barangka, Marikina City
See what's good over at the Christmassaya Bazaar, where a whopping 400 stalls will be catering to you and your many needs.
New Year's Eve Countdowns
#1 New Year At Spiral
Dec. 31, 12 p.m. onwards
Sofitel Philippine Plaza, CCP Complex, Roxas Boulevard, Pasay City
In case your family's all about breaking old habits, here's a luxurious and proper way of welcoming the new year. Enjoy free-flowing champagne and a decadent dinner at Spiral.
#2 New Year's Eve Gala Ball at Discovery Primea
Dec. 31, 6 p.m. onwards
Discovery Primea, 6749 Ayala Avenue, Makati City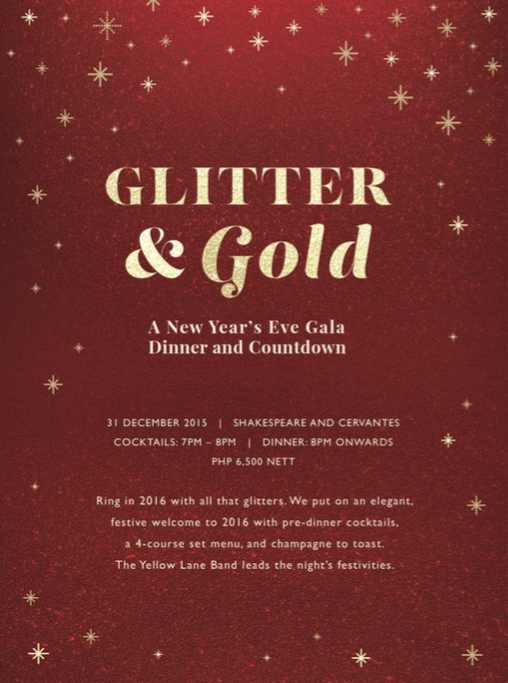 A "Glitter and Gold" gala ball is being held at Discovery Primea tonight. Feast on an indulgent fare of Foie Gras Confit, Lobster Bisque, Grilled U.S. Prime Rib eye, and Hazelnut Ice Cream in Berries and Orange Reduction. Is your mouth watering yet?
#2 Sulong Manila Countdown 2015
Dec. 31, 9:30 p.m.
Rajah Soliman, Roxas Boulevard, Manila City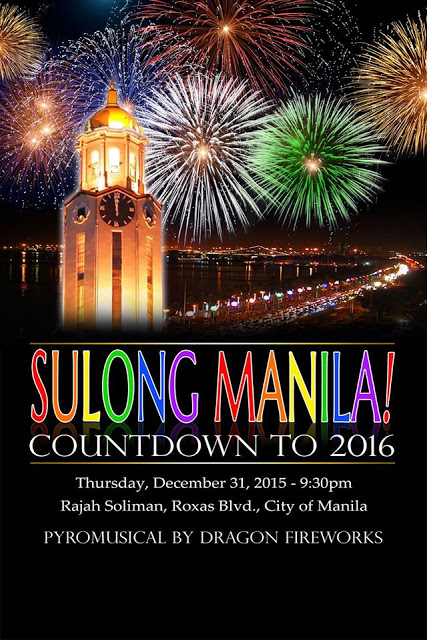 Take part in one of the biggest NYE countdowns with a huge pyromusical display.
#3 Revel's New Year's Eve Ball
Dec. 31, 10 p.m. onwards
Revel At The Palace, 11th Avenue corner 38th Street, Uptown Bonifacio, Taguig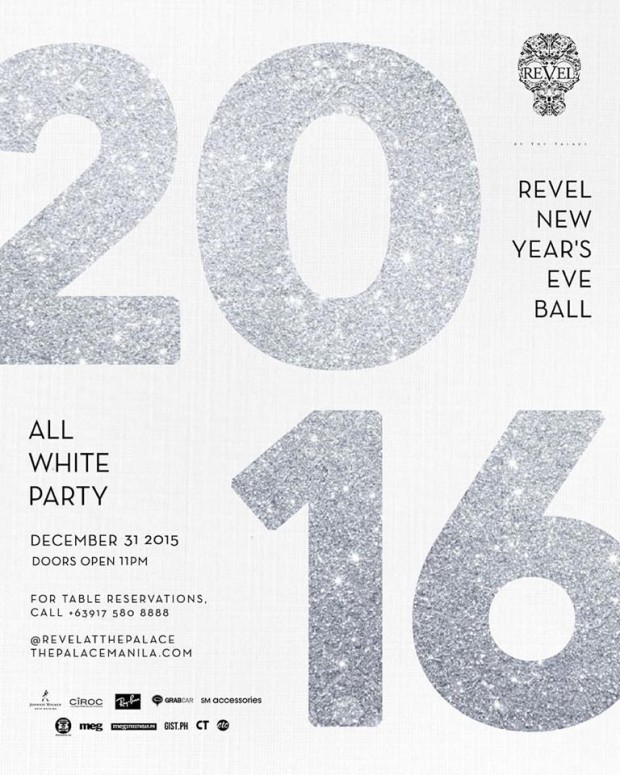 Book your reservations stat because we hear they're almost full! Don't forget to deck yourself out in your best white outfit possible—it's like going to your high school prom, only with high-class booze and sans all the awkwardness.
#4 Meet Me At Midnight
Dec. 31, 10 p.m. onwards
The Palace Pool Club, 11th Avenue corner 38th Street, Uptown Taguig, Bonifacio Global City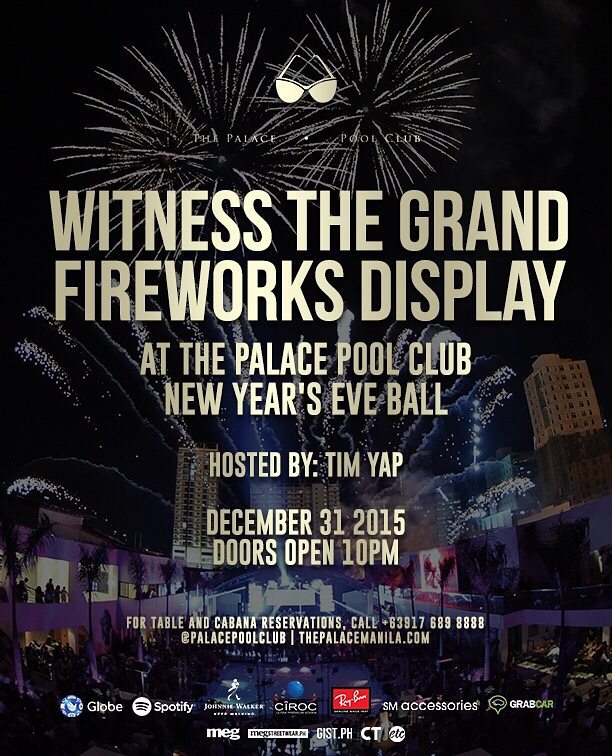 Meet your muse at midnight and enjoy the grand firework display at the Palace Pool Club. Hosted by Tim Yap, this party will be igniting sparks more than those pyrotechnics.
#5 NYE Train Wreck Ball 2016
Dec. 31, 11 p.m. onwards
Black Market, Warehouse 5, La Fuerza Compound 2, Sabio Street, Makati City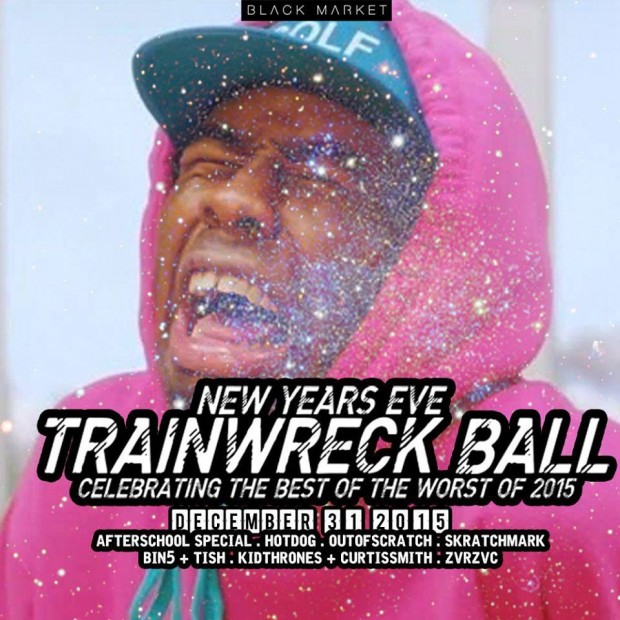 We all sorta, kinda, maybe stumbled through 2015—and who said that's a bad thing? Here's a place to give cheers to the mistakes you made because hey, 2016 might just be a better year.
#6 Year End Countdown with DJ Mia Fernandez
Dec. 31, 11 p.m. to 1 a.m.
The Distillery Eastwood, Eastwood City, E. Rodriguez Avenue, Bagumbayan, Quezon City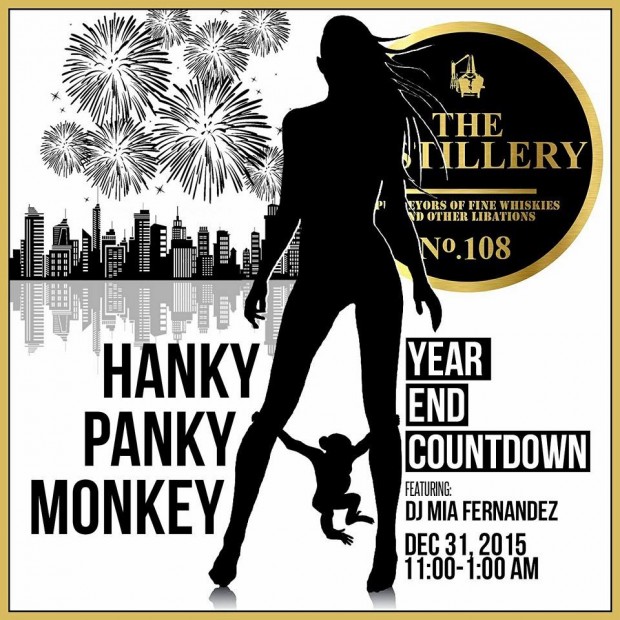 It's always some hanky panky monkey business with DJ Mia Fernandez up on deck!
#7 A New Year State of Mind 
Dec. 31, 11 p.m. onwards
Diamond Hotel, Roxas Boulevard, Manila City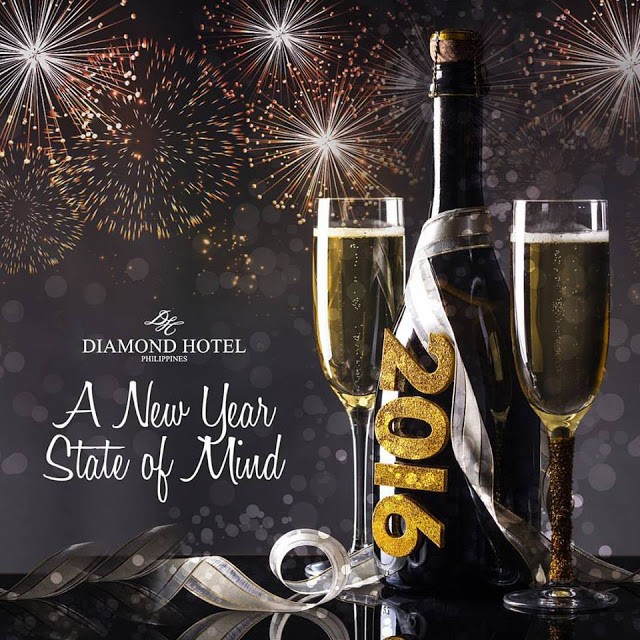 If you're not into the New Year's Eve clubbing scene, how about you grab your partner (romantic or otherwise) to a relaxing dinner for two at Diamond Hotel?
Films
#1 Nilalang
Dec. 31
SM, Robinsons, and Ayala cinemas
Watch Japanese actress Maria Ozawa star in her first ever Filipino film next to Cesar Montano in this spooky action horror flick.
#2 Walang Forever
Dec. 31
SM, Robinsons, and Ayala cinemas
This romcom starring Jericho Rosales and Jennylyn Mercado will definitely tug at your heartstrings.