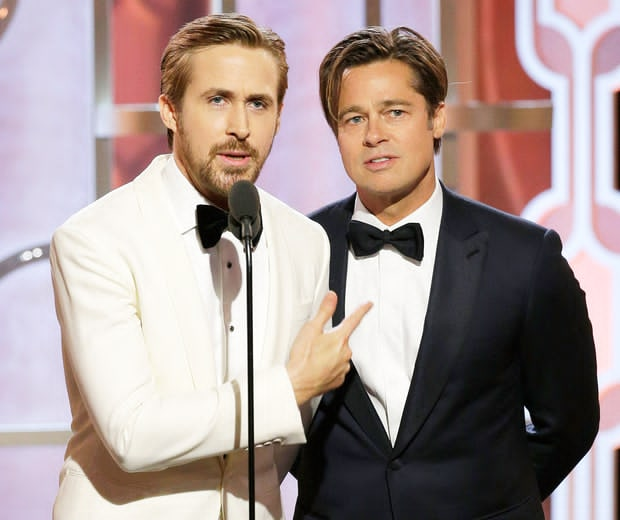 And just like that, it's awards season again. The kick-off started with the 73rd Golden Globe Awards, which just gave out some well-deserved nods to the shows, movies, and entertainers that we've followed religiously in the past season.
Big winners include Jon Hamm as he bagged Best Actor in a Drama series for his role in Mad Men and Kate Winslet for her work as lead actress in the biopic Steve Jobs. Let's not forget how Lady Gaga, who showed up looking like Marilyn Monroe in a low-cut black gown and startlingly golden locks, won her first citation for her acting. She bagged the top prize for her role in American Horror Story: Hotel. Looks like that trophy shelf of hers is looking mighty fine. (And, Leo, no need to get jealous. See Instagram post below to watch Leo give Lady Gaga some serious side-eye as she walks up to accept her award.) 
Other highlights of the show include Amy Schumer and Jennifer Lawrence joking about hosting next year's ceremony, Eva Longoria and America Ferrera reminding us that they are not Rosario Dawson, and Brad Pitt and Ryan Gosling sharing the stage for what could have been the greatest moment television has ever known.
If you are looking to update your Netflix lineup and schedule your next binge-watching session, here's the complete list of winners:
Best motion picture, drama
The Revenant
Best motion picture, musical or comedy
The Martian
Best performance by an actress in a motion picture, drama
Brie Larson, Room
Best performance by an actress in a motion picture, musical or comedy
Jennifer Lawrence, Joy
Best performance by an actor in a motion picture, drama
Leonardo DiCaprio, The Revenant
Best performance by an actor in a supporting role in a motion picture
Sylvester Stallone, Creed
Best performance by actress in a supporting role in a motion picture
Kate Winslet, Steve Jobs
Best director, motion picture
Alejandro González Iñárritu, The Revenant
Best performance by an actor in a motion picture, musical or comedy
Matt Damon, The Martian
Best screenplay, motion picture
Aaron Sorkin, Steve Jobs
Best original score, motion picture
Ennio Morricone, The Hateful Eight
Best motion picture, animated
Inside Out
Best motion picture, foreign language
Son of Saul
Best television series, drama
Mr. Robot
Best television series, musical or comedy
Mozart in the Jungle
Best television limited series or motion picture made for television
Wolf Hall
Best performance by an actor in a television series, drama
Jon Hamm, Mad Men
Best performance by an actor in a television series, musical or comedy
Gael García Bernal, Mozart in the Jungle
Best performance by an actor in a leading role in a series, limited series or motion picture made for television
Oscar Isaac, Show Me a Hero
Best performance by an actor in a supporting role in a series, limited series or motion picture made for television
Christian Slater, Mr. Robot
Best performance by an actress in a TV series, drama
Taraji P. Henson, Empire
Best performance by an actress in a supporting role in a series, limited series or motion picture made for television
Maura Tierney, The Affair
Best performance by an actress in a leading role in a series, limited series or motion picture made for television
Lady Gaga, American Horror Story: Hotel
Best performance by an actress in a television series, musical or comedy
Rachel Bloom, Crazy Ex-Girlfriend
Photo courtesy of  US Magazine