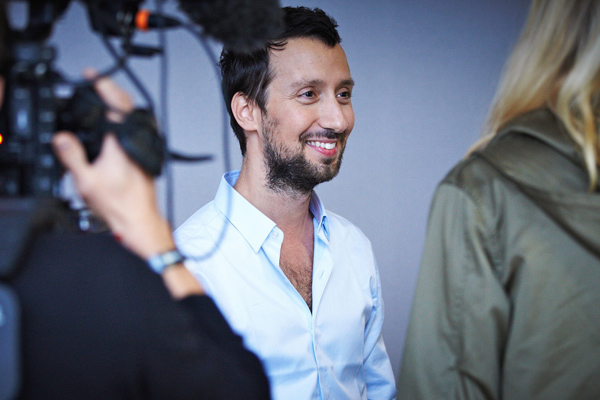 It's becoming all-too common to hear about another creative director departing from a French couture house, but when the creative director in question is Hedi Slimane, which means the French house involved is Saint Laurent Paris, you sit up and listen.
Never mind that he was able to turn the brand around with a slick, rock 'n' roll aesthetic or that sales were up by 32 percent, in spite of poor reviews from fashion critics. Let's take the controversy aside and take into account that in terms of creative freedom, Hedi had the ideal set-up. For one, instead of moving to Paris—like all other designers have done when hired by a French couture brand, from Alexander Wang for Balenciaga to Raf Simons for Dior—Hedi insisted on and was granted the luxury to work from Los Angeles.
Not only that, he was given free reign when it came to overhauling the brand's name (from Yves Saint Laurent to Saint Laurent Paris), image, advertising campaigns, and marketing. It's safe to say that no other creative director in fashion has as much control as he's granted.
By contrast, according to Cathy Horyn, Raf Simons' experience at Dior was quite different: "Simons's creative control didn't extend everywhere, and that may have gnawed at him, too. Some areas, like store design, were out of his hands. There has long been a slight disconnect between Dior's runway image and the image of the brand presented in, say, its celebrity perfume ads."
And yet. Several reports have floated about this week that Hedi and his parent company Kering are stuck in a headlock. WWD reports, "The designer has so far failed to reach an agreement on the renewal of his initial contract with the Kering-owned fashion house and is preparing to part ways with a brand he revved up with his rock 'n' roll-inspired fashions and a top-to-bottom reform of the storied house."
Not only that, a viable successor has already been named: Anthony Vaccarello who was hand-picked by Donatella Versace to be the creative director at Versus, Versace's younger, more digitally focused clothing line. Before that, he had a stint working at Fendi and in 2011, he won the ANDAM Fashion Award.
Meanwhile, a spokesperson for Saint Laurent has only stated that the company "does not comment on rumors," and have recently announced the presentation of their fall collection in Los Angeles a week before Fashion Week.
If the rumors are true however, Hedi will be the next name in a long line of creative designer-and-couture-house breakups, following Raf Simons and Dior, Alexander Wang and Balenciaga, and most recently, Alber Elbaz and Lanvin.
[
WWD
]
Photo courtesy of Ciaranm