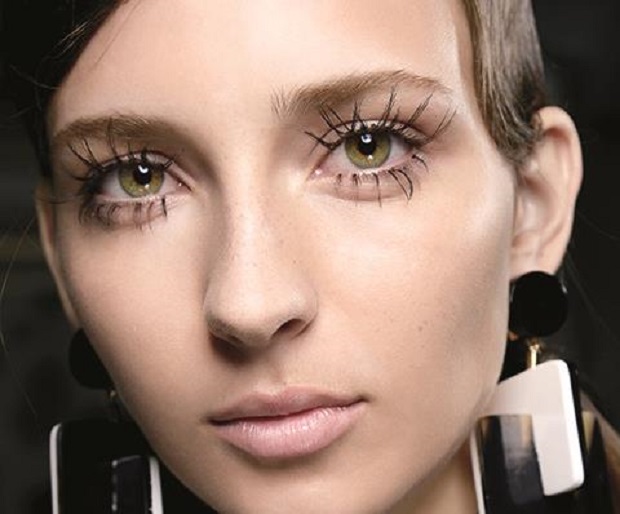 Looking at the spring/summer runways, the upcoming makeup trends are polar opposites. One one end, you've got Marni, Moschino, and Proenza Schouler going for a natural look, focusing on thicker lashes, full brows and dewy skin. Heavy contouring isn't the thing anymore. On the other hand, you've got wild child ambitions with colorful and almost messy looks from Issey Miyake, Vivienne Westwood, and Kenzo.
So the question is: How do I pull these off effectively? We asked MAC senior makeup artist Louise Zizzo, whose worked with Gwen Stefani, Cyndi Lauper, and Missy Elliot, just exactly what one can do to be able to strobe effectively and add a pop of color to the eyes without overhauling our makeup collection.
What will be the eyebrow trend this coming season? 
It's still all about having a full-on brow. One trend we have is how to look like you have little to no makeup at all and one way to [help pull that off] is to have thick and healthy brows. We need to make it look natural with very, thin feather-like and hair-like follicles strokes but not boxing them in and heavily outlining them.
How can one be able to do a pink or coral eyeshadow look without seeming as if they haven't slept or their eyes look sore? 
It's about keeping [your choices] within the taupe and peaches. If the coral shade registers too orange on your skin rather than peach, that's when it's going to look like you have a sore eye. Keeping it on a more muted version rather than a vivid one will make those eyeshadows wearable.
You should also prep the eyes properly. If you don't, any kind of shadow is going to oxidize so any shadow is going to look darker and more intense.
Strobing and highlighting using a powder can make pores larger. What can you advise to those women who want to get that highlighted look without using a cream? 
If you can't avoid using a powder, I would suggest just combining it first with a setting spray or solution. Adding that liquid would make it of a better consistency for dry skin and give you a naturally dewy look.
How can girls with oily skin use strobing to their advantage? 
I would suggest using the strobe cream or highlighter underneath their foundation. A mattifying foundation would make it look like the glow is from within rather than an oily sheen or sweat over your face.
What are the five essential products needed to achieve this season's looks? 
A good red lipstick, a tube of waterproof mascara, a blue eyeliner, green eyeshadow, and satin-finish powders or products to help achieve strobing.