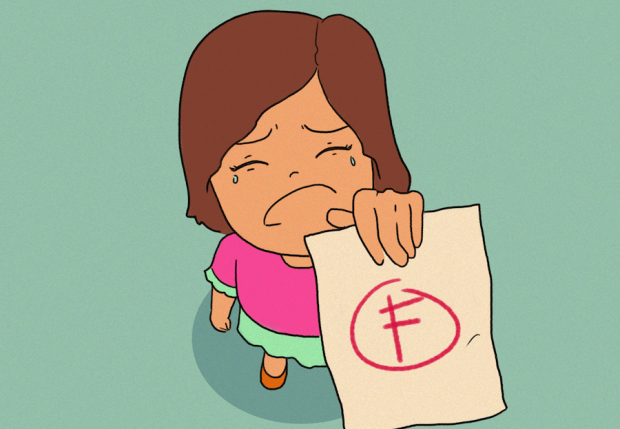 Every week, Preen tackles motherhood sans the rose-tinted glasses. Our columnists L. Juliano, Marla Darwin, Monica Eleazar-Manzano, and Rossana Unson tell their personal experiences like it is—at times frustrating, oftentimes confusing, but always enlightening. 
Little bub was gripping my hand when she stopped on her tracks, yanked her hand away, and took her first step. Hubs and I cheered as if she won the Miss Universe pageant. She donned that "I'm all grown up now" smirk.  She tried another step, and then another, her confidence increasing with every "woot" from mom and dad.
Then without warning, she fell straight and hard backwards right on the cold cement in between my legs, like a log in the woods. She let out a terrible scream and immediately, hubs shot me a look as if I was the one who pushed her. "She hit the back of her head!! How could you let her fall?! She could develop a mental disorder!" he accused.
And I understood his judgment, because really, what kind of parent wants to see their kids struggle and fail?
Hubs dialed his mom who cautioned us about vomiting and sleeping. But lo and behold, after an hour of crying, little bub was back to her normal self without a trace of trauma or, God forbid, "disability." But hubs was fuming mad still, and muttered time and again under his breath, "If she was with me, this wouldn't have happened."
I was guilt-stricken but defensive at the same time. "Accidents happen. Kids fall. That's how they learn—" I started, but before I could finish, he interrupted with: "Not under my watch."
Yep, I'm dead serious; he delivered it like Liam Neeson in Taken. And on and on he went about his cousin who fell and hit the back of his head and was never the same again.
Since then, yaya was instructed to never leave little bub, holding her by the shirt or hand (or the "Walking Wings" contraption my child so despised) wherever she goes. Eventually, little bub learned to completely walk on her own by her first year and third month. That was four months after the incident. By this time, hubs and I were a bit worried about the delay, comparing her to other toddlers who were running by that time. I know we shouldn't have been, but we're the competitive sort, and soon after we had a change of heart and started telling yaya, "Pabayaan mo yaya! Para matuto!"  whenever little bub would trip or wobble,
It's these little things, and late onset eurekas, that shape our parenting principles and inevitably remind us to be extra careful with our decisions. The whole "Let your child fail" parenting discussions are now making so much more sense. What my child needs from us is not just our protection, but our trust as well. Just as she gained the courage to take her first steps as we cheered her on, we zapped that out of her when we made her believe she could only walk with our help. She takes her cue from us, and it's in this stage when we'd want to be as supportive as possible.
But sure, that's easy to note when we're talking about walking, eating, or playing. There'll be many situations in the future when we'll have to remind ourselves to step away and let her handle things by herself. And I don't have to wax philosophical to wrap my head around the whys. Being with my 14-year-old niece-in-law is confirmation for why loosening the protective reigns has its perks.
You see, I consider my niece-in-law as almost like my own, since she spent most of her growing years with me and hubs. But her own parents are like bodyguards; the fear of seeing her in pain from failure was enough for them to completely shield her from it. The consequences are devastating: From doing her school assignments for her, talking to her teachers about issues as menial as childhood banter (no, not bullying at all), or asking her to leave the room when table conversations turn a tad serious, all these place her in a volatile bubble of sensitivity. So when she was rejected from cheerleading trials, or after the first time she failed an exam, she'd be too depressed to function.
That's reason enough to pull all efforts into letting little bub fail. Perfection has its perils, too. And I'm pretty sure seeing the repercussions of failure will surely sting us parents more than our kids. The strength, will, and character that failure builds are the things she will carry into adulthood, and I'm not about to exchange those for episodic cryfests.
Art by Dorothy Guya