https://www.youtube.com/watch?v=vPETP7-UfuI
We definitely felt the wheels of progress turning when Barbie announced the inclusion of tall, petite, and curvy dolls to their lineup of "original" Barbie dolls. But with a whole new set of girls come a whole new set of rules, and until they officially launch in the market, Mattel, the makers of Barbie, can only speculate the furor they'll cause in playrooms the world over.
After all, the company is already tiptoeing around the potential controversy surrounding the translation of "petite," "curvy," and "tall" into other languages without causing offense. According to the Barbie website, the Fashionistas dolls (which were referred to as "Project Dawn" before being released to the public) will feature four body types, seven skin tones, 22 eye colors, and 24 hairstyles.
In addition to the confusion that the dolls will cause, since all of them will be called "Barbie," regardless of body type, another consumer-related quagmire is the possibility that gifting the dolls to a friend's daughter could read as a subtle judgment on the girl's weight.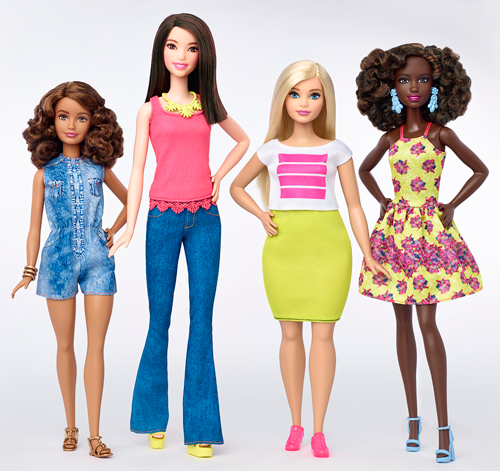 In an extensive cover story on Barbie for Time magazine, Eliana Dockterman writes, "Mothers surveyed in Mattel focus groups expressed concern over giving the new dolls to their daughter or a friend of their daughter's. What if a sensitive mom reads into the gift of a curvy doll a comment on her daughter's weight? Mattel decided to sell the dolls in sets to avoid this problem, but then it had to figure out which dolls to sell together to optimize diversity and marketability."
Another cause for playground drama is the possibility for mini mean girls to discriminate the dolls based on their body types and skin tones. In the same Time article, Eliana reports: "'We see it a lot. The adult leaves the room and they undress the curvy Barbie and snicker a little bit,' says Tania Missad, who runs the research team for Mattel's girls portfolio. 'For me, it's these moments where it just really sets in how important it is we do this. Over time I would love it if a girl wouldn't snicker and just think of it as another beautiful doll.'"
https://www.youtube.com/watch?v=5QwuTNoMWoo
In other words, it's now Mattel's responsibility to undo the years of social conditioning that they have undoubtedly played a part in with regards to the relationships that girls have with their bodies. "I do all kinds of things for my kids that they don't like or understand, from telling them to do their homework to eating their vegetables," says Evelyn Mazzocco, head of the Barbie brand. "This is very similar. It's my responsibility to make sure that they have inclusivity in their lives even if it doesn't register for them."
Apart from selling Barbie in a variety of sizes, Mattel has also decided to create dolls that reflect varying skin tones and ethnicities. The Fashionistas line includes an East Asian doll with straight black hair and African-American dolls with weaves and afros, plus one doll with half-lavender, half turquoise hair. The Caucasian dolls, on the other hand, are available with straight blonde and brunette hair; wavy red, blue, and brunette hair; and curly red and brunette hair.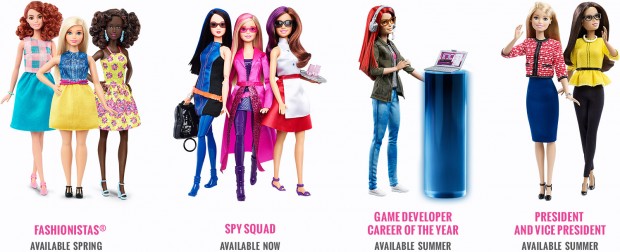 They've also introduced a variety of new professions to add to Barbie's resume, including Game Developer, President, and Vice President, which will all be available this summer. It should be noted, however, that all three professions feature Caucasian Barbies.
While it's wonderful that Barbie is now concerned about other things, apart from what to wear and what the real score is between her and Ken, Mattel is fully aware of the range complaints coming their way, ranging from concerns about clothes that don't fit to dolls that just aren't curvy enough. On that note, they've set up a separate help line to deal with complaints, and perhaps by keeping the discourse open between themselves and their consumers, the world's most famous doll will evolve with the times just fine.
[
Time
]
Photo courtesy of Allure