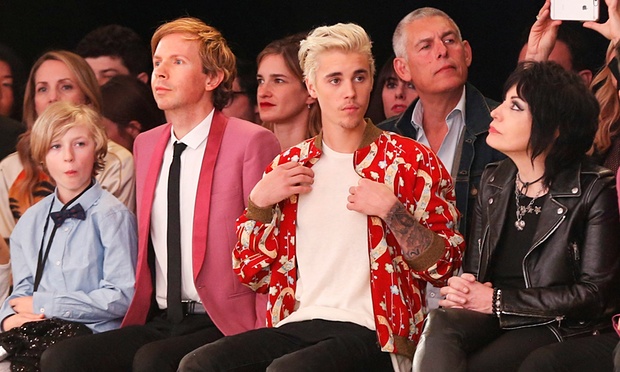 Still keeping mum about whether or not he is leaving Saint Laurent Paris, Hedi Slimane pushed through with a a star-studded menswear fashion show in Los Angeles. Front row guests included Justin Bieber, Lady Gaga, Sylvester Stallone,  and Zoe Kravitz.
Aside from the unlikely guests sitting front row, the latest Saint Laurent show was filled with odd choices for the label. The venue, for one, was the Palladium in Los Angeles, as Hedi's favored venue in Paris was unavailable. The collection veered away from the usual toned-down, laidback look that Hedi favors. The Guardian reports how rock influences were seen in the pieces from "burgundy velvet, wide-brimmed hats and even beards…Then, evenly distributed among women and men, there were golden boots, pussy-bow blouses,  and glitter appliqué on jackets. Slimane himself, wearing a velvet burgundy smoking jacket that made him resemble a Romantic poet, slotted right in."
With a collection worthy of rockstars, it was only fitting that the after-party boasted of 11 musical acts including Joan Jett and Grammy Award winner Beck.
Perhaps this show is Hedi's way of saying he's not leaving just yet and that he has many more plans for the famed fashion house or maybe this is his way of going out with a bang?
Photo courtesy of The Guardian