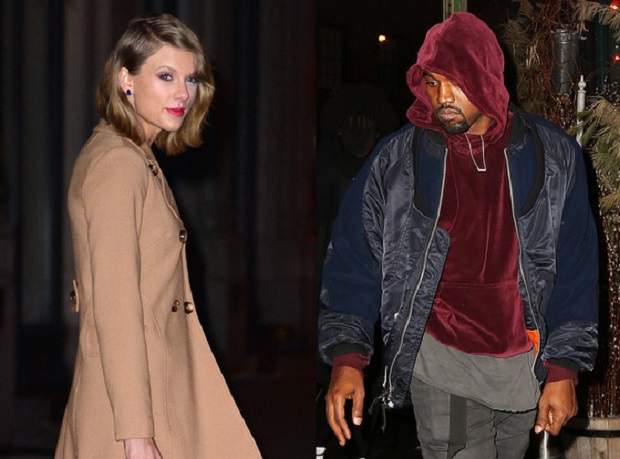 After establishing their newfound friendship, it looks like there's bad blood again between Taylor Swift and Kanye West because of the rapper's new song "Famous."
The song is off of Kanye's new album The Life Of Pablo which features Rihanna and has the line "I feel like me and Taylor Swift might still have sex/ I made that bitch famous." Obviously, this didn't go down so well with Taylor.
A representative for Taylor told E! Online, "Kanye did not call for approval [to release the song], but to ask Taylor to release his single "Famous" on her Twitter account. She declined and cautioned him about releasing a song with such a misogynistic message."
And of course, her squad also chimed in on the controversy.
One of the first to react was Taylor's brother, Austin, who posted an Instagram video of him throwing his Yeezy season 3 boots in the garbage.
And apparently, according to Refinery29, model Karlie Kloss took down her Instagram post where she was showing off her new Yeezys as well.
Meanwhile, in an interview with SiriusXM Hits 1, BFF Selena Gomez shared her two cents, saying, "Everybody has their own opinion. At the end of the day, you can just do what you do…She's killing it and she kind of always has been."
Here are other reactions from her friends which include model Gigi Hadid and actress Jaime King:
I'm so sad right now & disappointed right now. I stand by my sister. Always. — Jaime King (@Jaime_King) February 12, 2016
My attendance somewhere does not mean I agree with everything being said in the music playing there. My friends know of my loyalty.

— Gigi Hadid (@GiGiHadid) February 12, 2016
Too many lines crossed. If I put myself in the shoes of the women he has hurt recently. Victims of Bill Cosby, The Slut shaming, Amber… — Ruby Rose (@RubyRose) February 12, 2016
Of course, Kanye also quickly defended himself and his song on his Twitter account:
I did not diss Taylor Swift and I've never dissed her…

— KANYE WEST (@kanyewest) February 12, 2016
Tsk, tsk. When will Kanye ever learn to not get into Taylor's bad side?
[
Refinery29
 and 
E! Online
]
Photo courtesy of E! Online