Any awards show is made of powerful moments and the 58th Grammy Awards was no exception. From the performances to the acceptance speeches, trust that what happened at the show will be the stuff you'll be seeing in your feed for the next few days. In fact, it's probably flooding your notifications already.
If you haven't caught yourself up on all the action, here's a quick list of what you need to know:
#1 Taylor Swift throws shade at Kanye West
Let's talk about how Taylor Swift used her acceptance speech to put Kanye West in his place. The two have been in the headlines again as Kanye dropped a controversial lyric about the pop princess in "Famous," one of the cuts from his new album, The Life of Pablo.
She's surely not backing down from Kanye as she said, "As the first woman to win album of the year at the Grammys twice, I want to say to all the young women out there: There are going to be people along the way who will try to undercut your success or take credit for your accomplishments or your fame, but if you just focus on the work and you don't let those people sidetrack you, someday when you [to] get where you are going, you'll look around and you will know that it was you and the people who love you who put you there, and that will be the greatest feeling in the world."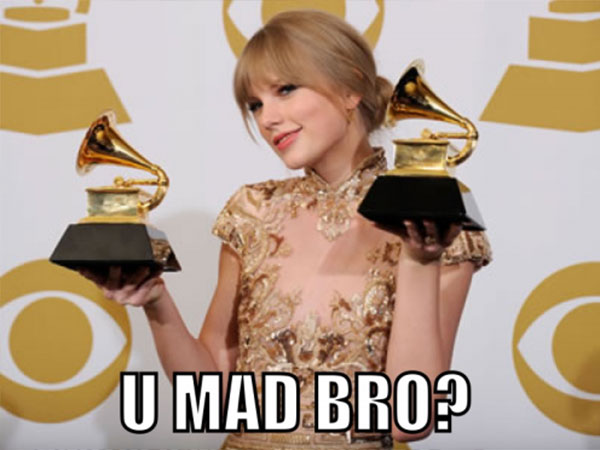 Expect Kanye to send out a big comeback in a few days.
#2 Kendrick Lamar makes a statement
Even though Kendrick's  Lamar's critically-acclaimed To Pimp A Butterfly, didn't win the Grammy award for Best Album, he still managed to bring his message about the struggles black people face in America through his performance at the show.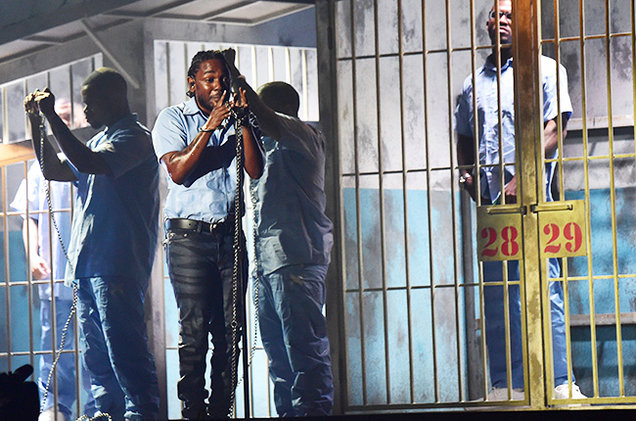 Kendrick filled the stage with many images that are Kendrick's take on today's important issues with backup dancers walking in shackles and the word "Compton" imposed over an image of Africa.
#3 That David Bowie tribute by Lady Gaga
At the Super Bowl, all anybody could talk about were Beyoncé and Bruno Mars (who kindly allowed their friend, Chris Martin, and his band Coldplay to open for them) that Lady Gaga's rendition of The Star-Spangled Banner had been relegated to the backs of everyone's minds. So this time, Gaga made sure her Grammys performance would be memorable.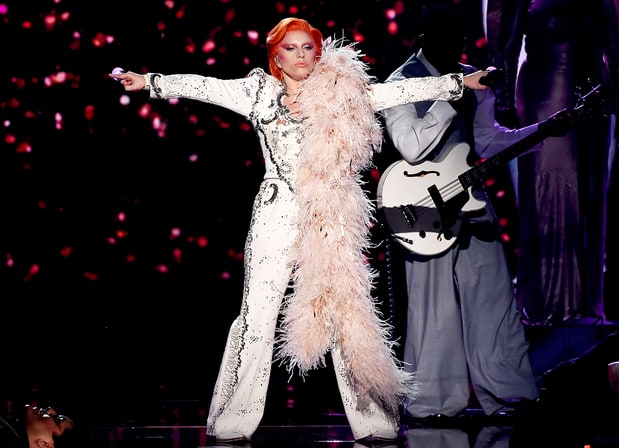 She performed a tribute to the late superstar David Bowie in no less than a full-on Ziggy Stardust get-up and sang a medley of his greatest hits. Of course, celebrity fans of both Lady Gaga and David automatically took to Twitter to express just how much Gaga killed the performance.
LADY GAGA!!!! Now I'm really going home!!! Amazing!!!! Bowie is smiling combing his hair back right now I know. — Janelle Monáe, Cindi (@JanelleMonae) February 16, 2016
Oh #Bowie. You touched so many of us. We will miss you. @ladygaga that was beautiful #GRAMMYs

— Laverne Cox (@Lavernecox) February 16, 2016
Lady Gaga slays it!!! And there's the great #nilerogers…David Bowie lives. God, I miss him. — Bette Midler (@BetteMidler) February 16, 2016
Try stealing her thunder this time, Beyoncé.
#4 The Eagles get a Grammy…39 years later
On a more somber note, The Eagles also took to the stage and performed a tribute for Glenn Frey, the band's guitarist who passed away last January and before making an exit, they were stopped by producer Ken Ehrlich who handed them their award for "Hotel California." The band didn't receive the award back in 1977 because they didn't attend the awards show, thinking that they wouldn't win anything.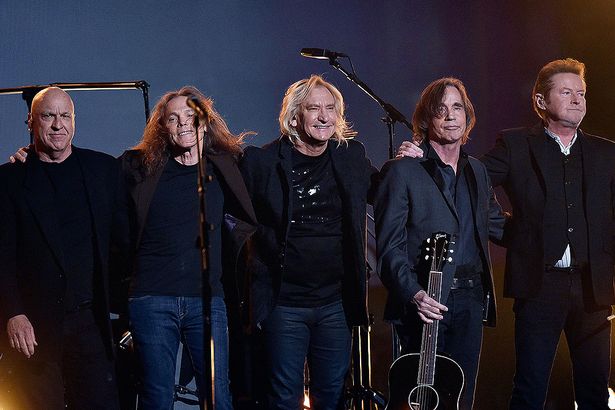 Better late than never, right?
#5 Justin Bieber wins his first Grammy
Who here is guilty for hating on Justin Bieber in the past but is now singing "Love Yourself?" *raises hand* Now, the pop star has a Grammy award to his name for Best Dance Recording for his single "Where Are U Now" with Skrillex and Diplo. And no one seems to be bothered by it.
Remember, he did perform in the Grammy's like this: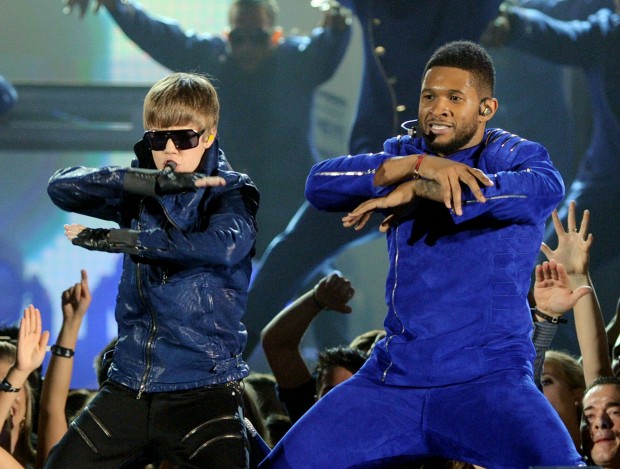 And now, look at him with his little brother on the red carpet: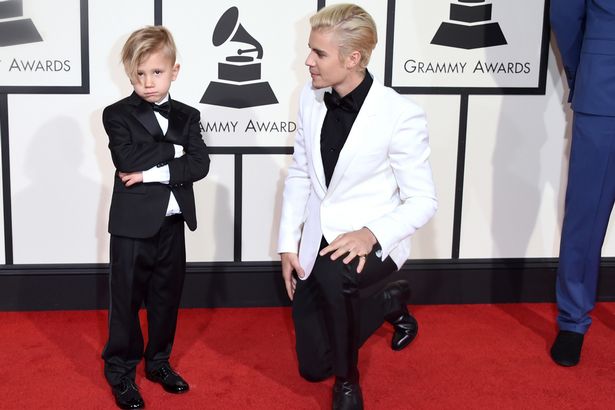 And despite a lackluster performance on the awards stage he proves that even if you start off with an unimpressive portfolio, you can always work hard to get to the top. And isn't that what an awards show is all about?