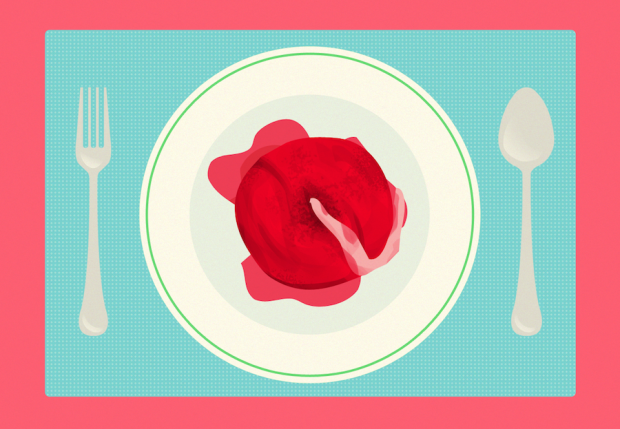 Every week, Preen tackles motherhood sans the rose-tinted glasses. Our columnists L. Juliano, Marla Darwin, Monica Eleazar-Manzano, and Rossana Unson tell their personal experiences like it is—at times frustrating, oftentimes confusing, but always enlightening.
"What?! You are not kosher!" said my Kabbalah mentor when I mentioned that I planned on eating my placenta raw after giving birth to my baby.
Placentophagy is highly regarded for its medicinal properties in traditional Chinese medicine, although many cringe at the idea of imbibing it. This was first mentioned to me by Ibu Robin Lim, a Filipino-American midwife based in Bali. She came to Mt. Cloud Bookshop in Baguio to promote her post-partum books and talk about her experiences as a midwife. If her name sounds familiar, it's because she won the CNN Hero of the Year Award in 2011.
She discussed natural childbirth and lotus birthing, along with the delay and non-severance of the umbilical cord and placenta to the baby postpartum at great length. By fate, I was in my first trimester, vacationing in Baguio when I attended her talk to listen to what she had to say. One of the most alarming facts I learned was that a baby loses one-third of its blood supply after the immediate clamping and cutting of the umbilical cord.
One-third is a lot of blood for a newborn! Robin stressed that if any adult lost the same amount of blood, she would have to be rushed to the ER.
A seed was planted in my consciousness that I would consider doing this radical postpartum plan for my baby and myself.
At first, I've got to admit, the thought wasn't palatable to me since I do not eat meat. However, no one gets hurt in the process anyway, so I would say this is even vegan-friendly!
After much research on all its health benefits like stopping postpartum bleeding in case of emergency, I discovered that it also minimizes the risk of postpartum depression. I also read Ibu Robin's book Placenta: The Forgotten Chakra, which pretty much sealed the deal for me because she explained the spiritual aspect of it. "The Placenta is the Mother Root," she says.
It gives all the life-giving oxygen, iron, and stem cells to your baby—for free! Stem cells are routinely being offered to new mothers as an insurance plan for emergency cases. What if that dooming disease will never arise because you ensure a healthy baby from the start by giving it all of its stem cells from blood at birth? Think about that, will you?
When the big day came, things went smoothly and almost according to plan. I say "almost" because during the exact time of birth, my midwives were not with me, so technically I had an unassisted birth, or what they call a "free birth." After my drug-free home water birth, while nursing my newborn baby in the birthing pool, we waited a bit more to birth my placenta. AFTER what seemed like 20 minutes of waiting, There was nada. Nothing was coming out. My birthing team of two midwives and a doula helped me out of the pool and pulled out the birthing stool so I could use the force of gravity to push the placenta out.
Success! Apparently, my placenta was just hanging inside my vaginal canal, just waiting for that jolt.
All the previous readings on full lotus birthing prepared me for this very moment. I had dried herbs, a bowl, sea salt, and pure essential oils for the placenta. First, my doula Irina washed the placenta in water then began to lightly add some salt. While salting the placenta, I noticed that my baby began to cry. I quickly told her to stop because it was giving her pain. "If my own baby felt that, what more when they cut the umbilical cord off during the first few minutes after birth?" I thought to myself.
By then, it had been more than 20 minutes since the birth of my placenta. That was a huge realization for me that the baby's connection to the placenta is much more than what we know and have been told.
After some time, my midwife Deborah carefully detached a cotyledon of placenta meat and blended it with fresh strawberry yogurt for my postpartum drink. Using strawberries, a naturally red fruit similar to flesh and blood worked to my advantage, since I couldn't distinguish between the two. I quickly chugged the whole glass down while my baby was still nursing. The umbilical cord stayed attached to the rest of the placenta in a basket covered with white cloth. Ibu Robin calls this the "baby, umbilical cord, and placenta trinity."
For three whole days, I managed to nurse and change my baby's nappies with the placenta attached to her by our bedside. It is challenging but very doable. On the third night, my daughter cried suddenly, as if she had a colic attack. "Oh, no," I thought. "Not again!" My older child was quite high-maintenance so I wanted to graduate from those bouncing-my-baby-to-sleep episodes. But then she stopped almost abruptly only for me to see her kick the umbilical cord. So that was her saying good-bye to her companion for 10 moons inside me!
When I spoke to my mentor later on, she confirmed that Karen Berg, the head of the Kabbalah Center, told her that the best thing a postpartum mother can do is to eat her placenta.
Disclaimer: The views expressed here are solely those of the author in her private capacity and do not in any way represent the views of Preen.ph, or any other entity of the Inquirer Group of Companies.
Art by Dorothy Guya