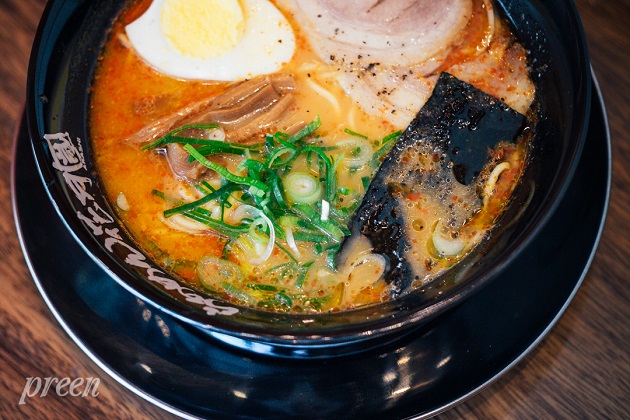 Around two years ago, everyone started to crave for ramen which quickly gave rise to different Japanese ramen joints that would be full even on a hot summer's day. There's something about the hot broth and the filling noodles, not to mention the rich pork taste which makes you feel all kinds of good.
We've already told you about what makes a great gyoza,  and what you should know about tempura, so it's just right to give you the lowdown on what makes good ramen. We spoke with Ishii Takanori, chef of Ramen Kagetsu Arashi, with the help of a translator to know what really makes a bowl of ramen special.
#1 It's all in the broth
The heart of any good bowl of ramen is its soup. Ramen starts with a thick pork broth made from the pork leg. Chef Ishii emphasizes that they use pork leg as it is the richest part and contains the most bone marrow which gives off that distinct flavor. The whole leg is crushed and boiled for two and a half hours and is kept hot throughout the day as to not lose any flavor.
#2 What's in the noodles?
Ramen noodles are made of just three ingredients: flour, salt, and mineral water. No egg is added in the mix as it will just affect the taste of the soup. Chef Ishii also says that it is important that the noodles are freshly made and not overcooked. Since they absorb liquids, they can get soggy when left too long in water. Instead, most of the cooking is done when they are submerged in the hot pork broth.
#3 Toppings are kept to a minimum
There are only four toppings you should find in your ramen: half of a soft-boiled egg, pork slices, bamboo shoots, and freshly chopped leeks. The first three are cooked separately, while the pork slices and bamboo shoots are cooked with a little soy sauce. None of these toppings should interfere with the taste of the soup, and should instead complement it.
#4 There should be an equal noodle to soup ratio
Finally, chef Ishii tells us that every bowl of ramen is served with an equal amount of noodles and soup. Given the Japanese tradition of eating quickly and how ramen noodles can become soggy as they cool, the soup and the noodles are meant to be eaten together. You shouldn't slurp the soup first or eat all the noodles before drinking the soup. So the next time you are served a ramen overflowing with one element, you ought to be a little suspicious.
Ramen Kagetsu Arashi. G/F Net Park, 5th Avenue cor. 28th Street, Bonifacio Global City, Taguig.  (02) 836-5856. Open from 11 a.m. to 10 p.m on Monday to Thursday, 11 a.m. to 12 mn on Friday, and 11 a.m. to 9 p.m. on Saturday and Sunday. For more information, visit their Facebook page. 
Photo by Chola Tolentino