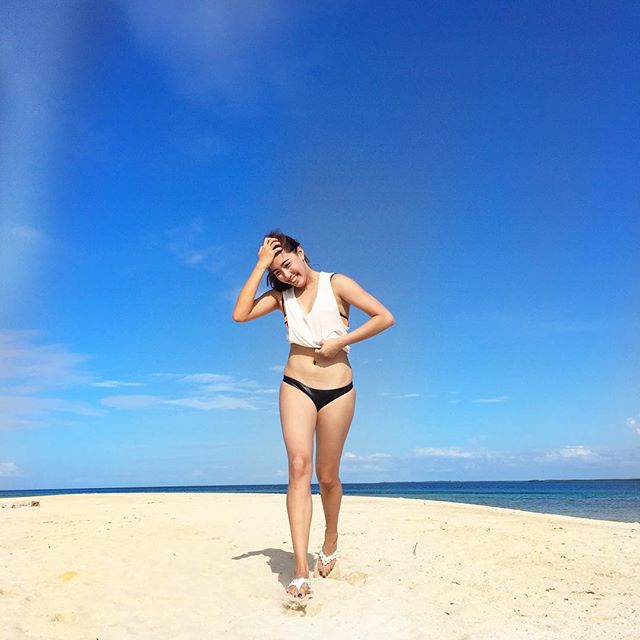 These days, the warm weather is just beckoning us to pack up and take the next trip to the best beach we can think of. Nope, sometimes cold beverages and air-conditioned places just don't cut it anymore, and a dip in the sea is just what we need to cool down.
While we've already given you several pointers on beachwear courtesy of our #TeamPreenPH girls, it's also a must to make sure you're in tip-top shape because hey, getting fit never hurt anybody.
Preen caught up with blogger Dani Barretto at Dove's Go Shave event last night, and we asked her what she's doing to achieve that beach bod in time for her next vacation. Who knows? Maybe this'll help you out with your fitness goals, too.
So Dani, are you readying your beach body for this summer?
Well, to be honest, I haven't started working out but that's on the top of my list because it's summer. I have a lot of nice bikinis and I have to [do] justice to [them]. (Laughs)
What's on your list right now to achieve that?
First, I have to work on my diet because I have been eating a lot. I think if you find the right diet, the workout has to come right after that so for now, I'm going to try to figure out the perfect diet for me then the exercise will follow.
Are you going for a vegetarian diet or something like that?
No. I think less carbs, so that means no rice. Also, softdrinks. That's it.
How about your workout routine?
Well, my trainer before once said that I really don't need to lose weight; I just need to tone my body. I'm mostly gonna focus on my arms, my buttocks, and my abs. So, more on squats, sit-ups, and push-ups.
Have you gone bikini shopping already?
Yes, I have! I have a lot now, actually. Last summer, all I did was wear one-piece swimsuits because I wasn't really confident with my body, and this year, I'm really targeting a certain body so that I [can do] justice to my bikinis this summer.
Do you have a go-to brand when you shop for bikinis?
No. I'm not a one-shop type of girl, eh. Like, I really research on good quality ones so I can use them for longer periods of time.
What color of bikinis do you usually go for when you shop?
I like white, light blue—yeah, mostly neutral colors.
What are your must-haves when going to the beach?
When going to the beach, you need shades, deodorant, a shaver because you never know how long you're going to be in the beach, and the perfect sandals or slippers.
Which beach are you going to this summer?
I'm going back to Palawan. It's one of the most beautiful beaches I've ever seen, so far.
Are you planning to get tanned when you get there?
Of course! Who doesn't want to go to the beach and not get tanned? (Laughs)
Photo courtesy of Dani Barretto's Instagram