The last weekend of February is finally upon us, and in case you forgot the memo and thought the last day of the month will be on Sunday because you're that excited to welcome March—it's not. This 2016, we have a leap year, which only happens every four years. That's why we have that extra day on our calendars. Cool, right?
Before you welcome the rare Feb. 29, which sadly lands on a Monday, here are some events that you can check out to ensure a fun and interesting weekend for you and your buddies.
Film
#1 Honor Thy Father at ADMU
Feb. 26, 7 p.m.to 9 p.m.
Escaler Hall, Ateneo De Manila University, Katipunan Avenue, Quezon City

Good news for those of you haven't seen the film or just can't get enough of John Lloyd Cruz and his shorn head, the Ateneo Association of Communication Majors will screen Honor Thy Father for one night. Better leave the office early if you don't want to miss this.
#2 CITIZENFOUR and Margarita with a Straw
Feb. 27, 5 p.m. and 7:30 p.m.
Cine Adarna, UP Film Center, UP Diliman, Quezon City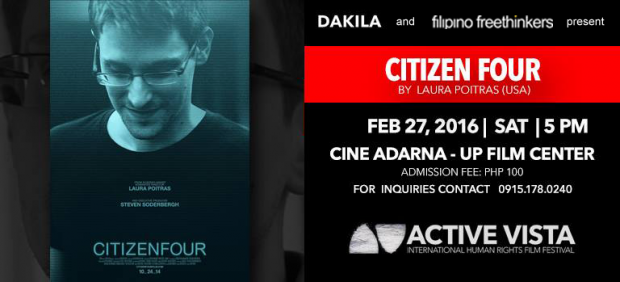 Pause that torrent download as CITIZENFOUR, the multi-awarded documentary directed by Laura Poitras about infamous US whistleblower Edward Snowden, will be screened for one night at Cine Adarna as part of the Active Vista Film Festival.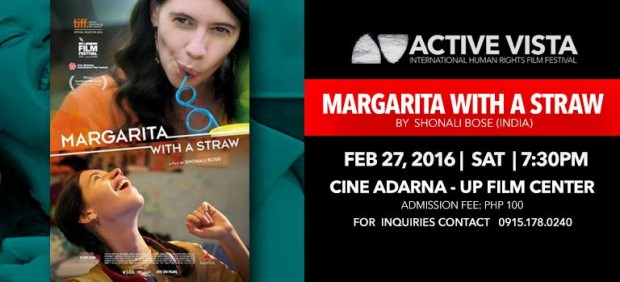 And after that, you can stay and watch the multi-awarded Bollywood film Margarita with a Straw, directed by Shonali Bose, which will take you on a woman's journey from India to New York while she struggles with cerebral palsy.
Art
#1 The 7th MANILATRANSITIO1945
Feb. 27, 6:30 p.m. 12:30 a.m.
Fort Santiago, Intramuros, Manila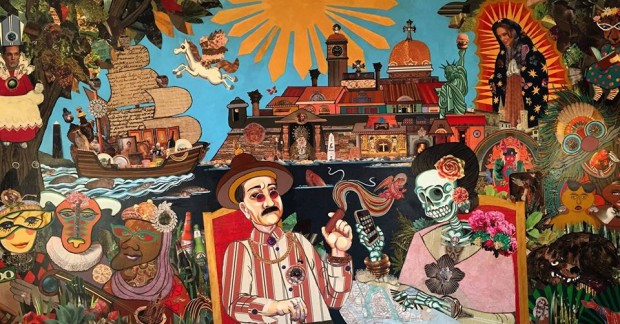 Hosted by Carlos Celdran, this multi-media art event will commemorate the 71st anniversary of the battle between the Filipino and Japanese forces during World War II. Aside from checking out several art installations, you can have a picnic in the area with food from La Cocina de Tita Moning, XO1946, and more. There will also be music playing all night courtesy of jazz band The Executives and DJ ILL PRIMITIVO.
Theater
#1 OPEN THE DOOR
Feb. 26 to 27, 3 p.m. and 7 p.m.
Mabuhay Restop, South Drive, Area II, Rizal Park, Ermita, Manila

Curious about the lives of talking heads in our society? Yugto Theater Ensemble's latest show, OPEN THE DOOR is a play on local talk shows fused with variety game show elements to give a fun twist to unravelling the stories of these important people. So if you're looking for an entertaining way to end your week while chowing down on yummy food, then this show is the perfect event for you.
#2 Karitas at Damaso
Feb. 27, 3 p.m. to 5 p.m.
Pineapple Lab, R. Palma Street, Barangay Poblacion, Makati City

Don't miss the final run of UP Repertory Company's most controversial play which tackles religion set to EDM tracks for more flair.
Performance art
#1 Pag-ibig, n. <insert definition>
Feb. 26, 7 p.m. to 10 p.m.
Ogress Kitchen, 24-B Malingap Street, Teachers Village, West Diliman, Quezon City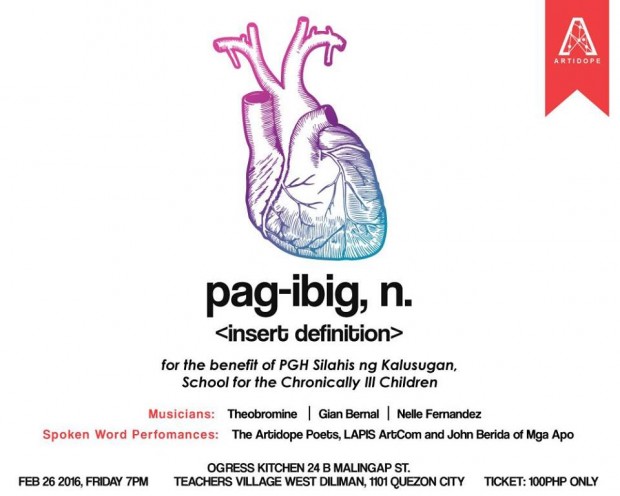 The Artidope's spoken word showcase featuring poets from LAPIS Artcom and Mga Apo will be a fundraising activity for the PGH Silahis ng Kalusugan School for Chronically Ill Children. Local acts Theobromine, Gian Micah Bernal, and Nelle Fernandez will also be there to serenade the attendees. If you want to show your support, the entrance fee is only P100 and customized shirts will also be sold at the venue.
#2 IM/Pulse
Feb. 27, 6 p.m. to 10 p.m.
Staple and Perk Bakery, Ecoplaza Building, Pasong Tamo Extension, Makati City

Grab your chance to listen to local poets read their latest and favorite works, and also have the opportunity to release your inner artist at Ampersand's open mic event this Saturday. It'll only cost you P200, which includes a free drink and a 10 percent discount on all Staple and Perk products for the whole night. A great bargain, don't you agree?
Food
#1 Backyard Grill at the Park
Feb. 27, 4 p.m. to 10 p.m.
Cuenca Covered Court, Cuenca Community Park, Ayala Alabang Village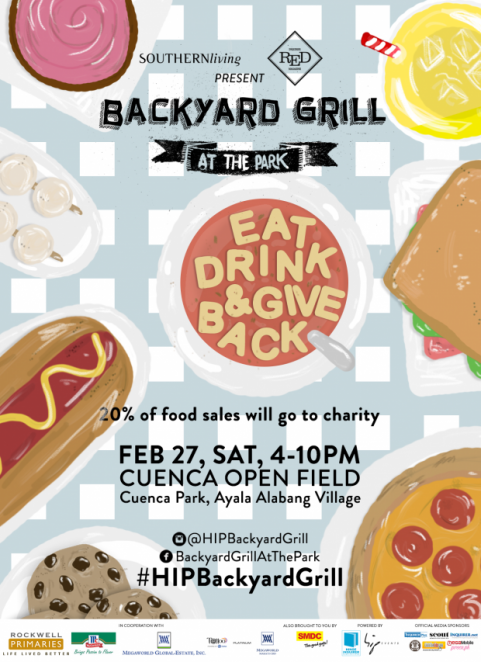 Head out for an afternoon of good food and good company at Backyard Grill at the Park. Proceeds from this event will go to different charitable institutions such as CARA Welfare Philippines, Habitat for Humanity, Museo Pambata, and more.
Parties
#1 UNKNWN.DAY+NIGHT
Feb. 27, 5 p.m. onwards
Firefly Roofdeck, City Garden Grand Hotel, 8008 Makati Avenue corner Kalayaan Avenue, Makati City

Join fellow party-goers in watching the sun go down on the rooftop of the City Garden Grand Hotel, and start dancing once the night sky washes over the city. Also witness DJ Francesca Lombardo's debut gig in the Philippines as she drops some beats for everyone, in addition to sets by DJs Manolet Dario and Samatha Nicole.
#2 RIOT HOUSE
Feb. 27, 10 p.m. onwards
Black Market, Warehouse 5, La Fuerza Compound 2, Sabio Street, Makati City

True to its name, RIOT HOUSE will bring you a hell of a party with music from DJs Mecha, Tokyo Grindouse, Bin5, Kikimachine, Karlo V, and Myless so you and your friends can dance the night away with your free-flowing drinks.
Workshops
#1 Personal Branding with Doreen Cooper
Feb. 27, 9 a.m. to 1:30 p.m.
A Space, 110 Legazpi Steet, Makati City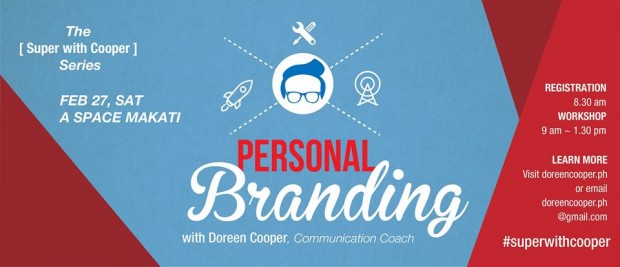 Create and understand how image and personal branding works. Communication coach Doreen Cooper will teach you the basics, as well as give tips on choosing the best style and look that works for you.
#2 Internet of Things Summit Philippines Bootcamp & Hackathon
Feb. 27 to 28, 9 a.m. to 6 p.m.
Palet Express, Molave Building, 2231 Chino Roces Street, Makati City

Attention, tech-savvy people! The Department of Science and Technology's ICT Office will give you the chance to learn about Internet hacking with the help of trainers from Microsoft, Microsoft Azure, Egizmo, and ThinkLab on Saturday, as well as get the chance to join the Hackathon the following day. Also, lucky winners of the Hackathon will receive cash prizes and will earn a spot to compete in Taiwan this June.
#3 Hip Hop Dance Workshop
Feb. 28, 3 p.m. to 7 p.m.
Make Your Move Dance Studio, 135 Kamias Street, Anonas, Quezon City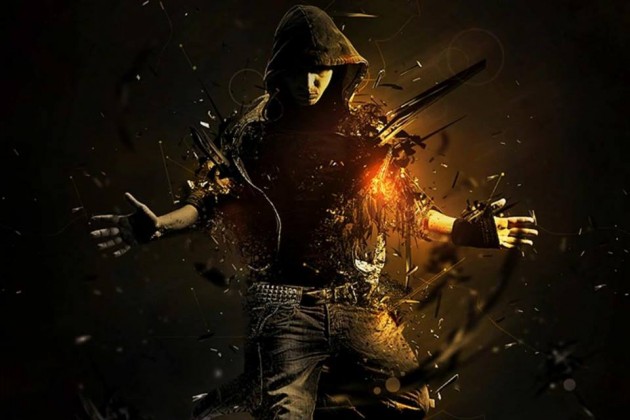 Get to learn some new moves with the help of choreographer Kervin Mendiola in this hip hop dance workshop by M.A.D Project and AIEPRO for beginners and intermediate learners. Not only is this going to give you the confidence to dance better than Drake in "Hotline Bling," this will also be a fun way to do your exercise.
Sports
#1 PHIL-KOR Cup 2
Feb. 27, 5 p.m. onwards
Gatorade-Chelsea FC Blue Pitch, Circuit Makati, Makati City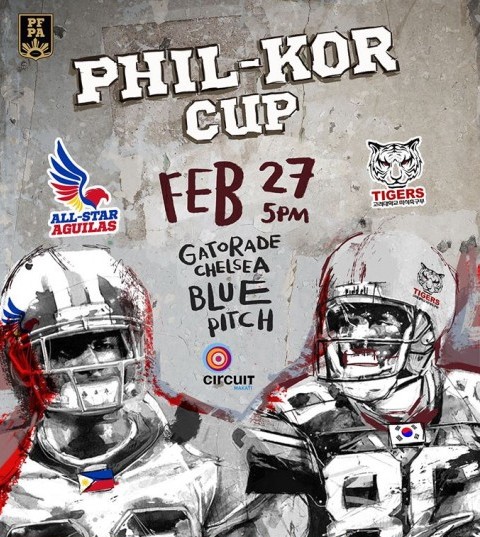 If you and your friends are looking for an exciting sports match to watch live, head over to Circuit Makati's soccer field to cheer for our tackle football team, the All-Star Aguilas as they go against the Korea Tigers for the second time.