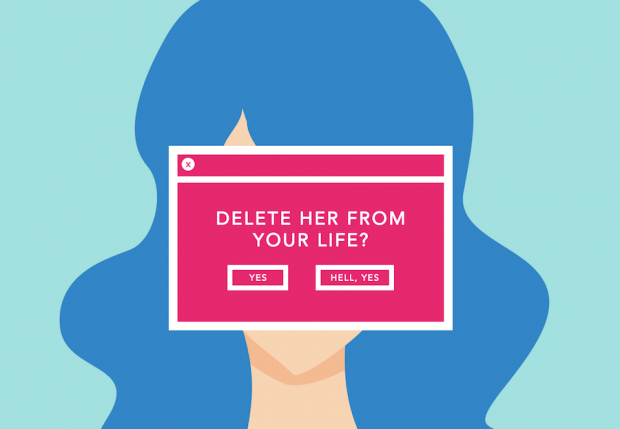 Welcome to Ask Poppy! I'm Poppy, your go-to girl for all of life's woes. And when I say ALL, I MEAN IT. I'm not an expert on anything except maybe for being me, which makes me totally qualified to do this.
Hey Poppy,
It's been almost a month since my girlfriend broke up with me due to several personal conflicts that I can't even enumerate anymore. Though we've talked about the breakup so we could somehow have closure, and we've agreed to be friends—but who am I kidding? Exes can't be friends—there's still this gaping hole inside me filled with questions about why she left me. That being said, I always find myself still checking up on her by visiting all her social media accounts because I miss her so much. My friends told me it was unhealthy to do it and advised me to block her everywhere, and so I did…for my own sake.
But now, I'm at a crossroads because another friend of mine told me that blocking her won't heal me at all, especially since I still kind of want to keep my friendship with my ex. How can that be, though? Isn't forgetting supposed to mitigate pain? Or am I looking at this completely wrong?
Sorry for the drama, but I hope you can help me.
—Marvin
Hey, Marvin,
You know what feeds me aside from the carcasses of unborn babies? Drama. I live for this shit. I find it hard to live through a life sans drama because that is no life at all. So, yeah, thank you for sending your drama my way, Marvin. This heartbreak of yours is still fresh and I hope you're doing well this very moment. Not to plug or anything, but Bon Iver and Death Cab for Cutie are dropping by Manila next week. Some of the other acts, I don't care about because they're too hip for Tita Poppy, but I feel that Justin Vernon and Benjamin Gibbard can give you a genuinely beautiful and cathartic experience.
If you are still looking for answers as to why your ex left you, I think that brilliant dance you guys dubbed as "closure" was pretty much a waste of time. Closure means that you're at peace with her departure, that you have fully explained the charts and graphs that you've drawn up to finally make things clear. Closure brings about clarity, and if you're still puzzled, then that shit's not so clear after all, amirite?
That gaping hole that she left can only be filled with the truth that comes from her. How are you going to do that if you've blocked her on every social media platform out there? I'm with your buddy there: You can't heal if you take her out of your life. She's not going to disappear completely. She's not going to casually hover above you every time you enter a room. Manila is clustered as hell. You're bound to see her. She's going to be without you.
Do you know how sinkholes are formed, Marvin? Sometimes, the ground underneath us crumbles or disintegrates due to various chemical processes. It's not just a natural thing. Tunnels left to rot from past mining projects make the ground even weaker, and flooding it will turn the ground into mush. Sinkholes can happen gradually and then they can happen instantly. Pretty much like love, Marvin. But one thing is for sure: Sinkholes happen for a reason. I truly believe that you can't just break up with someone.
Unblock her and ease back into a life where your friendship exists, but the lustful and intimate nature is buried six feet under. I'm not even going to ask you to be actual friends with her. Becoming Facebook friends is enough. They say, "We're civil," and I want you to say the same thing when asked how you two are dealing with the breakup. It sounds so showbiz, but it only sounds so showbiz because it works all the time when it's uttered.
You're right: Exes can't be friends. However, you can try. I personally don't talk to my exes because I don't like thriving in the past. It's your personal decision if you want to follow my way. I have friends who are still friends with their exes even though they've experienced truly horrifying breakups. They casually exist in my Twitter timeline, showing me how amazing being single is.
I think being civil with her lets you poke around a bit and fish for information. I've encountered several guys years after breaking up who actually come up to me just to ask why they broke up. Don't be that guy. I'd rather you do it now so you can make yourself a little bit better.
I mean, isn't this the end goal here? It's not to get back with her, but to learn a bit about yourself so you can come back to the young and beautiful you? Have you ever thought about finding something to fill that gaping hole? Because it can be filled, Marvin. You can choose to let time take you back to believing that you'll learn to love again. If you're asking me, I want you to focus on you. I feel like you don't have to ask your ex to give you a list of things that you did wrong. Think about it. Recall what you did before. What were the things that annoyed her? Think about that time that she had this massive tampo.
In Catholic School, they'd lock us up in a room for a whole day; they would make us think about everything that we did wrong and we'd confess and repent for it through praying and internalizing. I don't believe in that anymore, but the process of recollecting made me a better person even for just one bit.
I was listening to Troye Sivan's new album, and I was particularly enamored with his favorite track. In one interview, the 20-year old revealed that "Heaven" was his favorite song from the album. It's such a great track because it deals with Troye coming to terms with his sexuality. "Trying to replace the love that I fake is what we both need," he sings. Of course, the fake love bit is about him dating girls to mask his true self. Troye wrote that the song is about finding his self-confidence. Marvin, I think that before you can love, you have to prepare yourself for the fall. Take it from Troye: "No matter what you have to go through to be able to accept yourself, I think it's completely worth it."
Focus on getting to know yourself and try to build a better you. Date other people. Fill that hole. Learn a new language. Fill that hole. Travel to a new country. Fill that hole. Change one aspect of your personality and improve yourself. Fill that hole.
Fill that hole in a totally non-sexual way.
Love,
Poppy
Got a question for Poppy? From love and relationships to weird questions you dare not ask even your psychologist, Poppy is ready to answer them all. Send in your questions to [email protected] or post your question over Twitter or Instagram with the hashtag #AskPoppy, and you just might get the answer you are looking for.
Disclaimer: The views expressed here are solely those of the author in her private capacity and do not in any way represent the views of Preen.ph, or any other entity of the Inquirer Group of Companies.
Art by Dorothy Guya