The newly opened Ichiba: Japanese Market is a welcome change from the usual Japanese restaurants and buffets we go to all the time with a hodgepodge of food favorites from sushi to ramen in a street food-style setup where cooks are either firing up their grills, or filleting fresh fish like chef Nobuyoshi Onishi regularly does. Indeed, there wasn't a dull moment in the restaurant as all the chefs were busy making food from scratch, and customers were preoccupied with checking all the stalls and making sure to taste their wares.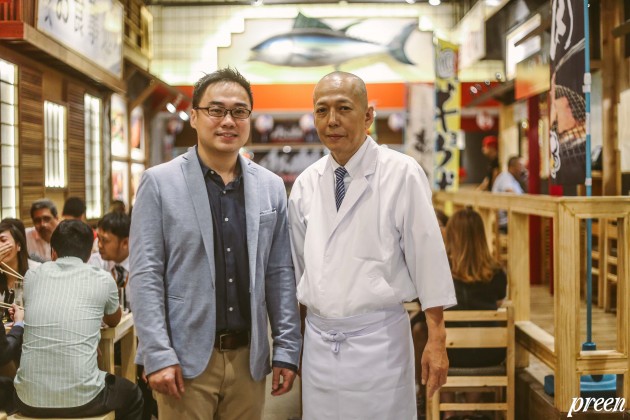 According to Ichiba CEO Brian Tiu, they took inspiration from different food markets found in Tokyo, Osaka, and Hokkaido and tried to put them all in one cohesive dining experience. "We tried to make our own imagination of a market—that's why it's called 'Ichiba,' (derived from 'Nihon ichiba' which means 'Japanese market' —ed.) because we don't want it to be limited to just one market. We thought that all these markets in Japan [would] support us and have the produce be available here," he tells us.
With a total of 10 food stalls where people can just take their table numbers and order what they want,  plus a fresh produce market waiting to be seen, it might be overwhelming for new customers, so we've listed some dishes you should check out, as well as other goodies that you can spot when you visit.
According to Brian, they are the first Japanese restaurant in the Philippines to house around 600 kg of fish in their live seafood market. "Since we are located in front of an airport, we can easily fly in produce from Japan and from around the Philippines. So we're supporting both the Japanese and local products," he says, noting that the price of the seafood is competitive to that of Dampa's.
We got to see some of their fresh fish up close, like a live lobster angrily slapping its tail, and giant bluefin tuna, known in Japanese as hon maguro, flown in from Japan which was as long as a table for six people.
Customers can also browse through the many aquariums containing sea creatures like tiger lobsters (P5,000/kg), sea bass (P1,300/kg), stone fish (P1,500/kg), and crabs (P645/kg), and ask to make a dish out of them just like in Dampa.
With produce as fresh as that, who wouldn't want several plates of tuna sashimi (P285)?
#2 Tasting authentic Japanese comfort food

The Japanese consider snacks such as takoyaki (P105) and different kinds of yakitori as comfort food, along with the usualebi tempura (P385) and gyoza (P135). Brian shares, "We don't want to just have seafood here. We also wanted to have their mainstay comfort food which customers can eat on-the-go."
Takoyaki is a ball-shaped snack made of wheat flour batter, and is filled with octopus, pickled ginger, and spring onions. It is placed in a paper boat-shaped container, and topped with mayonnaise and a sprinkled with bonito flakes.
On the other hand, yakitori is commonly known as bite-sized skewers of meat and vegetables which are char-grilled. The kinds of yakitori include tori kawa (chicken skin), chicken liver, sunagimo (chicken gizzard), pork belly, prawn, and many others which all vary in price.
Both of these snacks are made fresh in the restaurant, and you can even watch as they are cooked in their respective stalls.
#3 Ichiba's specialty roll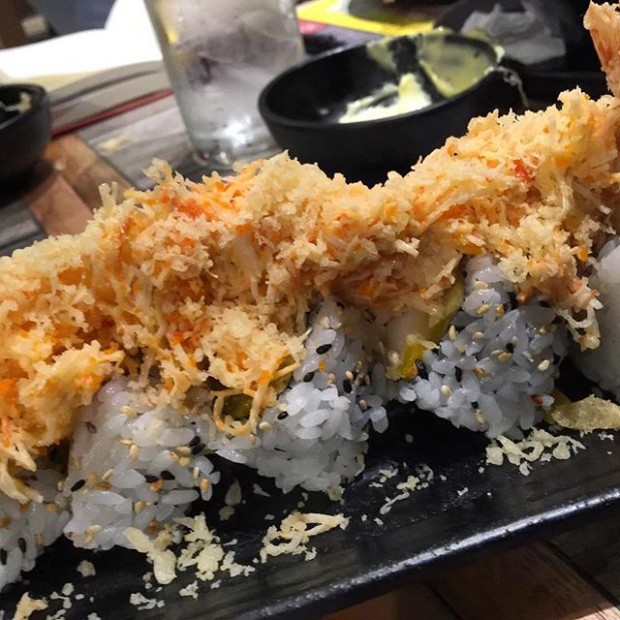 Aside from the traditional sushi and rolls, Ichiba also put their own spin to the favorite Japanese delicacy. The Ichiba roll (P285) is made with tamago (egg), mango, and salmon skin rolled in rice, and topped a crunchy crab salad. Definitely something different from the usual California maki.
Bringing Japan even closer to home, Ichiba also sells Japanese treats like Pocky and the many eccentric flavors of KitKat like matcha, sakura matcha, and many others. Who knows? Maybe this will be the place where we'll finally spot the newest sake-flavored one.
#5 Wear fun headpieces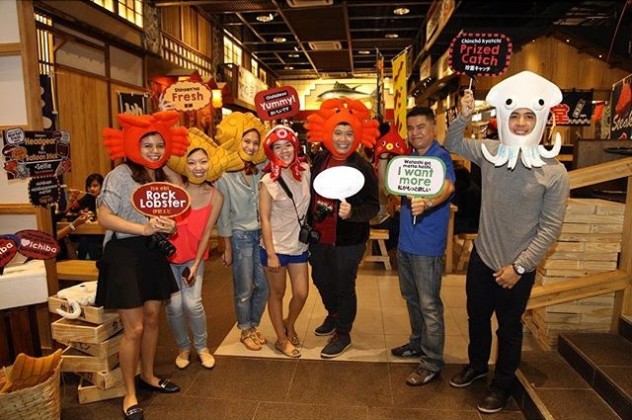 Upon entering the restaurant, you'll see a small barrel containing different headpieces shaped like sea creatures, and also signboards that customers can use as props to take photos with and share on social media. So instead of just posting food photos on your Instagram accounts, you and your friends can also mess around with these props. It's the end of the flat-lay as we know it.
Ichiba: Japanese Market. 2/F Newport Mall, Resorts World Manila, Newport City, Pasay City. (0917) 732-2176. Open from 11 a.m. to 12 m.n. For more information, visit their Facebook page.
Photos by Paolo Tabuena