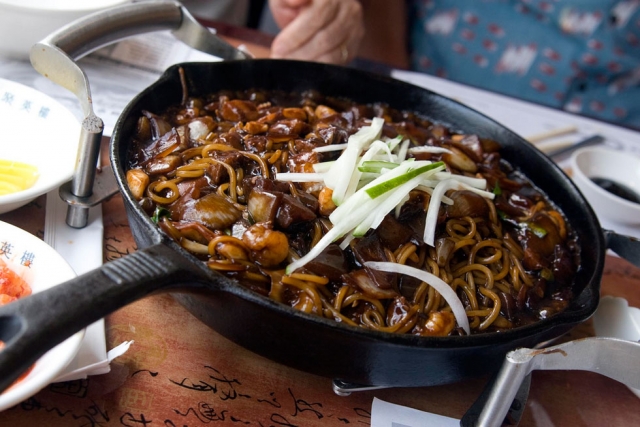 Couples. Why do they always get a special day (aka Valentine's Day) to celebrate their togetherness every year, on top of their anniversaries and whatnot, while singletons are somehow left in the loop? Is there some kind of line here that we're missing? Singles deserve a special day or two every year as well, but since Single Awareness Day has already passed, that doesn't mean you can't celebrate anymore. There's still South Korea's Black Day happening on April 14.
So what's this occasion exactly? To put it simply, it's when single Koreans, all clad in black, gather together and commiserate over black food―the most common being jjajangmyeon or black bean noodles. Yes, it does sound intriguing, which is why we listed some facts about the dish, as well as where you can get them with your friends.
#1 What's it made of?
The thick noodles are made with wheat flour and are reminiscent of fettuccine pasta. Meanwhile, the black bean sauce is usually served separately and is mixed with onions, seafood, and sometimes pork. While these are already being sold in instant packages in several Korean groceries, it's still a different matter to know how it's actually made using fresh ingredients.
And in case you're wondering: Yes, the black bean sauce will leave a black tint on your teeth, so better double-check before stepping out.
#2 It's not exactly Korean
Jjajangmyeon is widely known as a Korean-Chinese dish because it's said that it was borrowed from the Chinese noodle dish zhajiangmian. The difference between the two is that the Korean version focuses more on seafood, and the Chinese one uses pork or beef.
#3 It's comfort food
Similar to how we enjoy our pizza and ice cream, Koreans consider their black bean noodles as comfort food outside of the occasion. It is even considered as one of Korea's national dish because of how popular it is in their culture. Well, we don't blame them. Sometimes, sad or heartbroken people need a bowl of noodles to comfort them. (Yes, there are Koreans who cry while eating.)
#4 Is it healthy?
Aside from being flavorful, jjajangmyeon can also help out your body because of the health benefits of the black bean sauce. Black beans are rich in iron, calcium, magnesium, fiber and more which helps with maintaining strong bones, warding off heart diseases, helps with weight loss, and lowers blood pressure when consumed with less salt.
#5 Singles also go for coffee
According to Smithsonian Magazine, black coffee sales in Korea also spike up on Black Day, which shows that anything of that color aside from the noodles are being consumed. Maybe matchmakers in the country (whose services are also popular on Black Day) always set up their speed-dating events in cafés?
#6 Where to get black bean noodles in Manila?
Upon a bit of research, there are only a handful of places in Metro Manila where you can get the noodles which include Kogi Bulgogi (P230) branches, and, for a more homey vibe, Jjang Kkae (P230) in Diliman. But if you want to start your search for other Korean restaurants which may serve this, you can start with the ones in Barangay Poblacion in Makati.
#7 Other black food items to eat
As we've mentioned earlier, Koreans consume anything that's black during this holiday. Some make jjajambap or black bean rice, and speed dating events serve squid ink sushi to participants. So, if you're not a fan of black bean sauce, you can always try alternatives like Wildflour Café + Bakery's Squid Ink Garganelli (P480) and Ramen Nagi's Black Nagi Curry Rice (P380) and their famous Black King ramen (P410). You can even ask your mom or lola to cook you their signature dinuguan.
Who says being single is so bad when you can eat this much yummy food with your friends on Black Day?
Photo courtesy of Asia Society