A Missoni Zigzag living room. A Versace Les Etoiles De La Mer dining room. A Roberto Cavalli Animalier bedroom.  Yes, they do exist. But it makes sense, doesn't it? No?? Now hear me out. As an architect and a self-confessed fashion enthusiast myself, I think it is the perfect answer to one fabulous question—"Why limit your precious Fendi furry textiles or the iconic woven texture of your favorite Bottega Veneta bag to your wardrobe when you can extend them beyond the confinement of your closet room?"
From contemporary to classical furniture design; bathroom and kitchen furnishings; and even up to lighting fixtures—the recently concluded Salone del Mobile in Milan is indeed an architect and interior designer's paradise. And in recent years, fashion houses have been starting to participate in the exhibition by presenting their take on home luxury design as reflections of their runway collections. Here is a roundup of some fashion brands and their true-to-style furniture pieces.
Roberto Cavalli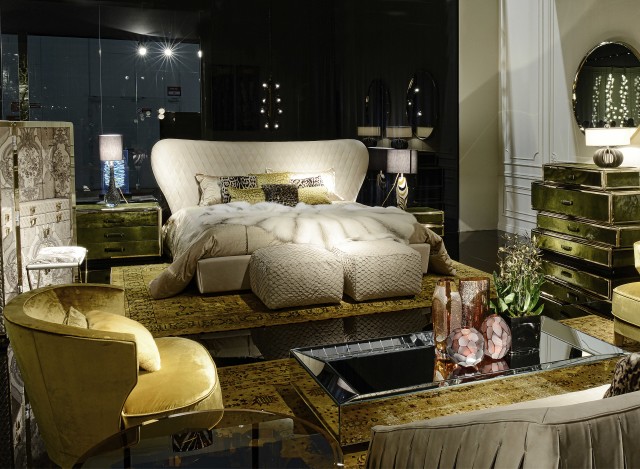 Roberto Cavalli Home Interiors aim to embrace a decorative style that stays between classic and designed furniture. This year, the home luxury styling concept is characterized by a neutral base with green shades. Apparent in the collection is the opulence of reflective surfaces and luxe textures of fur and animalier prints. A real important innovation is marked by the outdoor collection, introduced with the spirit of the "winter garden." Lastly, within the showcase, there is the "Casa Cavalli," distinguished by a more daring dressing, in which pieces are presented in a casual way.
Versace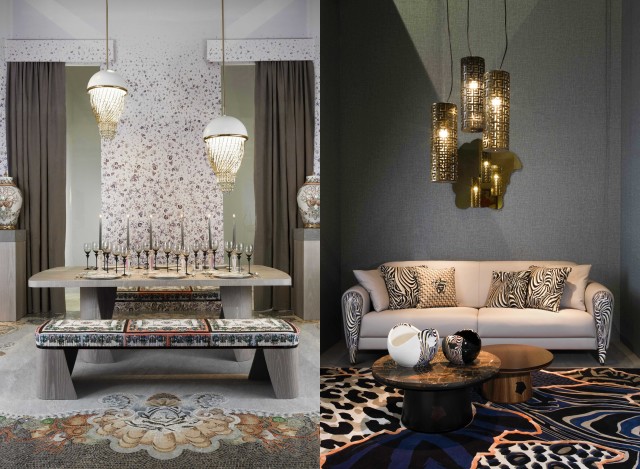 True to her aesthetics, artistic director Donatella Versace presents her new home luxury collections in a bold attention-catching flair: Les Etoiles De La Mer (pastel underwater theme), Vasmara (urban escapism to the safari), Gvardian (futuristic aerospace dimension), and Via Gesu Palazzo Empire (dramatic flamboyance). And as if these aren't enough, Versace home also introduces its exclusive design piece: the new Mesedia chair—a climate-proof aluminum chair carrying the well-known Medusa emblem in the most one-of-a-kind colors.
Bottega Veneta
For Bottega Veneta, a sophisticated and understated sense of home is comprised of a seamless balance of design, functionality, and finest craftsmanship. Refined suedes and leathers, strong and contrasting travertine, bronze and oak, marble and silver with delicate bone fine porcelain characterize creative director Tomas Maier's furniture designs. Among others, being launched this year are the new Rudi seating furniture in luxurious velvet and the bronze tables by Osanna Visconti whose surface resemble the iconic woven texture found in the brand's famous leather bags.
Marni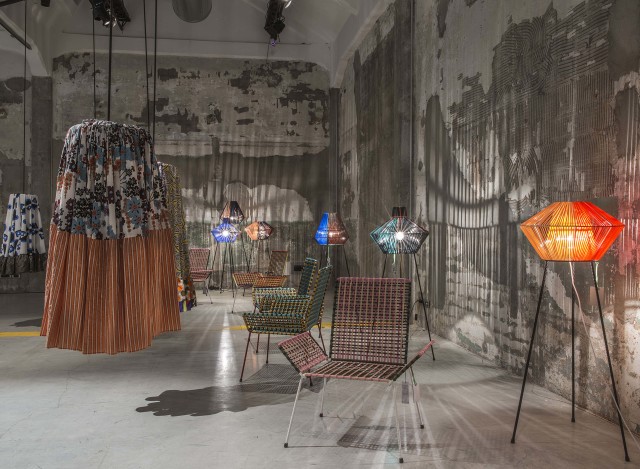 Named as the Marni Ballhaus, the brand explores a new variation of the performing arts through dance by building a relationship between the new design collection and the traditions of Colombia, the country where it came from. The colorful choreography of Cumbia frame the presentation of the new additions of Marni furniture: chairs, chaise lounge, and rocking chairs are combined with small tables, lamps and vases of different sizes made of metal, wood, and hand-woven PVC wires in bright color combinations. The items presented are entirely made by hand in Colombia by a group of women.
Missoni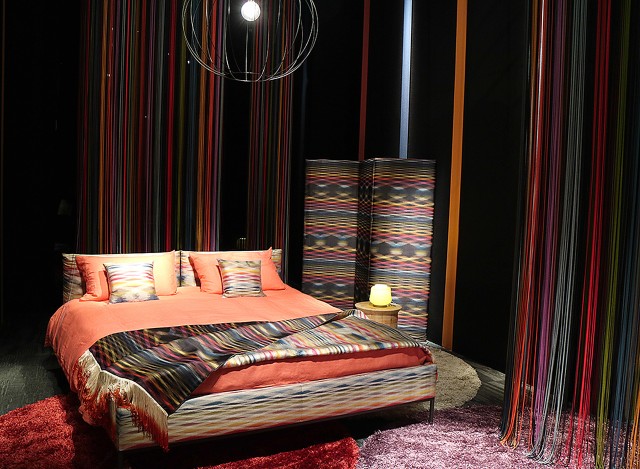 Missoni Home is a star example of successfully interpreting their fashion brand into home luxury design. Exuberant colorful stripes, zigzags, and prints make up most of what the brand has to offer. Attention to detail is particularly notable and color has been used with plenty of confidence, even touches of neon. Different themes are being launched this year: Anemone (sunny flower print), Tropical Fish (underwater theme), and Zigzag (signature multi-colored pattern). And the newest of them all: Fireworks (color burst on midnight backdrop).
Fendi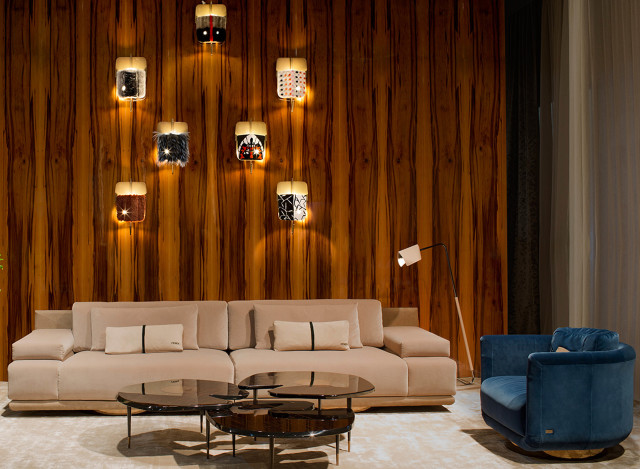 At Fendi Casa, a typical and refined Italian styling sets the warm atmosphere for their 2016 collection. Soft graphic lines are elevated by a new color palette of caramel tan and a wide variety of blues with rich surfaces of marble, ebony, and rosewood. The main stars of the collection are their new Velum Lamps in geometric forms mimicking tribal masks and their 13 made-to-order Fur tablets embodying the Fendi highest savoir-faire in the of crafting furs, all designed by highly acclaimed Italian architect Marco Costanzi.
Hermes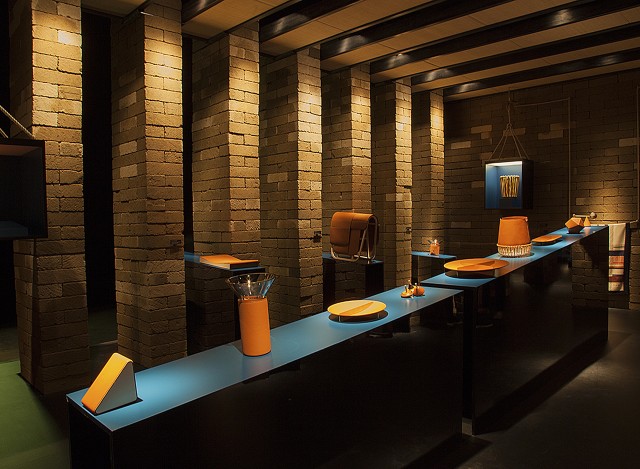 Placed on tilted platforms, Hermès presents its new collection named Équilibre (Equilibrium): creating a balance between materials, shapes, sizes, proportions, uses and sensations. They are objects of desire—completely useless or functional—but carry that utmost care in detail since it is made of selected materials to execute true purity in forms.  Prominent in the pieces are their trademark orange-brown leather called Zucca; and the use of maple in natural finish. Stand-out furniture include the reinterpretation of the Oria d'Hermès Equis chair designed by Rafael Moneo in the 1960's.
Armani Casa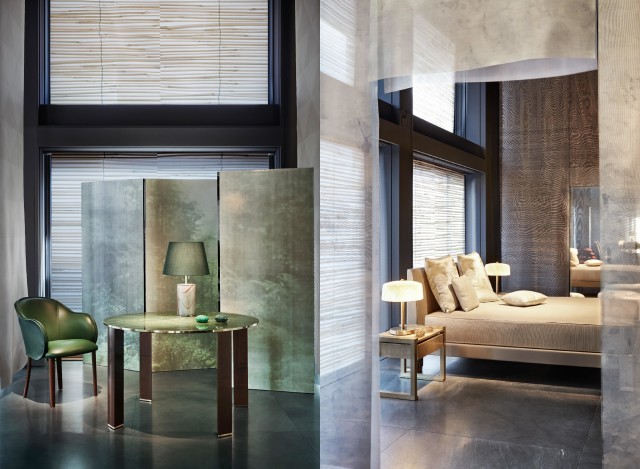 "Lightness" was the theme that pervaded Armani Casa's new home collection that as previewed at the brand's new boutique space. Lined with lightweight bamboo prints that filtered the daylight from outside, the store's interior was softly lit by large semitransparent gauze lanterns that displayed images of the new accessories on all four sides. Similar to how Giorgio Armani designs his runway collection, the furniture are classic and elegant, timeless with the use of neutral fabric and nuances of rich warm wood, with the occasional insertion of forest green colors.

Diesel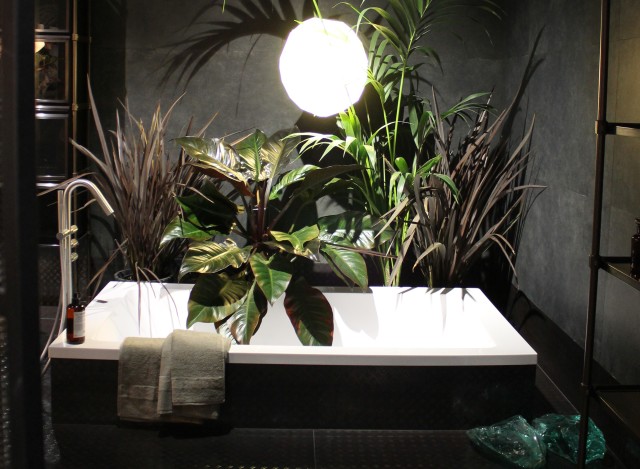 Diesel Living creates a completely open space, fully accessible to showcase their creativity and the distinctive styles of expression of the brand—a combination of the domestic and artistic dimension with the development of their furniture. The collection welcomes the new line, Diesel Open Kitchen and Bathroom in collaboration with Scavolini, a lamp collection created in partnership with Foscarini, furniture collaboration with Moroso, home accessories with Seletti, and finally, wood flooring with Berti.
Photos by Melo Albert and Brand PR