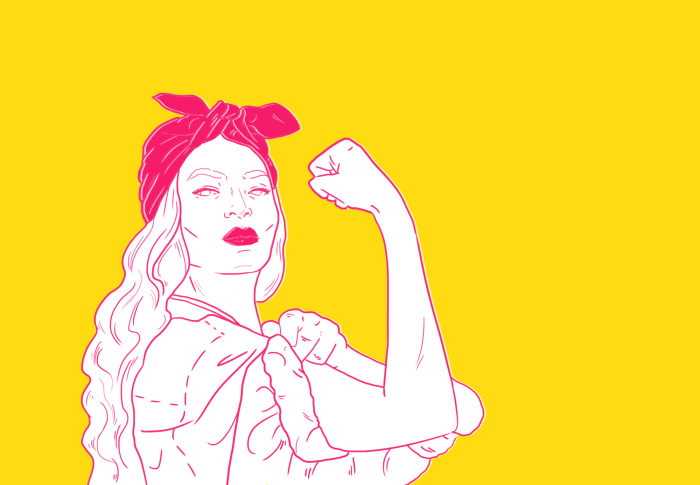 This column may contain strong language, sexual content, adult humor, and other themes that may not be suitable for minors. Parental guidance is strongly advised.
He only want me when I'm not there / He better call Becky with the good hair
Beyoncé dropped a new album and the entire universe paused from mourning the genius that was Prince to speculate on who "Becky with the good hair" could be.
Rachel Roy, the Beyhive believed, especially after Damon Dash's ex-wife posted a photo on Instagram shortly after Lemonade was released on HBO and Tidal, captioned "Good hair don't care, but we will take good lighting, for selfies, or self truths, always.  Live in the light #nodramaqueens."
Rachel's timing was impeccable, whether she meant to throw shade or not on Queen B.  Remember that infamous fight scene in the elevator of The Standard High Line in New York after the Met Gala in 2014?  The one whose video footage revealed Solange beating the shit out of Jay-Z while Mrs. Carter looked impassively on, neither breaking up nor encouraging the melee?
The gossip mill went into overdrive then, surmising that Solange had enough of her brother-in-law's philandering. The other woman, it was alleged, was none other than the glamorous, exotic Rachel Roy.
Those in the know said, no, it was actually Rita Ora, the singer Jay-Z reportedly took under his wing. Controversially—although some say now that the appearance was a deliberate collusion between Rita and Beyoncé —showed up wearing that Givenchy dress.
I'm so reckless when I rock my Givenchy dress…
Whether it was Rachel or Rita, it was clear that Lemonade, as tantalizingly revealing as it seemed on first listen—not to mention first viewing, as it was packaged as a "visual album," replete with power imagery of an angry, defiant Bey with balls and a baseball bat named "Hot Sauce" on the streets of New Orleans—was a shockingly impressive body of work that laid bare the searing, visceral pain infidelity wreaks upon the hurt party, and the stages of grief that are necessary in order to cope with such pain, until, at last, resignation, acceptance, _____________ (insert your own ending here).
Whether it specifically referred to Jay-Z is another matter, but then again, the consensus seems to be, how can it not?
You can taste the dishonesty / It's on your breath as you pass it off so cavalier…
And yet, Beyoncé chose to drop her album on Tidal, which belongs to Jay-Z. Co-dependence to the extreme? Canny image control and marketing? One last roll in the dough before the alimony payments kick in? She's not letting on; the conjectures be they wild or sober, certainly keep Lemonade, as well as the entire Carter family, in the public consciousness and help move product.
Like Beyoncé's other albums, Lemonade is an ode to girl power, but this time it's on a whole different level, honoring the particular solidarity and strength of black women.  In a way it was like saying, any way you look at it, our men are going the f*ck us up, but in the end, we women have got each other's backs.
So it's rather surprising that the Beyhive unleashed their fury on Rachel Roy, storming her social media accounts, threatening and insulting her—and her daughter—for her alleged dalliance with Jay-Z.  At one point, they stormed Rachael Ray's social media accounts, too, confusing the TV chef with the chic socialite designer.
Rachel Roy cried foul, and called it cyberbullying, and she had a point.
If anything, they should have directed their anger at Jay-Z, or, perhaps Beyoncé's father, Matthew Knowles.
But no, instead of having a go—if they indeed needed to vent their collective wrath—at the man who may have been at the root of the problem, they went all cherchez la femme.
It always astounds me that a man can't keep his dick in his pants and strays, yet it's the woman who gets blamed. The one cheated upon, for everything from not being able to keep her man happy, to being too independent, to not giving him enough head, etc., etc., etc., as well as the one he cheated with, for going after him shamelessly and brazenly, for not staying away when she knew he was taken, for not keeping her legs glued together, for wearing provocative clothing or too much make-up, ad nauseam.
I've always been committed, I've been focused / I always paid attention, been devoted, tell me what did I do wrong?
Why doesn't anyone every lay the blame squarely at the man?  It's not as if he didn't have a choice. We ALWAYS have a choice. There may indeed be a Becky with the good hair, but the man should have known better.
The thing is, Beyoncé may have smashed through New Orleans with that baseball bat, but she didn't go around pointing fingers at anyone but the putative philandering man throughout the entire length of Lemonade. From time to time, she took on the part of a woman questioning herself in order to understand perhaps why her man would stray, but she never looked for a scapegoat to blame.
Earlier this week, I was at a ladies' lunch and one woman recalled how at a sleepover her teenage son once hosted at their home, there were some girls from his school who had shown up in those short shorts young girls everywhere love to wear.
She was furious at one of the girls, she said, who had ended up sleeping beside her son in what appeared to be nothing more than a regular co-ed group sleepover, not an orgy.
She said she'd told the girl, rather dramatically, that she had compromised her son's future.
I love my girlfriends, but this blame game has to stop. Instead of lashing out at the girl, why not teach sons to understand that whatever a girl wears is what she wears, period. It is not, and never will be an automatic invitation to grope her, f*ck her, or force oneself on her. And that men are perfectly capable of compromising—or brightening – their futures on their own, thank you very much.
Another perfectly lovely girlfriend lamented, with genuine panic, that her son, who had been studying abroad, had had almost three dozen sexual partners, and attributed that rather prolific number at his age to what she believed was the pervasiveness of casual hook-ups in the US.
Yes, it did seem like her son was pretty much at the level of what might be considered a man-whore but I told her I was less bothered about the number of partners he'd had sex with and more concerned about whether he always used protection, and equally important, did he treat these women right before, during and after sex.
Because if he didn't, well, I'll let Bey tell you:
This is your final warning / You know I give you life / If you try this shit again you gon' lose your wife…
B. Wiser is the author of Making Love in Spanish, a novel published earlier this year by Anvil Publishing and available in National Book Store and Powerbooks, as well as online. When not assuming her Sasha Fierce alter-ego, she takes on the role of serious journalist and media consultant.
For comments and questions, e-mail [email protected].
Disclaimer: The views expressed here are solely those of the author in her private capacity and do not in any way represent the views of Preen.ph, or any other entity of the Inquirer Group of Companies.
Art by Dorothy Guya