You probably heard of the robot that can do your nail art for you, which is something we'd try ourselves if you ask us. But if you think that's out-of-this-world, have you heard of edible chicken-flavored nail polish made by KFC?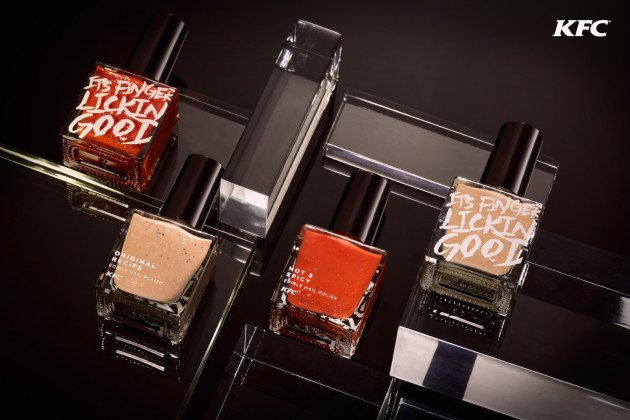 Um, what?
Yup, you read that right. KFC Hong Kong revealed that they will be releasing a nail polish line reportedly made with their 11 secret spices, and will come in original and hot & spicy flavors.
"The recipe for our nail polish is unique and was specifically designed to hold the flavor, but to also dry with a glossy coat similar to normal nail. This campaign is designed to be intriguing and fun to increase excitement around the KFC brand in Hong Kong," Ogilvy, KFC's creative agency, creative director John Kroay tells Adweek.
So, to answer the question floating in your heads right now: Yes, you can lick the nail polish. The brand even said in a statement that you can lick it repeatedly upon applying. Okay, gross.
And if you're still not convinced, they also released a music video where you can see two artists testing out the nail polish while jamming to dance music.
Is this fast food giant doing this to appeal to a younger crowd? Seems like it. But will they like it? We're not so sure.
[
Allure
]
Photos by Kimhoo So for KFC