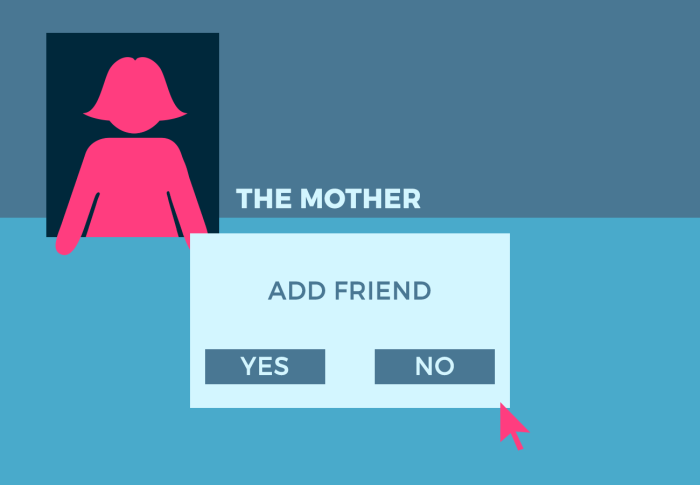 Welcome to Ask Poppy! I'm Poppy, your go-to girl for all of life's woes. And when I say ALL, I MEAN IT. I'm not an expert on anything except maybe for being me, which makes me totally qualified to do this.
Hey Poppy,
Something kinda weird happened recently, and it's like something out of a teleserye. You see, I grew up without my mom by my side for most of my life because she went AWOL. That said, I've accepted the fact that she's not going to be there—until she suddenly contacted me more than 10 years later.
She sent me a friend request and a message on Facebook, saying that she wants to meet with me because she misses her first born. I stalked her profile a bit, and she's already built another family, which got me thinking, "Is this where you've been?"
I haven't replied to her yet, and I don't know if I should. Yes, I obviously resent her for leaving us, but she's being persistent with her offer. What should I do, Poppy? Should I face my mother who was never there for me? Please help!
—Andrea
Hello, Andrea
Mother's Day is so last week. And I'm really not in the mood for any of that weepy bullsh*t that is already being perpetuated by your precious teleseryes. So here's what you are going to do, baby girl: you're not going to reply to any of her messages.
Aww, does mommy miss her widdle baby? Manigas ka, inay. I'm surprised that you're not even angry, Andrea. Finding out that she's living a brand new life with a bunch of kids must be hard, but you managed to pull through and even consider talking to her. She's being persistent because she's guilty of what she has left behind.
One of the many truly terrible things in Star Cinema's latest offering Just the 3 of Us is the subplot involving John Lloyd's character discovering that his father who abandoned him as a baby is now the head pilot in the airline company he's working for. Towards the end of the film, after John Lloyd rips Jennylyn Mercado a new asshole by being a 100 percent total asshole, he faces his demons in the form of talentless hack and former fast food model Richard Yap, who reveals that he was just 15 years old when he got some girl pregnant. GASP!
Cue orchestrated version of the film's theme song and you just turned a lifetime of hate and regret into a poorly-made sequence in this cash grab of a film. And you know how that moment ended? Richard Yap asks John Lloyd if they could be friends. FRIENDS! I mean, yeah, go buddy, be friends with the child that you abandoned 32 years ago. He's misogynistic AF because his biological mom died from pregnancy, his adoptive mom died because of reasons, and my brain cells died a slow and painful death throughout the course of the two-hour movie.
I mean, you can't have that moment, Andrea. Those moments exist in terrible movies and they should remain in those terrible movies and not be recreated in real life.
Here's another thing that you should consider: what's your dad's take on all of this? I'm pretty sure that since your mom left, he had been the one to shoulder the weight of making ends meet for you guys. Wouldn't it hurt if your dad, who was also abandoned by the woman he once loved, find out that you are Facebook friends with your mom? Andrea, no!
That woman already did her damage and I'm pretty sure that that should be enough to last you for a lifetime. "Just when I thought I was out, they pull me back in!" Of course The Godfather III is a terrible film (films with threes are terrible), but that line is very apropos to your situation. Do not be Michael Corleone, honey. Your mother's been out of your life for more than 10 years, and you survived. You're a big girl.
What you can do is to move forward. All those years that you have resented her—it's time that you work on that. You don't have to face her in order to heal the wounds that she had inflicted. This may sound cruel, but try and act as if she's dead. Like she doesn't exist. I'm an Aries, so I know how to hate truly and deeply. Like, I have a friend who blocked my ass after I made a stupid joke. Her boyfriend saw the said stupid joke and they held hands and blocked me on Facebook. At least, that's how I imagined it to be. Anyway, they broke up and the bitch finally unblocked me. So I keep seeing her writing down comments on our mutual friends, and I'm so good at erasing her in my mind that I don't even need to block her puny ass. OMG, I know, women vs. women and name-calling are not peachy keen things, but there are just some hateful, unworthy wh*res who deserved to be blocked online and off. Totally not saying that your mom's a hateful, unworthy 'ho. Name-calling is also not peachy keen, but I'm on my period, so sorry all mighty women reading this now.
But then again, maybe that's just me, Andrea. You have to figure out if talking with her will make you a better person. If I were you and she promises to give me shopping money, I'd totally fake it and be all, "Hi, mom." But then yeah, those are my abdominal cramps talking.
Andrea, if you don't want to be friends with your mom, you have the capacity and the ability and the right to be a total b*tch. Do it.
Always,
Poppy
Got a question for Poppy? From love and relationships to weird questions you dare not ask even your psychologist, Poppy is ready to answer them all. Send in your questions to [email protected] or post your question over Twitter or Instagram with the hashtag #AskPoppy, and you just might get the answer you are looking for.
Disclaimer: The views expressed here are solely those of the author in her private capacity and do not in any way represent the views of Preen.ph, or any other entity of the Inquirer Group of Companies.
Art by Dorothy Guya