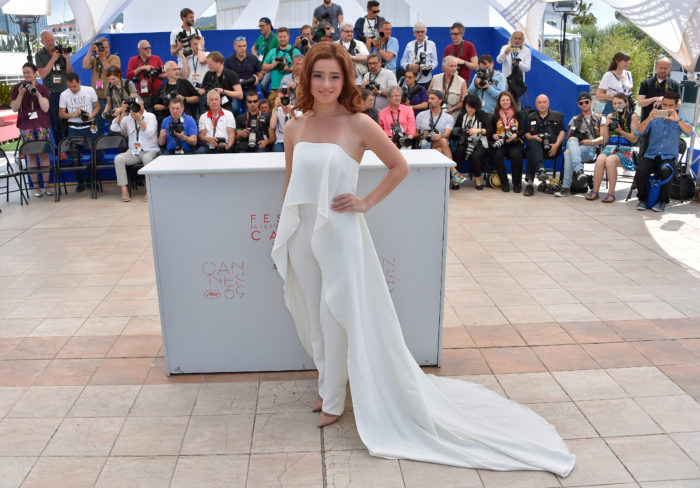 Joining the ranks of Kirsten Stewart, Katy Perry, Rosie Huntington-Whiteley, and the like is no other than our very own Andi Eigenmann impeccably dressed in an all-white ensemble by Patty Ang.
Just a few hours back, Vanity Fair released their 2016 Cannes Red Carpet's Best Dressed Celebrities and it honestly came as no surprise (yes, we are infinitely proud of Filipino talent) that Andi was part of it.
Prior to being featured on the best dressed list, both Andi and Patty started posting about her look on their respective Instagram accounts—Andi thanking Patty for the outfit that she felt good in while Patty returned the compliment and said thanks for working with her as a designer.
We caught up with Patty Ang earlier today as we shared the same excitement for her first collaboration with Andi. "We've actually talked about making something for her, but there was no occasion for it yet. I think everything happens at the right time."
"The piece is actually for the photo call and press conference, and not for the red carpet that's why I'm still astounded—that it was included on the Best Dressed list," she said when we asked what she first thought upon hearing the news. I guess it really is the best news to receive, huh?
Patty is known for her minimalist design and she made sure that what she created for Andi carried the same aesthetic. She wanted something fresh, simple, yet effortlessly elegant. Patty also took to mind that the photo call would be at noon, so she made sure Andi was comfortable yet would still arrive with a grand entrance.
Patty Ang recently presented her latest collection at Manila Fashion Fest and even landed on our list of favorites this season.
Congratulations, you two! All the hard work was worth it!
[
Vanity Fair
]
Additional reporting by Olivia Estrada
Photo courtesy of AFP
Want to raid Andi Eigenmann's closet? Click here to check it out!
Follow Preen on Facebook, Instagram, and Twitter