As someone who's very much interested in Italian mafia films such as The Godfather, eating a cannoli became part of my bucket list for years. Sadly, not a lot―almost none, actually―of Italian restaurants here would serve it. But that was until I saw a stall at a food bazaar in Makati which sold cannolis.
Chef Steph Trinidad and her husband Jim of Cannoli & Co. were kind enough to share their recipe for authentic Italian cannolis so you too can try making it at home too. (Or you know, visit their stall some time to get a taste.)
Cannoli
Ingredients
For the shells
3 cups all-purpose flour
1/4 cup granulated sugar
2 tsp cocoa powder, sifted
1 tsp salt
1 egg
2 tbsp salted butter, melted
4 tbsp Marsala wine
Oil for deep frying
For filling
3 cups mascarpone cheese, drained overnight in a strainer
1/4 cup powdered sugar, sifted
3/4 cup whipping cream
2 tsp vanilla
For chocolate ganache
1/2 cup cooking cream
1/2 cup chocolate chips
1 tsp butter
Chopped pistachios
Procedure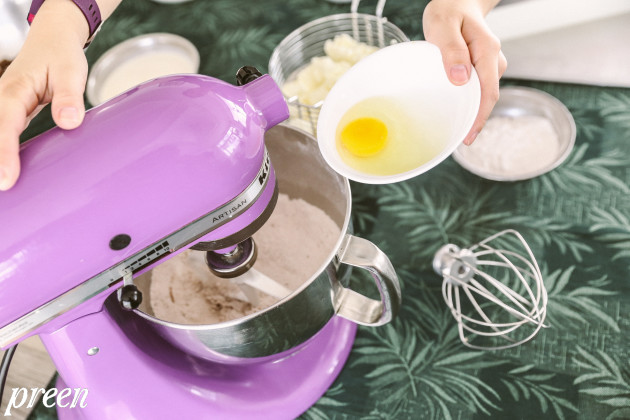 1. For the shells, combine the dry ingredients first in a mixing bowl. Then slowly add in the egg, butter, and Marsala wine. Mix until the dough is pasty. Once done, knead the dough and roll it into a ball, then place it in the chiller for three hours.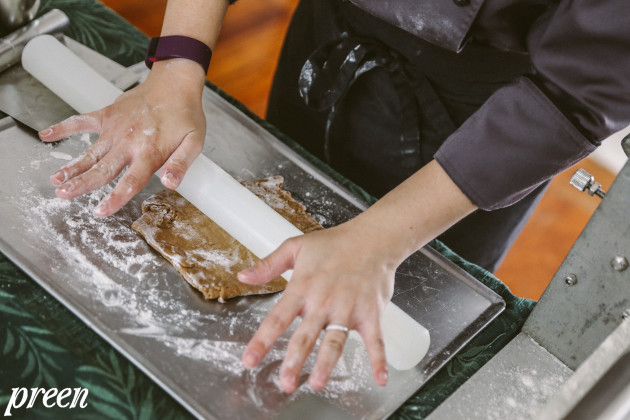 2. Once chilled, dust flour on a board and flatten the dough using a rolling pin. To make it thinner, place the dough in a pasta maker.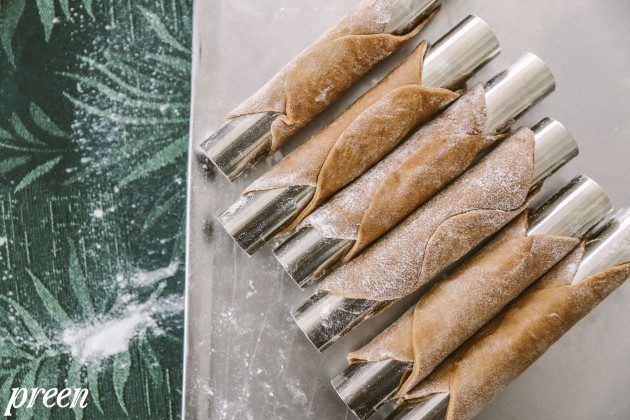 3. Use a cookie cutter to cut rounds then roll them on a cannoli molder and secure them in place for frying.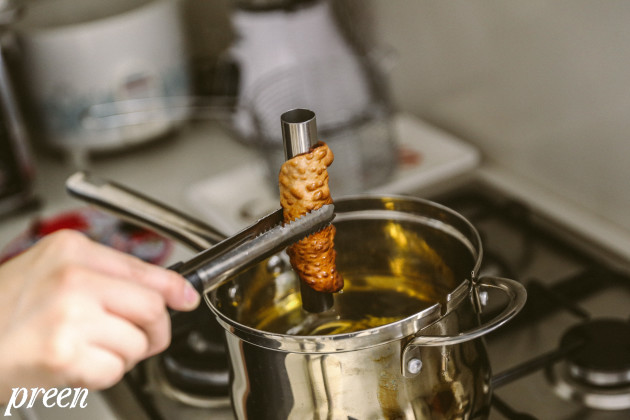 4. When deep-frying the shells, chef Steph says that you should also put in the molds so that the they won't get deformed. Also, make sure that the oil is at 160 degrees Celsius so they'll get that crisp, golden brown color. After that, remove them from their molds and let them cool inside an air-tight container.
5. While the shells are cooling, you can start mixing the whipping cream, then fold it with the mascarpone cheese for the filling.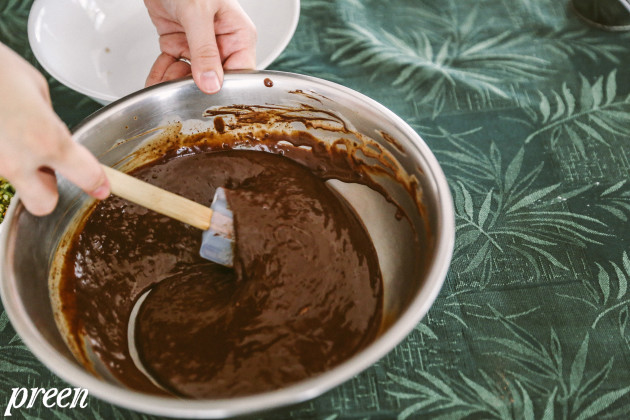 6. Next up, the ganache. Heat up whipping cream in a saucepan and melt the chocolate chips. Stir it well so you won't miss anything. Then, strain it in a bowl to avoid lumps which might give the ganache a bitter taste.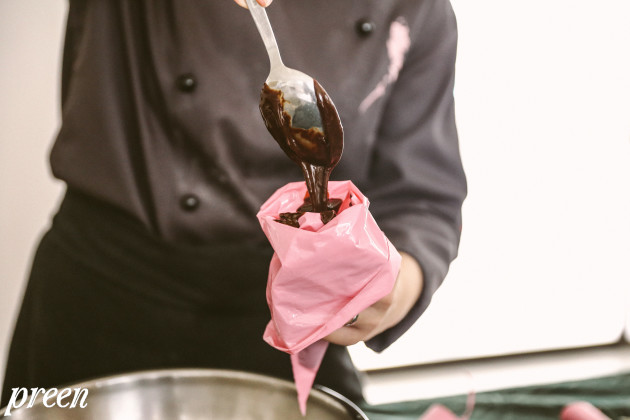 7. Once the filling and the ganache are done, put them in a piping bag.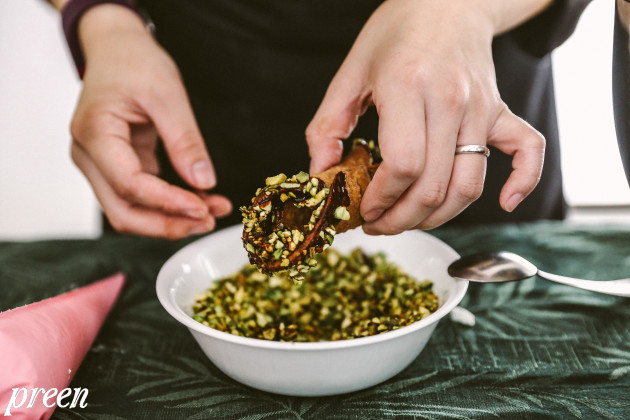 8. When the shells have cooled, dip the edges in chocolate ganache and chopped pistachios.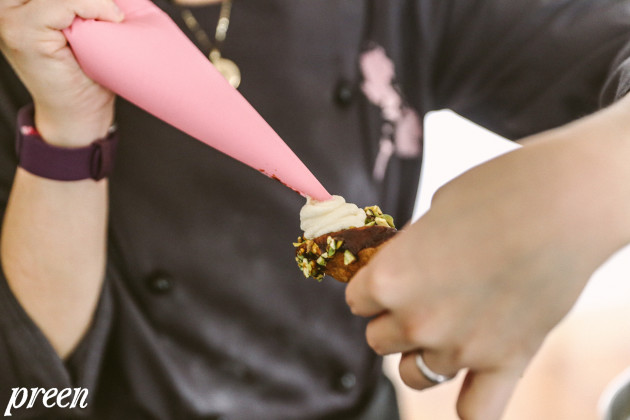 9. Pipe in the mascarpone filling until there is an equal distribution inside the shells.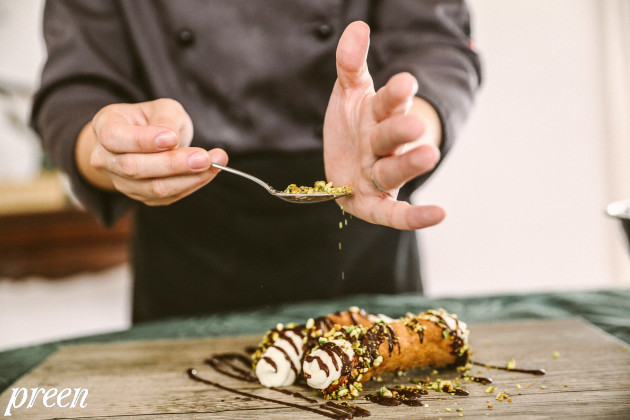 10. When presenting it, you can drizzle chocolate ganache and sprinkle more pistachios on top. Chef Steph also uses candied orange or lemon peels to garnish it.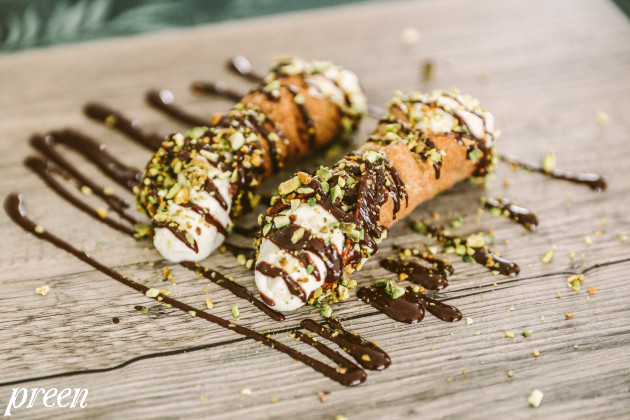 11. Enjoy!
Cannoli & Co. For orders, call or text (0917) 811-1805, or email [email protected]. For more information, visit their Facebook and Instagram.
Photos by Paolo Tabuena
Follow Preen on Facebook, Instagram, and Twitter