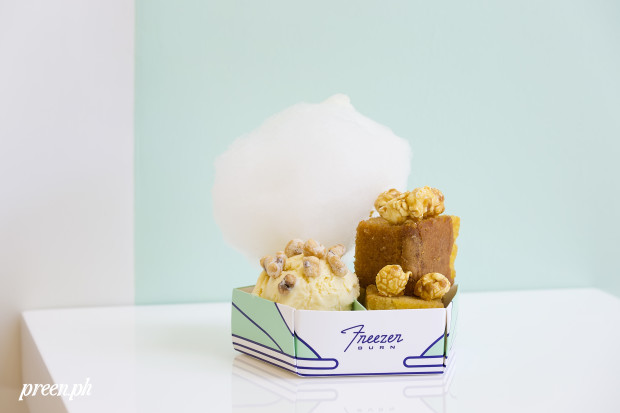 If you find yourself clueless over what exactly you're craving for, then Freezer Burn just might be the cure.
Today, the dessert shop opens just in time for the shopping crowd that hits Bonifacio High Street every weekend. Their offerings? Hot desserts served side by side a scoop of ice cream in one cute pentagon box. The reason? "We didn't want to just open another soft-serve ice cream place. You know us, we wanted to do something different," says chef Miko Aspiras of his latest venture after crowd-pleasers such as Scout's Honor, Le Petit Souffle, and Milk Trade.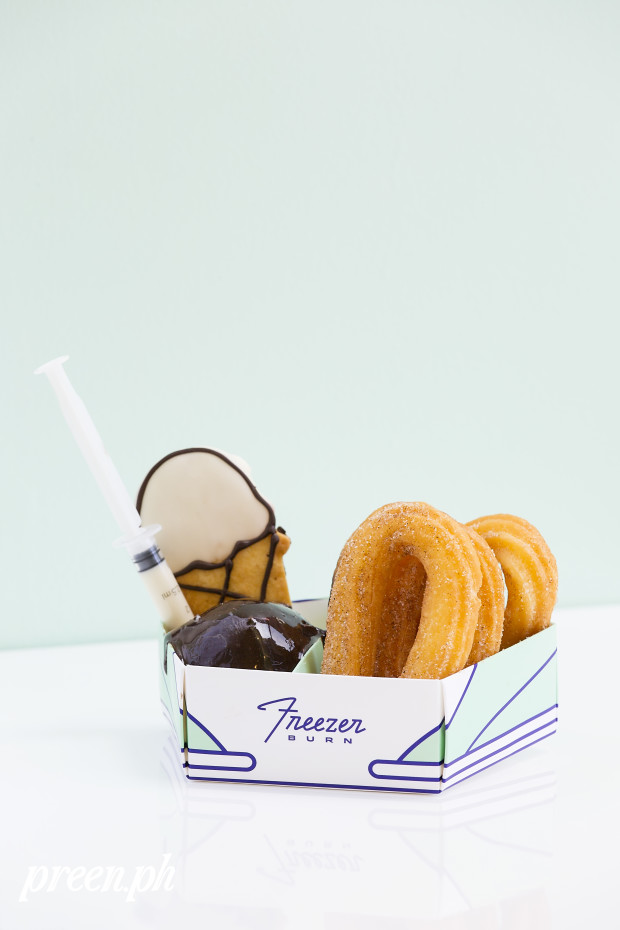 The result? A mixture of your confusing cravings and secret guilty pleasures called Composed Desserts (P295). An immediate curiosity is the Ketchup Mayo Fries. It's ketchup and mayo ice cream (go ahead, read it again, it's really what I said) with a serving of thick-cut French fries. If you're the type to dip your fries in ice cream, this is confirmation that you were never the only one. The ice cream is a curious mix of sweet and salty, a good dip for your fries but still a little weird to eat on its own.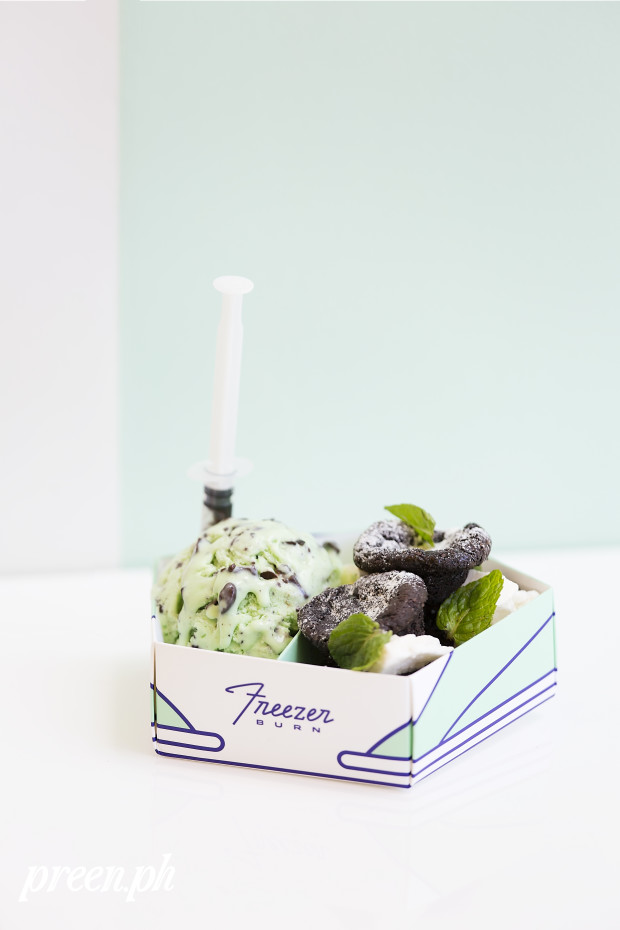 On the other hand, the Thick Mints make for a mint chocolate lover's delight. Mint ice cream served with a syringe filled with stracciatella chocolate comes with five pieces of soft and gooey brownies and mint leaves. It's an easy favorite before you dive into Freezer Burn's other unique concoctions like the Cream of the Crop. This subtly sweet corn and cheese ice cream is paired with a filling toasted honey cake topped with cornicks. I guess this is best when you're having a bad day or if your mood is messing with your appetite. In both of these options, I liked how the ice cream complements the baked items and neither part of the duo was compromised for the other. The brownies almost melted in my mouth, the honey cake was rich and moist.
"Is it too sweet?" asks Miko while I taste it, forever fussing over the details hours before the opening of the shop. "It's just right," I answer.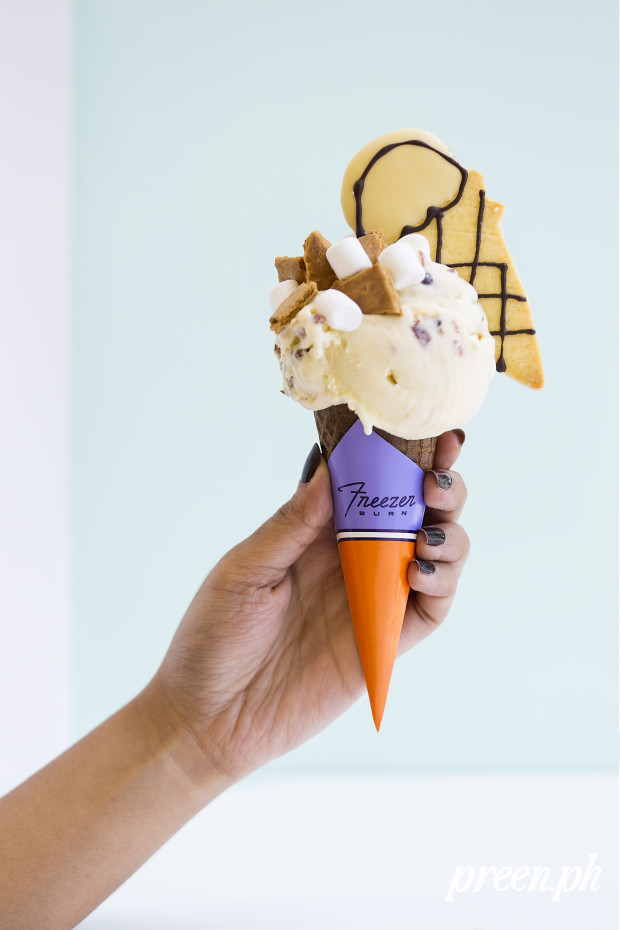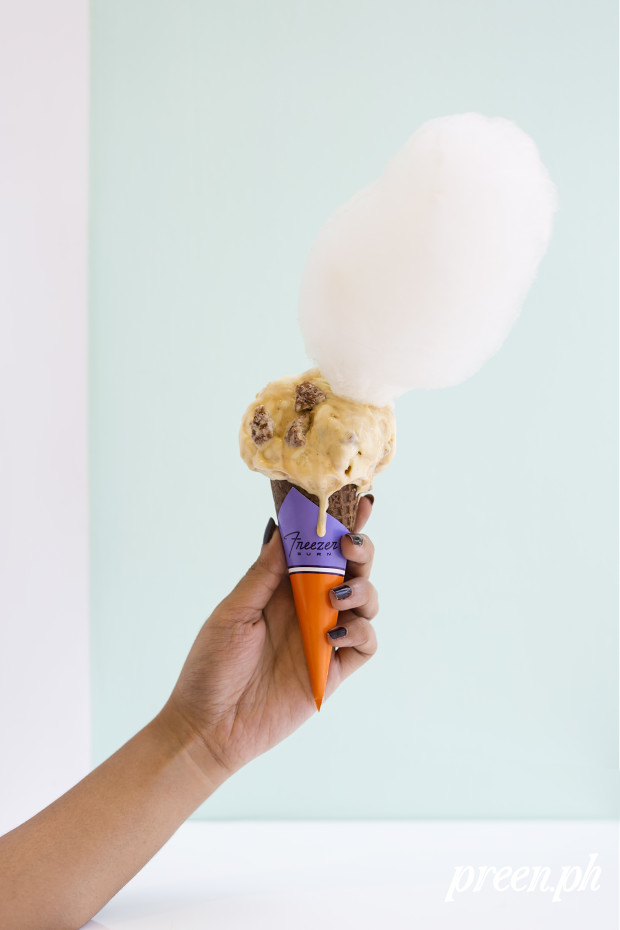 If you're not for the hot and cold combo, you can also opt for just the ice scream offered from one to three scoops, depending on your liking with up three toppings of your choice. But don't expect to look down and see staple flavors in the freezer. Freezer Burn offers unique blends like Maple Bacon, Cookies and Junk Food, and Butter. "I would come up and test out these flavors in between opening Milk Trade and working on stuff for Madrid Fusion Manila," he says.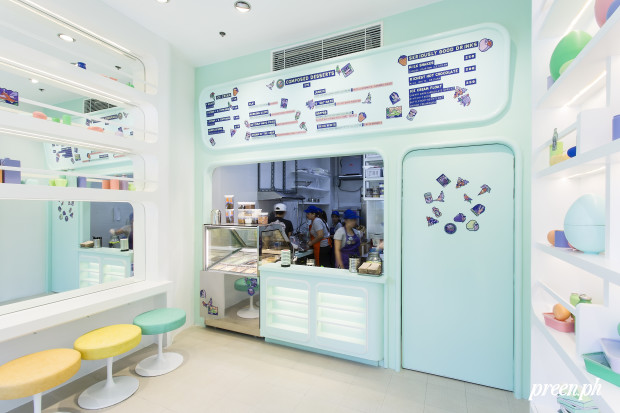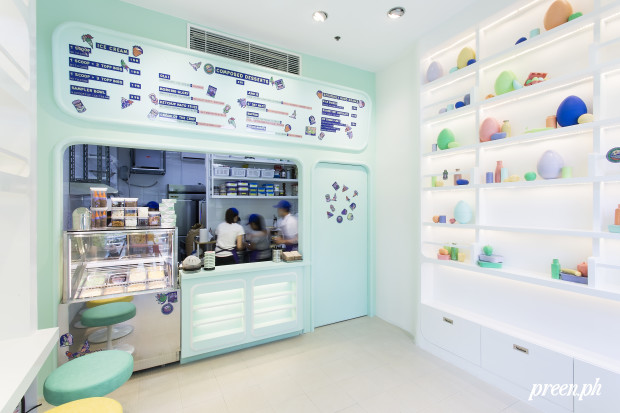 The interiors were made to look like a cute, old-school refrigerator. It's complete with pastel fixtures on the shelves and slots that mimic the storage space for eggs and drinks. "We do take note of how Instagram works as free marketing and so we thought of how to make this place worthy of photos," says Kristine Lotilla, co-owner of Freezer Burn of the space. "But, despite that, it's not the first thing we think about. It's just we always want to do something that hasn't been done before when it comes to the overall concept."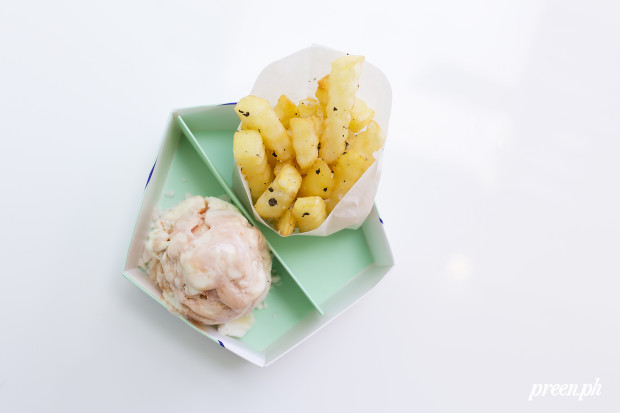 To directly answer what you might be thinking now: Yes, the place is 100 percent Instagrammable. And so is every offering they have. A little light  and angle, and you're good. But more than the like-worthy photo is the experience you get when trying out these unsual concotions.
Freezer Burn. B3, G/F, Q3, Bonifacio High Street, 9th Avenue, Taguig. 0927 387 2703. Opens today from 11 a.m. to 10 p.m. For more information, visit their Facebook page.
Photos by RG Medestomas
Follow Preen on Facebook, Instagram, Twitter, Snapchat, and Viber