Multi-hyphenates have evolved and are now obsessed about branding. It's not just about how much you can do but how well you can tie them into a single image that will become a staple in name in lifestyle.
The ones who last long have caught on to this. Just look at how Heart Evangelista, once a teen star is now more than an actress, she's now showcasing her brand as Love Marie. As that said persona, which also happens to be her real name, she's showing off her artistic endeavors. We know about her paintings, that have been been exhibited abroad and of the Hermes bags she's personalizing with her strokes. But the novelty didn't stop there. From a collab with Mark Bumgarner, she quickly called up Happy Skin with an idea for a lip of lipsticks and lip pencils.
"Heart came to us with the idea full formed," shares Rissa Mananquil-Trillo, co-founder of Happy Skin. The local cosmetic line which has become a fast and huge hit introduced their first collaboration with a celebrity, #HappySkinxLoveMarie over the weekend. Fans gathered as Heart played makeup artist for a day with a live demo to show how lipsticks can complete your entire look and change you in a swipe. "The project was really out of her own experiences and beliefs," said co-founder Jacqe Yuengtian-Gutierrez. "So to her it's more than makeup, it's also her life and her art."
How did the project come about?
I approached Happy Skin with the idea. I have always wanted to create my own makeup, with colors that I really use. I also wanted the makeup to have my doodles on them to show the fun side of me. It's also something that I felt was just right as I just came out with a makeup book.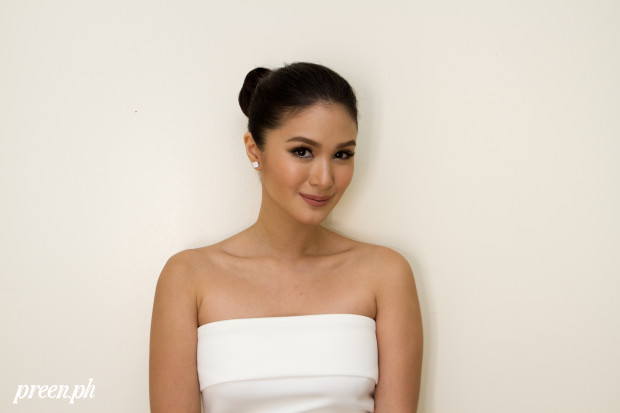 How long did it take to develop?
Just a few months. I approached them around election time. My husband taught me to keep around five tasks a day, to play five roles a day. It's tiring.
Why lipstick?
I love how a lipstick, among other makeup items, totally changes your look. Nude is a statement lip, if you think about it and of course, there's red which always makes an ordinary outfit better.
You're so active with so many different projects, what's the main vision?
I want to show my mark as an artist. When we say artist, we don't mean just one project or one medium especially nowadays. Even before I entered show business, I was into painting,  so now I really want to expound on that. I then wanted to move out of the canvass so I painted on the bags and the notebooks. Then I moved on with dresses with Mark Bumgarner. It was natural after fashion to do something with makeup. This all part of me that I want to show my take on.
So what are your other projects?
I am also developing a perfume line. Right after will be my exhibit with all the painted Hermès bags. Afterwards, I will have a book about those bags aside from a cookbook with my mom. I know I am doing so much but I enjoy it.
Who do you consult when you doubt yourself?
I talk to Katrina Cruz, my stylist. Right now I am also developing a clutch line and she's helping me source the products. I also talk to Ivan Rossi, also a great painter. He didn't want to teach me because I am [too stubborn] so he said he'll just be my friend.
What are your days now like then?
On Mondays, Wednesdays, and Fridays, I wake up at 5:30. I will have taping until 1 a.m. On other days, I wake up at 7 a.m. and then it will depend on my schedule if I have to work out or  have a lunch meeting. I just make sure that I get out of Makati at 4:30 p.m. so I can get home and paint on either a canvass on or a bag.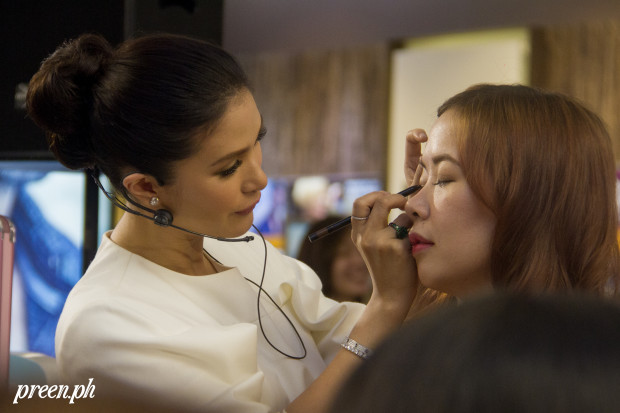 How hard was it to keep a disciplined schedule?
At first it was hard but then I had to really stick to it. Having a husband like Chiz, you really need to keep up.
What's the best makeup look to go for when someone who is as busy as you?
I think people always go for too much makeup that you lose how you look. Unless I am going to an event where I can have fun, I always just keep a natural, nude look.
How do you replenish your creative juices?
I always go on a trip, even just to the beach. Seeing beautiful things will also spark new ideas. I always go for places with lots of colors. The red here looks different than in other places. A sunflower here look different than the one in Paris. It's just these little things that change your perspective.
With this project, what did you want to communicate?
It's all about presenting yourself, feeling good, and having a happy disposition. Never underestimate how makeup can change and motivate you.
Photos by Bianca Arreola
Follow Preen on Facebook, Instagram, Twitter, Snapchat, and Viber