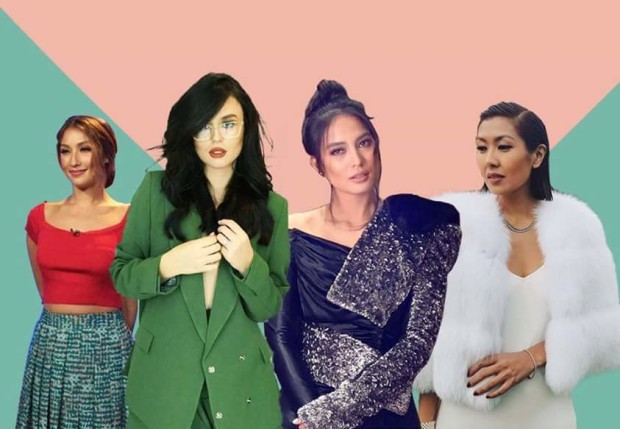 In case you haven't heard yet: There's going to be a new reality show starring Georgina Wilson, Solenn Heussaff, Isabelle Daza, and Liz Uy called It Girls. But moving past the impending drama that we love so much, there are also other things to look forward to on this show.
To see what we mean, you can just scroll down. You can even share with us what else you want to see on the show.
#1 Endless shopping sprees
It's not a surprise that these women are stylish. Liz likes sporting designer brands like Gucci and Chanel, even getting featured on The Coveteur and Vogue. While Georgina also likes to shop for couture pieces from Valentino and Balmain. So it would be interesting to have an insight on their shopping habits, at the same time, get some styling tips and more knowledge on must-have brands.    
#2 Gym dates
When we spoke to Georgina before, she revealed that their idea of a girls' night out is working out in the gym. And if you follow her, Solenn, and Belle on Instagram, you'll know that these girls take exercising very seriously. Hey, maybe you'll even learn some fitness tips and how they manage to squeeze working out in between their busy schedules.
#3 Behind-the-scenes of shoots
Whether it's for their respective television shows or magazine features, we're hoping to see how they warm-up in their dressing rooms. Do they listen to their favorite playlists? What do they eat while they're being made over? What do they joke about with their hair and makeup artists? So many questions!  
#4 What they like to cook
Solenn is already giving us a sneak peek of her favorite homemade eats with the #SolennCooking hashtag and Belle is also showing off her skills on her YouTube channel. But what about the others? We're guessing they're also strict with their diets and they also arrange potlucks from time to time.
#5 A look inside the Burnands and Bolzicos
We're not expecting anything too private here, but just imagine Georgina and Solenn being goofy with their husbands while spending quality time together away from the limelight. Admit it, it's a cute scenario!  
#6 Wedding planning
Speaking of husbands, Belle is set to marry her fiancé Adrien Semblat soon, as well. Although there's no specific date yet, we might just see a glimpse of the wedding planning in the show. If not this season, maybe the next (if it does get a second season).
#7 Travel diaries
In the span of months, these ladies have been to numerous countries and local destinations already. England, France, Bhutan, Spain, USA, Bataan―and the list goes on and on. So if you're not content with their Instagram shots, then better pray that the cameras followed them to these locations.
Art by Nico Ortigoza
Follow Preen on Facebook, Instagram, Twitter, Snapchat, and Viber