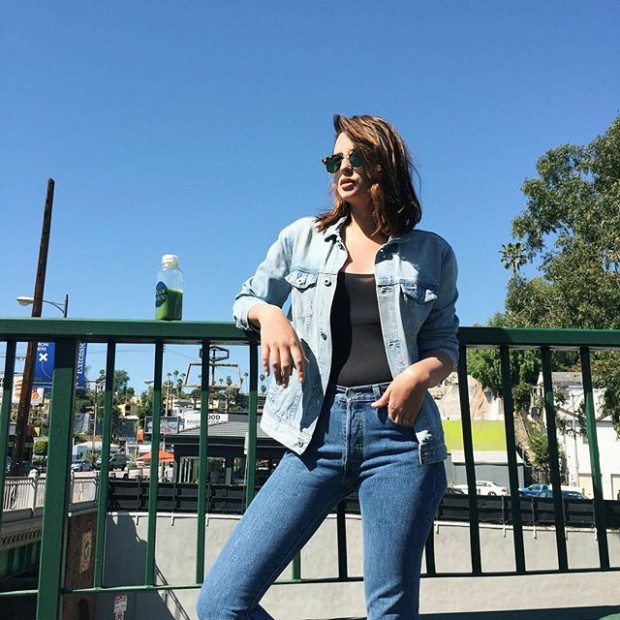 Aside from shopping for the latest fashion trends, a topic that model Georgina Wilson can rave on and on about is working out and getting fit. Despite having a very busy schedule, she always seems to squeeze in a session or two each day. If you don't believe us, check her Snapchat account (ilovegw).
Before we even started with the interview, you can tell that Georgina was very excited to share her workout routines with us.
"I'm so into it! My brain and body is so tired from [doing swimming and weight training for two hours yesterday] that I could sleep right now. I think I overdid that a bit," she tells us during Tresemmé's Stand Up to Styling Damage event last Thursday. "Working out, and the endorphins and the high that you get [from it] is so addictive."
If we weren't given only five short minutes to chat, she would've went on all day about it. To know more about what's making her fit and strong these days, as well as tips that you can apply, you can read our little Q&A with Georgina.
What's your most favorite workout?
I love weight training. Women don't really do it enough because they think they'll get bulkier, but weights for women is one of the best that they can do. I do weight training everyday and I feel like I've seen the  best results with this workout, not only on a physical level. I love that I feel stronger like, when I'm going to the airport, I can carry my own bag. I just like it—I like feeling stronger [and] feeling toned, so I highly recommend that. If you don't know a professional trainer, you can watch YouTube videos and start doing lightweight training. Just do it. I'm such an advocate for it.
[Also,] I recently discovered that [another] absolute favorite of mine is 
SoulCycle
 in the States, or spinning classes. My cousin, Belle [Daza] owns 
Ride Revolution
 which is so much fun. It feels like a gimmick night when I'm there—I just feel like partying and singing.
How about your least favorite?
It's not really a least favorite because I used to be really into it, and if I get back into it, I'd love it. But at the moment, I'm feeling a little bit too restless for yoga. But I should get back into it soon.
Who are your usual workout buddies?
I have a lot. I work out with a lot of people. Solenn [Heussaff]  is one—she's quite strict with me, [and] she doesn't let me have breaks which is annoying. Belle pushes me, too.
When were in Argentina, Anne [Curtis], Belle, Solenn, and I would work out every day which was fun. It's just something that my friends and I do all the time—we go out to have dinner and work out the next day. It's a part of our life.
Best advice you got from your trainer or your friends.
Lift weights? (Laughs) It sounds funny, not really inspirational. But yeah, lift weights.
Do you have a ritual before heading out to the gym?
Wake up and run to the gym. Just get out of bed. That's it. Maybe drink a glass of water.
Do you watch any workout videos on YouTube?
No. You know, working out is such a big part of my life that it does take a lot of my time. It just need to be a priority, like I schedule all my meeting and everything after working out.
Do you have a specific diet that you're subscribed to?
I do. I dabble with a lot of diets, but I'm a fan of healthy good food and protein and vegetable diets. It comes in different names and forms, but at the end of the day, I love sticking with protein and vegetables. [I eat a]  few healthy carbs sometimes but it makes me feel heavy when I eat too much of it.
What's your go-to Snapchat filter when you're taking post-workout selfies?
I usually use the black and white filter and put an emoji sticker on top of my face. (Laughs)
Any advice you can give to people who want to get fit?
It has to be something that you're passionate about. I don't believe anybody who says that they don't have time. There's no excuse for you to skip it, you have to make time for it. I have a friend from New York whose job is like 7 a.m. to 10 p.m., so he wakes up at 4 a.m. to work out. So yeah, you just do it.
Photos courtesy of Georgina Wilson's Instagram and Snapchat