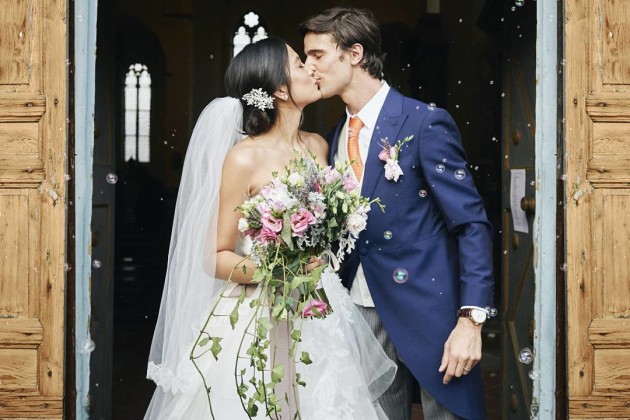 After all the teasers—from her #Bellechorette to the wedding giveaways, Isabelle Daza and Adrien Semblat finally tied the knot in Tuscany, Italy. It was a colorful wedding, filled with star-studded guests in bright, floral ensembles to contrast with the venue's rustic charm.
It's true that every aspect of the wedding is note-worthy, but we'd like to give way to some of the hidden gems we found in the #BelleAdrien2016 feed—from the dresses' details to what's happened during the reception.
Dressing for the occasion
All the ladies wore beautiful dresses during the whole wedding weekend. At Belle's despedida de soltera, they wore vibrant prints in yellow, red, green, and blue which represent the Tuscan culture.
And on the special day, Belle wore her "dream" Vera Wang gown—a tube gown with a mauve silk ribbon on the waist. She also had light makeup on for a more natural look and pulled her hair up in an elegant bun.
Meanwhile, her bridesmaids—Solenn Heussaff, Liz Uy, Anne Curtis, Bea Soriano-Dee, Ava Daza, Martine Cajucom, Mayor Pie Alvarez, Rachel Guerrero, and more—all wore flowy, mismatched floral dresses by Vania Romoff.
Let's not forget the men
Instead of the usual black or white, Adrien and his groomsmen sported dark blue tuxedos to the wedding.
It took a (literal) village
The wedding took place at the Castello di Gargonza—a 13th-century castle village built with several accommodations for tourists (modern, of course). Definitely suited for weddings with a relatively big guest list.  
Walking down the aisle
In lieu of Belle's late father, Sen. Bongbong Marcos, one of Bong Daza's best friends, walked her down the aisle.
Tim Yap also caught a video of Belle at the aisle and if you listen closely, you'll hear the church band playing "Make You Feel My Love" by Bob Dylan.    
Helping with decorations
As a little welcome for all the guests, Nix Alañon and Raymond Gutierrez attached a few photos of Belle and Adrien, as well as banners, to a few trees and bushes. Nix even noted that they had to climb trees to accomplish them. A for effort!
Cousins Jess, Ava, and Martine also helped out in packing the wedding kits before the big day. Everyone definitely lent a hand to make this affair beautiful for the bride and groom.
Reception of our dreams
The wedding reception was held outdoors, with fairy lights hanging above and pastel table cloths all over. It looks simple, but had an elegant and serene vibe to it. Each table also had floral center pieces and handwritten numbers and nameplates on them.
And, I'm not going to lie, the appetizer table, which was filled with prosciutto, cheeses, pasta, and bread is indeed an authentic Italian spread. Just imagine the other courses they served throughout the night. And to make things even more special, Erwan Heussaff created cocktails for everyone after dinner.
Speaking of delicious food, the wedding cake also caught our attention―mainly because of the cute wedding topper. Solenn even jokingly said that it represented Belle and Adrien's relationship.
Oh, and Belle changed into a much simpler dress for the reception which had lace details on it.
Anne's tearful message
There's no video of Anne's full message yet―we might just see it in the official wedding video―but younger sister Jasmine caught the moment when she was laughing the happy tears away. Awww.
Witty hashtags
Belle previously said that they needed a wedding hashtag for the occasion. While they already have #BelleAdrien2016 as their official one, we noticed others using #TuscanyeWest. Groomsmen Nico Bolzico and Clifford Ho even used #BelleHasAids―yes, their friends can get a bit crazy at times.
Family portraits
Lastly, we can't forget about the lovely shots of the Diaz family during the occasion. All of them―mom Gloria Diaz, sister Ava, and the cousins―looked blooming from morning to evening. I guess we have makeup artists Mayesa Delos Santos and Lala Flores, as well as their blessed genes to thank for that.
Photo courtesy of BJ Pascual's Instagram
Follow Preen on Facebook, Instagram, Twitter, Snapchat, and Viber