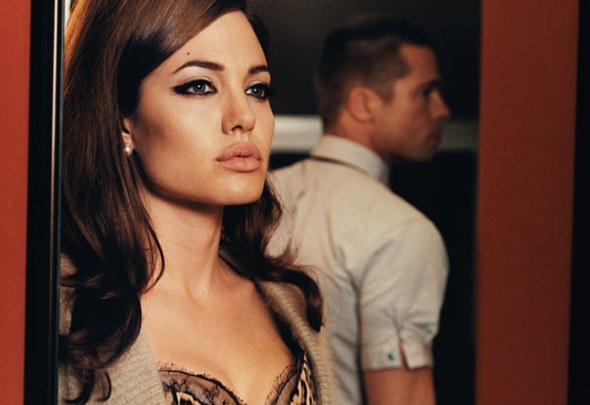 I'm reeling from all the reports and posts about the sad news that broke out and was confirmed today: Brangelina is no more. Angelina Jolie's lawyer released a statement about the divorce papers, unearthed first by TMZ that shall end their 12-year Hollywood marriage.
In this instance, the shock is real. Comments like "Love is dead," "Breaking: our hearts," reflect that like it or not, Brangelina was really something we thought would last. It's nothing like the fiery romance of Amber Heard and Johnny Depp, now wrought with the ugly side of domestic violence, or the calmness by which Gwen moved on from Gavin and into Blake's arms. Buzzfeed traces the trajectory of how Brad and Angelina changed their public personas through the marriage. Angie from wild girl to humanitarian champion, Brad from hottest heartthrob to…well, still that PLUS worthy, Oscar-winning producer. Their divorce, Buzzfeed said, marks the end of an era.
I'll just come out and say that I'm a fan of Angelina. I bought how she changed from bisexual, sleeping with two other lovers kind of woman to mother of the year with six kids that would rival the Brady Bunch. She could have been the harlot who stole Brad from Jennifer Aniston and then left the man so carelessly when she was done with him. But she wasn't. She's a career woman who had a family life too.
Team Jen fans, you can hate me. And hey, it's still merited you still hate Angie. Cheating is ugly and in some cases, very unforgivable. So of course, now, Twitter is flooded with Jennifer Aniston memes.
This is Angelina's karma for stealing a married man.
I'm sorry. The last time I checked, karma wasn't dictated by mere mortals.
It's so sad to suddenly dismiss Angelina and what's she's going through. She deserves a broken marriage, she deserves this because she was once a cheater, the people say. If Brad was leaving her and if the report on him being with Marion Cotillard were true, we could say, "Hey, what did you expect of a cheating man?"
But again, it's Angelina who filed the divorce papers. One news source even put an empowering spin on it with the headline: "London School of Economics Lecturer to Divorce Actor Husband."
She's making a move to put her family first. And yet the tabloids are blaming her for not sticking long enough to make the marriage work. Here they go speculating that other women are to blame for another one of Brad's failed relationships.
Last time I checked, Brad was the one who left Jennifer for Angelina.
It's Brad now who has to explain what are the irreconcilable differences Angelina is leaving him for. It's him who needs speak up whether his parenting style is the cause of the divorce.
It's Brad, who after two wonderful women, still proves to be the questionable party despite that pretty face.
And it's also Brad and Angelina going through a tough time: admitting that this picture perfect union can only run so far and can only hold up through so much of the paparazzi's lights.
It takes two to make a marriage and sometimes, also two to break one. Why does it always have to be the woman's fault? Why does it always have to be the woman's karma?
Can't we just let a woman leave a man she thinks is no longer worthy of her and call it a day?
Photo by Steven Klein for W Magazine
Follow Preen on Facebook, Instagram, Twitter, Snapchat, and Viber