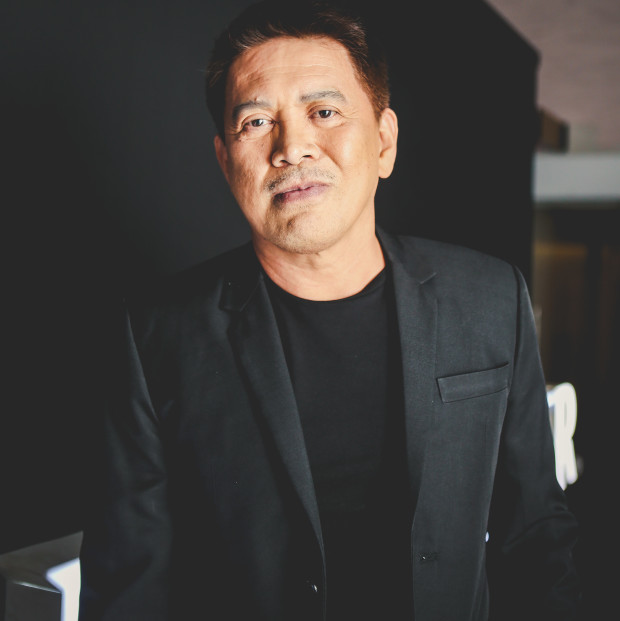 If there's one Filipino director that never fails to surprise his audience, it's Brillante Mendoza. His brand of gritty slice-of-life films has earned him local and international recognition, the most recent being an Oscar nomination for Ma'Rosa. But despite all the mainstream success and even a nod from President Duterte himself, he still chooses to be an independent filmmaker.
"I love what I'm doing," Brillante tells us during Johnnie Walker's Keep Walking Philippines launch. "I do this because I want to do this. I don't need the help of the government. If someone comes up to me and says, 'Hey, I like what you're doing and I'm going to give you money.' You're very welcome but I'm not going to compromise my art and my dignity as an artist for you to support me."
I guess you can say that Brillante's passion to show eye-opening stories is what took him this far in the past 11 years. His willingness to educate the masses through his films is a brave attempt even though he admits that not everyone will appreciate them. We find out more about how this prominent director creates his films, as well as notes on their Oscar nomination.
How would you describe yourself as a filmmaker?
I would describe myself as an independent filmmaker. Independent meaning that I don't conform with the mainstream formula of storytelling, technology, and etc. I do them outside of the box.
Who are the filmmakers that inspired you?
[I started late in the industry] so my inspirations are mostly the filmmakers I've worked with like Lino Brocka and Mike De Leon. But then, as you make your film, you realize that what you're doing is different from theirs. Kung baga, they were the ones who pushed me to make films.
How do you conceptualize your films?
Basically, I'm a filmmaker who connects with reality. I'm not a filmmaker with just imaginary stories I create in my air-conditioned room, you know? I don't go to vacation to create stories. I lived and felt for these people and I know them, that's why I was able to make stories about them them. I think it's going to be impossible for me to create stories about ordinary people if I don't really feel what they're going through in their life. You can always create stories about these people but, you know, this is just going to be [a plain] story. But when you feel for them, that's what makes a good film.
How long does it take for you to research on a certain film?
It can take several months. First of all, there has to be a situation wherein I'm really affected as a person―not even as an artist. As a filmmaker, I have to know and acknowledge that there's a situation going on. And for me to create a story, I have to start from there. 'Di naman kasi pwede mag-kwento nang wala akong nararamdaman. (I can't tell a story if I'm not feeling anything.) If I have an issue, I think that's where it should come from. There are a lot of issues like corruption and injustices. Maybe if we run out of them, I'm going to make a film about the rich people and those who don't really suffer.
For me, there are a lot of things to talk about. It's not just about our personal lives, love stories, and family problems. [We also have] problems in our society and our nation.
How did you receive the news of Ma'Rosa's Oscar nomination?
I'm happy. I've been doing films for 11 years and I've made 13 already, and this is the first time that I was acknowledged by the Film Academy so it's a bonus. Like what I've said before, if you get recognized with what you really love to do, it's a bonus. You don't do this for the awards or the trophies, you do this for yourself.
Is there a particular hero you'd like to make a film of?
If ever I'm going to make a film about heroes it'd be about the unsung heroes. It's not going to be about the ones we all know of because we already gave them glory and studied about their lives. But there are a lot of heroes in our history that have interesting stories like the unnamed soldiers [who fought and died in the war.] These are very real heroes.
How about President Duterte, would you make a film about him?
I still don't know because I don't know him that well. I cannot make a film about someone who I only know proficiently. First and foremost, when I make a film about somebody, I have to see him as a human being, not because he's a personality or based on what she's showing [to the public.] I think that's the most important thing.
Any tips for aspiring filmmakers?
Tell Filipino stories. Do not be afraid to tell our stories. There are films that are not always easy to watch. [Also,] when you say it's a good film, it's not always a film that you like. At the same time, there are good films that you don't like. You have to put that in mind because you have to focus and know what you want to do. You have to be realistic and you have to tell stories about Filipinos because you are one.
Photo courtesy of EON PR
Follow Preen on Facebook, Instagram, Twitter, Snapchat, and Viber