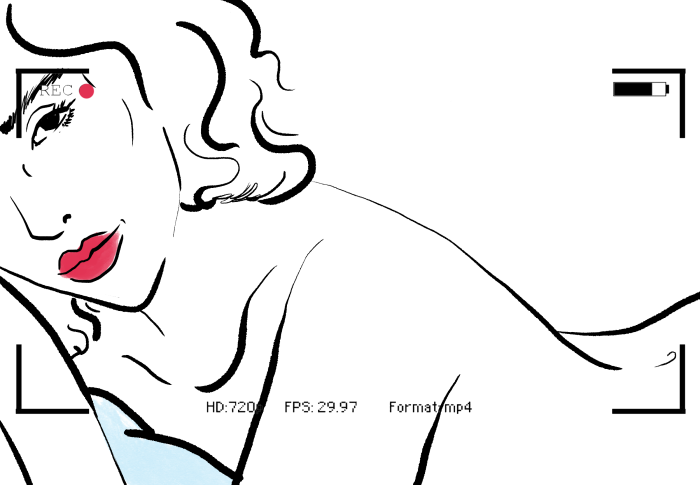 This column may contain strong language, sexual content, adult humor, and other themes that may not be suitable for minors. Parental guidance is strongly advised.
If you still doubt that the Philippines is the love child of Borat and Kafka with Hitler now providing the donor sperm—you mean that photo of the President holding court at a "Banana Congress" wasn't enough?—just take a quick look at the week that was.
There was supposed to be a sex tape with the former justice secretary, now the beleaguered, persecuted opposition senator, caught in flagrante delicto with, apparently, the help and with her glasses on. The President claimed it was material evidence in the case against her, and members of his banana congress nodded their heads enthusiastically on cue like performing monkeys in a slut-shaming Ringling Brothers Circus. It pointed to moral character, he asserted, or the lack of it, as the lady senator was clearly an adulterer.  So said the self-confessed adulterer and murderer.  As the saying goes, it takes one to know one. (Cue favorite Bible quote: Let he who his without sin etc., etc.)
Which begs the question: Why is adultery shrugged off when the man is the offender but considered scandalous, unforgivable, despicable, heinous, and shameful (insert more synonyms here exaggerating the situation) when it is the woman?  In a man, it is a confirmation of his virility; indeed, they become mistress-maintaining presidents (see: Francois Mittérand and Jack Kennedy).  In a woman, adultery is an irredeemable failure, an indication of moral weakness. In men, it is a testament to their ability to multitask in the only way they know how—juggling wives and paramours and affairs of the state or business.  In women, it is a measure of their general trustworthiness. Because, yeah, you can trust a man with a wandering dick, but you can't trust a woman with an insatiable pussy.
And, of course, the lady senator's other grave fault, as far as the President and many of her detractors are concerned, is that she is not, in their eyes, attractive. At least not in the conventional sense: she's quite a hefty woman with quite a fierce temperament. Feisty, she has been called. Combative, even.  And arrogant.  Intelligent.  Sharp and outspoken. Traits that are traditionally admired in a man, not a woman.  And yet, it would appear, her not being bangable has not been a deterrent at all to her having quite the sex life, if the tape is to be believed.  I mean, how dare she cavort with her driver and enjoy it?  The subtext is, virtuous women have sex, of course, and they have the fruit of their wombs to prove it, but only with their husbands.  And they're supposed to lie back and think of the Spratley Islands, if they're not reciting the rosary in their heads, praying it's over before the first Our Father ends.
That a sex tape—almost certainly fake—featuring a woman who had dared to go against the man who styles himself as the alpha male of the nation—guns, girlfriends, wild threats and all, had to be manufactured and paraded by him as relevant to an official investigation on the illegal drugs trade inside the national penitentiary, speaks yet again to the rampant misogyny and sexism that pervades our culture.  That the members of his banana congress even considered its admissibility in an inquiry in aid of legislation compounds the outrage.  The Speaker of the House himself cavalierly said it was no big deal to show an alleged sex video. Most of his chest-puffing male colleagues agreed, their tiny boners barely rippling through their trousers, aroused by the prospect of taking an independent-minded, irritating and yes, perhaps even sanctimonious, woman down by publicly shaming her.
As an Inquirer editorial put it,
"The whole affair reeks of a shocking level of misogyny and sexism, from President Duterte branding Senator De Lima an "immoral woman" to certain congressmen's chortling comments that the couple in the video were "ugly" and could make people lose their appetite. "You're lucky if you haven't seen it; it's scary," said Lito Atienza, who represents a purportedly pro-life, pro-family party-list group called Buhay. And Rep. Danilo Suarez, when asked by a female reporter about the brazen "slut shaming" that the House is engaged in, replied with what will rank as a statement that sums up the casual cruelty and sordid cluelessness of this assault on a woman: "Meron bang ganun?" (Is there such a thing?)"
All this from a Congress that ushered in history when it welcomed a transgender woman, Rep. Geraldine Roman, into its ranks this May. Thank goodness for the women of the 17th Congress, headed by Sen. Risa Hontiveros, who filed a resolution "expressing the sense of the Senate that the proposal to show the alleged 'sex video' attributed to Sen. Leila de Lima is illegal, violative of inter-parliamentary courtesy and decency, and an affront to women's dignity…. Most importantly, it is a blow to our collective struggle to uplift the dignity of the woman, respect her agency and her autonomy over her own body, and is a form of slut-shaming that will not set a good example for the country."
And thank goodness for the decent male senators, the very few that remain, who similarly rejected the outrageous proposal.
Now, of course, as is customary with this administration, comes the backtracking. "There's no such tape," says one minion. "We never intended to show it," said another.  She's still pangit, muttered a few more, albeit silently.
At least EVERYONE in the United States, even Republicans, was universally aghast at Donald Trump's interview, and condemned his glorification of rape culture, highlighted when he talked about—with relish, mind—grabbing a woman by the pussy.
(Ah, Trump.  Like Duterte, the gift that keeps on giving.  Both should one day be in an SNL sketch playing Tweedlef*ck and Tweedleyuck.)
The other thing the so-called sex tape reveals, apart from, as Sen. Hontiveros declared, "The systemic and structural machismo that pervades our political culture," is the very sad and sordid state of arrested development when it comes to our sexual maturity. Our concept of sex is still very much rooted in titillation; ours is a Peeping Tom mentality that gets its kicks from making boso, which leads to warped notions of sex as primarily shameful and illicit and forced upon or chanced upon as opposed to being consensual, pleasurable and fulfilling. It seriously f*cks people up, making them chuckle at rape jokes, and it propagates hypocrisies, stigmatizing women who enjoy sex as sluts and idealizing women who remain "virginal" as saints, yet it is to the sluts that they turn to for sexual pleasure. It also leads to a shocking lack of sex education, which in turn leads to unwanted pregnancies, not to mention infant and maternal mortalities.  And it continues to conflate responsible sexual behavior with "loose morals," using the dictates of the church to dictate—in fact, limit—a woman's reproductive rights and options.
Sex education is integral to the Reproductive Health Law. To all those trying to derail this law in the Senate: stop it, you f*ckers.
B. Wiser is the author of Making Love in Spanish, a novel published earlier this year by Anvil Publishing and available in National Book Store and Powerbooks, as well as online. When not assuming her Sasha Fierce alter-ego, she takes on the role of serious journalist and media consultant. 
For comments and questions, e-mail [email protected]
Disclaimer: The views expressed here are solely those of the author in her private capacity and do not in any way represent the views of Preen.ph, or any other entity of the Inquirer Group of Companies.
Art by Dorothy Guya
Follow Preen on Facebook, Instagram, Twitter, Snapchat, and Viber