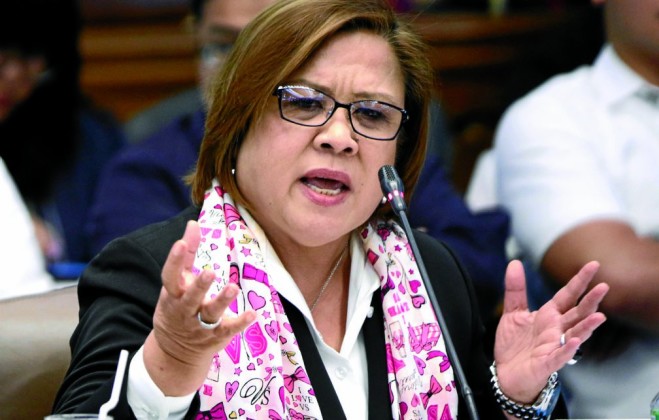 The sad truth is this: When the investigation for Sen. Leila De Lima started, what (obviously) stood out is the constant mention of her sexual relations with her driver. Several government officials, including our President, have brought this up in hopes to uncover the truth behind the Bilibid drug trade.
While their intentions seem rational because it is an investigation, I can't say the same about wanting to divulge all of her private information to the public.
For the past month or two, De Lima has been scrutinized several times for her alleged involvement; already painting her as guilty even though nothing has been proven yet. President Duterte labeled her as an immoral adulterer (even legislators thought the remark was uncalled for) and continued to insult her throughout the investigation.
De Lima's cellphone number and home address were revealed by the House of Representatives during a televised hearing. Hence, sparked over 2,000 threatening calls and text messages sent to the senator.
And now, the House of Representatives are planning to show De Lima's alleged sex tape. House Speaker Pantaleon Alvarez even denied that this is a form of slut-shaming against her. (Yeah, right!)
Some people would call it karma for being a shady individual. However, it also seems like a purported and misogynistic attack against a woman to greatly humiliate her to the public.
Yes, you can say that proving De Lima's relationship with her driver (which she has not denied, apparently) is crucial to the investigation. But the fact that government officials would resort to playing the "sex" card to further the argument and demean De Lima doesn't seem right no matter how you look at it. Especially since it's pretty easy to point fingers at a woman if she's portrayed as guilty and as a slut.
The fact that the House plans to publicly show the alleged sex tape during the probe is already questionable. For one, legislators like senators Risa Hontiveros and Grace Poe stated that it's a violation of the Anti Photo and Video Voyeurism Act. Several solons echoed this, saying it's "unnecessary and against existing laws and public policy. The proposal violates the rights of any person in any forum whether legal, inter-personal, social, professional or political." Hontiveros also expressed that it's "clearly a case of misogyny."
Regardless of whether the tape is real or fake, the intention to show it is nothing but sick.
What's even sadder is that the investigation itself is sometimes forgotten because of all the talk about sex; that all this must be some ploy to distract everyone from the real issue. You can't help but think that they're pulling every dirty move to harass De Lima―both in the office and even in the headlines.
This also begs the question: When did our government become this drama show riddled with sex scandals and blackmail? When did they resort to misogynistic methods to get the truth and prove someone guilty (without due process)?
Don't get me wrong, I want to find out what's really going on and see the end of this issue just like everyone else. However, there must be a fairer way to go about this and not further humiliate De Lima publicly until she cracks. Government officials should know better than to be sexist with how they present their arguments and methods.
And yes, Mr. House Speaker, this is also a reminder that what you're planning to do is slut-shaming.
At the same time, we as people should be better than to quickly judge and hurl names based on gossip and accusations. Biases aside, we should be able to discern what's right and wrong amid all the unnecessary scandals―we shouldn't turn a blind eyes on things like these. The last we need right now is more fuel for below-the-belt cases just like this one.
Photo courtesy of Inquirer.net
Follow Preen on Facebook, Instagram, Twitter, Snapchat, and Viber