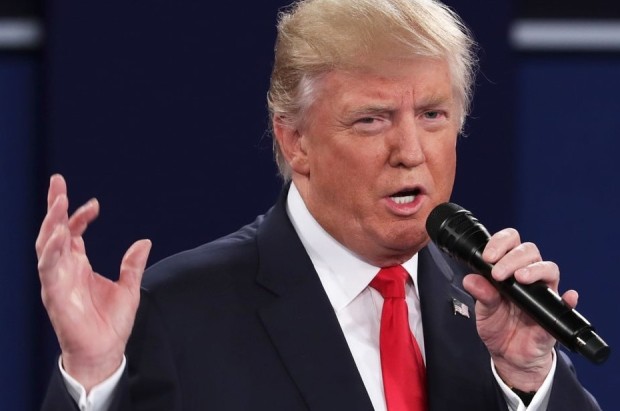 While most of us were clocking in some work hours, two people talked about the fate of their country and even the world to millions of viewers. Donald Trump and Hillary Clinton faced off once more in the second presidential debate and it has since topped the trending hashtags on Twitter and the searches online worldwide.
Donald didn't take long before interrupting Hillary, attacking her record in politics and even her husband's. Hillary perhaps had the biggest smile when she said early on "We can't keep fact checking Donald Trump" as he went into a tirade of supposed facts against his opponent. Issues like taxes, energy, immigration, the economy, and the war in Syria were covered. But if you're not up to speed  on what happened, no time to read over the the transcript or if you need a little sympathy over what you just watched, trust social media to keep you in the loop. Throughout the day, people had their own take on the different topics brought up in the debate.
First off was the damning tape which Donald says was just "locker room" talk.
That's not how men talk in locker rooms. It's the way they talk in county lock-up. #PresidentialDebate

— Mark Frost (@mfrost11) October 10, 2016
Judd Apatow didn't need to name who he was referring to in this comment.
When you hold the mic too close to your mouth you sound like a sexual deviant on the phone. — Judd Apatow (@JuddApatow) October 10, 2016
When Donald and Hillary struggled to speak over each other, people made fun of it by deciding which song they were doing together.
The highlight of tonight's #PresidentialDebate was the 'My Endless Love' duet. pic.twitter.com/mHNkUqsAOY — Kristian with a K (@kreshjun) October 10, 2016
And then I go and spoil it all By saying something stupid Like I love you#PresidentialDebate pic.twitter.com/LJqHRmfngM — Alistair Canlin (@alcanlin) October 10, 2016
There was also this observation of how Donald would walk around and purposely stand behind Hillary.
I think at least one of the candidates participating in tonight's #PresidentialDebate on @CNN will get 10k steps in. @fitbit badge imminent. — Alberto M. Carvalho (@MiamiSup) October 10, 2016
He's physically trying to intimidate her by standing right behind her this is cray #debate — Sarah Silverman (@SarahKSilverman) October 10, 2016
Some creepy guy kept standing right behind Hillary Clinton at the #debate https://t.co/s2eVJe2PGi pic.twitter.com/5Jj4f9LKJo — The Cut (@TheCut) October 10, 2016
As issues about Syria and immigration were tackled, Stephen Colbert was one with the fact checking committee.
Fact checkers watching Trump's debate performance: pic.twitter.com/olqmPhsIqV

— Stephen Colbert (@StephenAtHome) October 10, 2016
Did somebody say Russia?
But Shonda Rhimes called out how Donald needs a lesson on where African-Americans live.
ALL BLACK PEOPLE DO NOT LIVE IN THE INNER CITY. And btw, your need to define "inner city" as hell? YOU ARE A RACIST IDIOT! #Debates2016 — shonda rhimes (@shondarhimes) October 10, 2016
And don't get him started on the Muslims.
Are you blaming Muslims for not stopping terrorist attacks?! #debate2016 #PresidentialDebate pic.twitter.com/oEA0K7OeuA

— Madame Timantha (@EElivestTr3) October 10, 2016
It's something when someone as outrageous as Lady Gaga couldn't believe her ears.
Did he just say? "How stupid is our country?"-Trump VERY IMPORTANT TO VOTE #presidentialdebate #Vote #Vote4America — JOANNE (@ladygaga) October 10, 2016
The queen of talk Oprah Winfrey also said this isn't a reality show like Keeping Up with the Kardashians.
@CharlesMBlow Reality Tv you couldn't even get away with.#debates

— Oprah Winfrey (@Oprah) October 10, 2016
So when it came to who won the debate, it wasn't so much about the two candidates anymore.
Q: Who lost the #PresidentialDebate tonight? A: Americans — Jeremy Ross (@JeremyAdamRoss) October 10, 2016
And for the thousands of tweets against Donald, at least Piers Morgan is cheering him on.
I'd say @realDonaldTrump won that debate comfortably. Bounced back strongly off the sex-tape ropes. #PresidentialDebate

— Piers Morgan (@piersmorgan) October 10, 2016
I'd say he answered most questions pretty directly & landed lots of effective blows on Hillary. Trump won. Just as she won the 1st one. https://t.co/jfSlXJii2x — Piers Morgan (@piersmorgan) October 10, 2016
Photo courtesy of Rolling Stone
Follow Preen on Facebook, Instagram, Twitter, Snapchat, and Viber