A hectic week can ruin our workout schedule, sometimes even our eating habits get messed up because of the workload. But this Oct. 23, you can get back to working out and also try new ones at the SoulBGC Fit Camp at Track 30th, Bonifacio Global City from 7 a.m. to 3 p.m. And the best part is that it's free!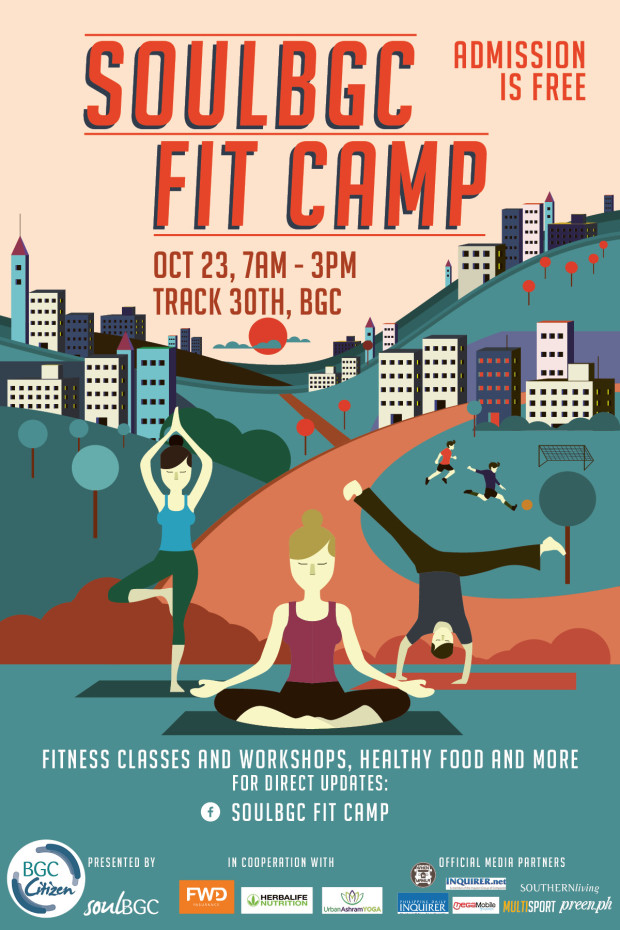 To motivate you and your friends to prepare your gym bags for this, here's a little peek on what you can expect.
#1 Zen out with yoga classes
Urban Ashram Yoga Manila will be offering different classes that both beginners and pros can participate in. To get you more relaxed and relieved of stress, there's Taiji with Eduardo Lapuos. But if you're looking to build up your strength, you can go for the Flexibility Not Required class with Amanda Zabat.
#2 Bust a move at Zumba
Here's an excuse to dance and get fit. Zumba will surely add a fun twist to working out with upbeat music and high-energy movements.
#3 Play football with friends and family
A friendly competition never hurt anyone, so gather up your team of six for a football game. Not only is it good exercise, it's also a good way to meet new people.
#4 Sweat it out with HIIT
Challenge yourself with a High Intensity Interval Training (HIIT) session. This is an effective way to burn off fat and increase your metabolism.
#5 Fitness packages for your insurance plan
FWD Life will be introducing new activities that will included in their Orange World app like Plana Forma, Arnis, and Primal Ape Crossfit. These are just some of the fitness activities you can avail of through the app.
#6 Raffles, raffles, and more raffles
Also get the chance to win freebies like unlimited yoga passes from Urban Ashram, Orange World App Passion Points from FWD Life, and more.
#6 Tasty health foods
Of course, no event is complete without a bite or two to eat, especially with all the working out you'll be doing. Expect healthy comfort food from Crisp on 28th, Delicielo's vegan pastries, Picole ice pops, Buttr Coffee's concoctions, and more concessionaires. You're sure to leave the event both fit and feeling good.
That's all you need to know about SoulBGC Fit Camp. For more information, check out their event page. Also, don't forget to pre-register here to get a slot. See you there and don't forget to come in activewear!
SoulBGC Fit Camp is powered by FWD Life, Herbalife, and Urban Ashram Yoga, and with media partners Multisport.ph, Preen.ph, and WhenInManila.
Follow Preen on Facebook, Instagram, Twitter, Snapchat, and Viber