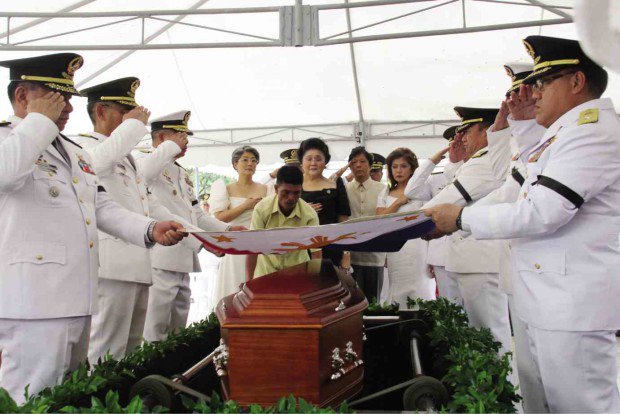 How the Marcoses pulled off the outrageous surprise and private burial of their patriarch in the highly-contested Libingan ng Mga Bayani, (even The New York Times called us out on it, y'all) is surely one of the greatest controversies of our time. Adding to controversy: the way Ferdinand Marcos' remains were sneaked from Ilocos Norte to Taguig City, Metro Manila.
In true Imeldific fashion, different accounts, collected by Inquirer.net, give testimony as to how Marcos' body was brought from the mausoleum in the ancestral house to Manila. One resident says a convoy of a police car, a hearse, and another vehicle were seen entering the Marcos compound. That night, a concert featuring SpongeCola and Rocksteddy was being held in Batac in honor of the mayor's birthday on that faithful Nov. 17 night at a park near the mausoleum.
Another account talks about the said convoy proceeding to the house of Gov. Imee Marcos, where the remains were loaded into one of the two helicopters headed for Taguig.
Along with the rest of the nation, Ilocos residents were surprised by the burial on Nov 18. Loyalists were holding nine-day vigils for the late dictator (the irony of this fact is staggering, yes) for the anticipated burial on the 24th. This also explained the nightly activity in the Marcos mansion, which made the events on the night of the 17th go unnoticed.
Mayor Edward Chua of Batac says he knew of moving Marcos from Ilocos to Libigan sans the final details, in true fashion of today's politicians.
Either way, the entire conspiracy (I think it's safe to call it that) as to how such a burial was carried out, with a same-day video edit, will remain one of the biggest injustices we need to fight against.
[
Inquirer.net
]
Photo courtesy of Inquirer.net
Follow Preen on Facebook, Instagram, Twitter, Snapchat, and Viber