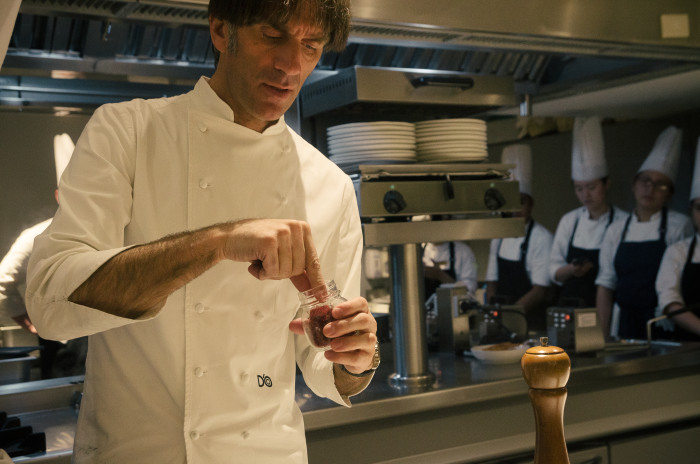 Two months after Foo'd by Davide Oldani opened in Shanrgi-la at the Fort, the Michelin-starred chef who started it all finally had the pleasure of visiting Manila. The trip was short, but filled to the brim with food.
If you needed reminding on who he is, we'd gladly tell you. Davide Oldani is from Milan, Italy. He earned his star (and kept it) for his work on D'O, a trattoria that's a little outside Milan that seats just 40 people. Since then, and very hesitantly, he spreads his brand Cucina Pop to other spots like Singapore and Manila.
I knew that as soon as Davide landed in Manila he would be asked about his business, his new partnerships, and his restaurants multiple times and by different publications. I thought of giving him a quick pop quiz so we can get to know him on a personal level. Quick! Scroll down.
What do you consider as your comfort food?
When the service is perfect, when the food is perfect, when the people that I eat with is a [group] of good people. This is comfort food for me.
If there is anybody in the world you would have wine with, who would it be?
The Pope. Francesco.
Pizza or Pasta?
Both. Depends on the day, but both. Never together!
What quick meal do you prepare at home for the family?
Something that we have in the fridge! But usually in the fridge, we only have fresh ingredients, so sometimes when I open the fridge there is nothing inside. Probably eggs or some pasta. I just have a look and decide on what to cook.
Is there a specific dish that your daughter would like you to cook?
Not at the moment. She is two years and six months and she eats everything.  We're lucky because she eats everything—whatever is on the table, fish or meat, spicy, everything.
What is your favorite ingredient?
Love. Because you need love to make good food. Otherwise, any kind of ingredient to me is perfect.
What is your earliest memory of food?
The rice made by my mother when I was a child—saffron rice. "Mama-method" with a touch of onion, butter, rice, and saffron cooked together with beef broth. Heavy, but really tasty!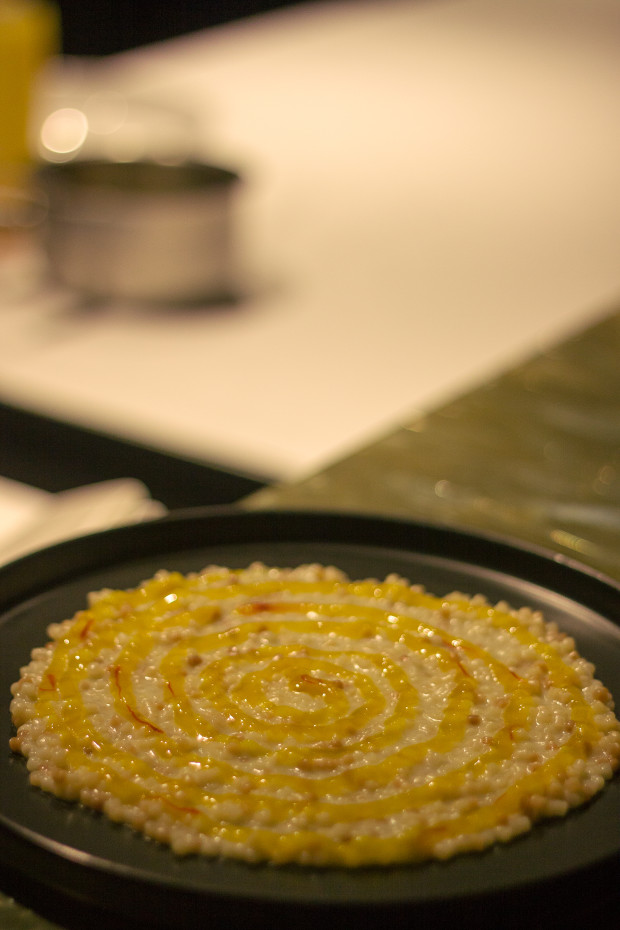 How many shots of espresso do you drink in a day?
Not much, I drink a maximum of two in a day. Otherwise just one with the Moka (stovetop coffee maker).
Do you eat junk food?
Not at this time of my life. I used to try some, but I don't feel like eating junk food [anymore].
What do you like eating for breakfast?
When I travel like today, I eat something salty. Very little, because I don't eat for lunch and I eat very little. Usually in Italy, I drink only coffee, a touch of food at lunch, and no dinner. Some days in the week, I don't eat anything. (Even water?) Just a touch of water and one coffee in the morning and for dinner a raw vegetable like a carrot or fennel.
Why keep that diet?
Why? Because of my figure, for wellness. I'm 49 years old and I'm not so young, and I have the same weight when I was 20 years old. So, I like to feel good about my body and my wellness, you know. I have a book called Do Eat Better [that talks about eating healthy.]
Photo courtesy of Foo'd by Davide Oldani and Visions PR
Follow Preen on Facebook, Instagram, Twitter, Snapchat, and Viber