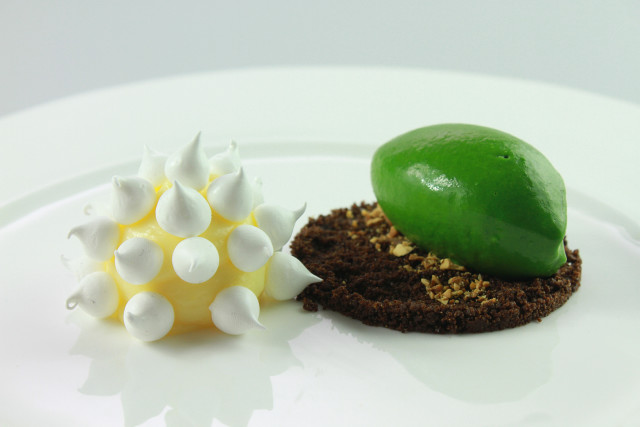 The premise: Accessible fine dining, three-course meals starting at P800 and four-course meals at P1,200 but with all-imported ingredients. The mastermind: Davide Oldani from Milan, Michelin-star chef and the man behind Cucina Pop, a style of creating "incredible flavors through combining simple ingredients." The restaurant: Foo'd by Davide Oldani with a low-profile feel, an intimate 60-seat accommodation, light wooden floors, bare walls, and black shelves that carry little accessories save for wine glasses.
I was highly skeptical when this was all laid out to me by Eric Dee of Foodee Global Concepts (the same people behind Sunnies Cafe). He brought in his partner to the venture Nico Bolzico (who admitted you might know him more as Solenn Heussaff's husband) to vouch for all of this. Sorry, but I'm not going to be convinced by mere star-power.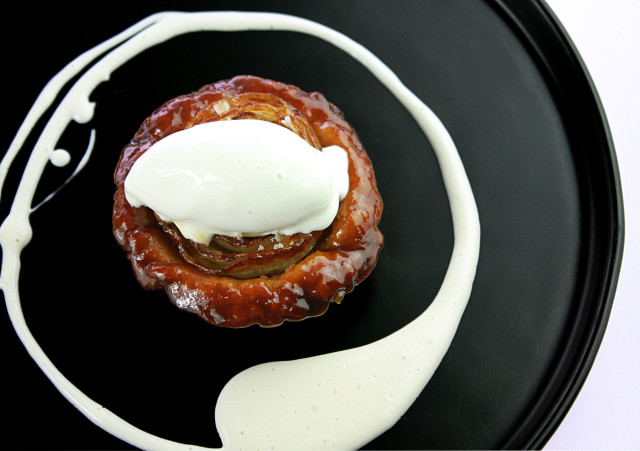 A three-set meal came churning out of the kitchen, starting with Davide's signature dish: Cipolla Caramellata. It's Italian for caramelized onion. A humble staple in almost every dish, the onion somehow manages to be the main attraction. Served with 24-month aged grana padana gelato and grana padano hot cream, it's sweet, hot, cold, and a little salty all at the same time. There's nothing new or special about every individual ingredient but the way they are served and meant to be eaten makes for a different experience in every bite. I was already eating my skepticism at this point.
Then came the Iberico Pork Ribs, served with a few slices of vegetable and porcini sauce. The sauce was savory and was what made the soft pork slices delicious. A few of you might even say it was worth a side of rice (or perhaps let's say risotto, sticking with the Italian theme), which is to us Filipinos, a stamp of approval.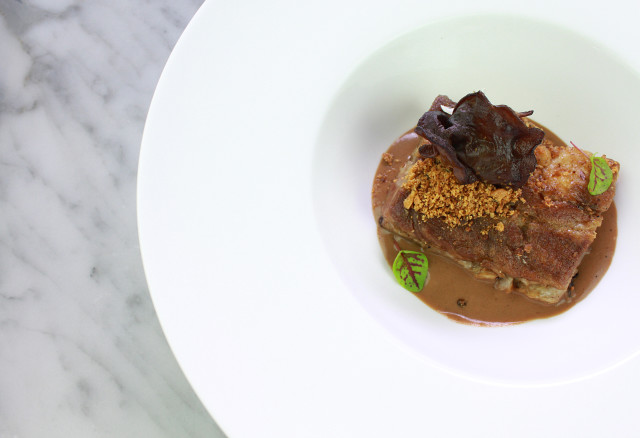 Davide's thesis came to its convincing conclusion with yet another of his signature creations: Lemon Curd. Mimicking a tiny coral reef, there are four main parts to this dessert. First is the lemon curd itself—tart and sour. Second is the dehydrated meringue placed on top of the curd, which is sweet and chewy. Third is the lettuce gelato, bitter and earthy like the plant it is derived from. Last is the cacao crumble with curry almonds which provide the crunch and the chocolate taste. You're meant to fill your spoon with each element and enjoy how the lettuce gelato contrasts the sourness of the curd and melds with the sweetness of the meringue. All of this are couched in between the cocoa crumble and curry almonds that lend a bite to the whole dessert.
My takeaway: Foo'd by Davide Oldani doesn't mince around the concept of experience. What you eat is heightened by the manner by which you are supposed to eat. Certain pairings are made to create a precise taste, unlikely matches are made to form flavors which surprise in each bite. The magic comes with the subtlety of trick, the sleight of hand.
How does it fare to other fine dining spots in the metro? Pretty decently and with how it chooses to be affordable for its market, it's competitive. Tucked obscurely between Pink's Manila and Sugar Factory with their penchant for bright lights, Foo'd is where you come to find a little respite.
Foo'd by Davide Oldani. G/F, Shangri-la at The Fort, 30th Street cor 5th Avenue, Bonifacio Global City, Taguig. (02) 950 8492. Opens today from 10 a.m. to 9 p.m.
Follow Preen on Facebook, Instagram, Twitter, Snapchat, and Viber