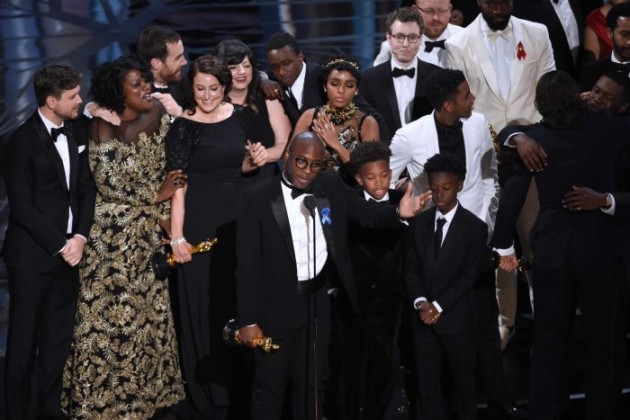 Did anyone catch the ending of the Oscars? If not, here's a hint: it totally got Steve Harvey'd. Warren Beatty mistakenly called La La Land as Best Picture when the award should've gone to Moonlight.
While the whole La La Land cast and team was giving their acceptance speech, producers were already informing them of the mistake. If you look closely at the video below, you'll see the awkward mood shift. When they announced Moonlight as the real winner, Jimmy Kimmel put our thoughts into words: "WHAT DID YOU DO?!"
Watching the #Oscars producers slowly tell the #LaLaLand team they didn't win Best Picture is WILD. Keep your eyes on the background pic.twitter.com/3TRUWZAMjH

— Jarett Wieselman (@JarettSays) February 27, 2017
How did this happen? Warren said onstage that he was also confused because the card read "Emma Stone for La La Land." This means that he was handed the Best Actress envelope by mistake. More confusion sparked when Emma stated backstage that she was holding the envelope after she got her award earlier that night.
Emma Stone backstage said SHE HAD HER CARD THE WHOLE TIME!!! pic.twitter.com/WecMyquaGp

— Marc (@MarcSnetiker) February 27, 2017
Now before all of you shout that there's a conspiracy at hand, there really is a second envelope. PwC accountants, the only people who know who the winners are, always print two copies of the cards. "From a security perspective, we double up everything. That's why there's two of us. We have two briefcases, that are identical, and we have two entire sets of winning envelopes," accountant Brian Cullinan told Market Watch.
Of course, that didn't stop the stream of Steve Harvey memes on social media. The mix-up was obviously likened to the moment when the crown was passed from Miss Colombia Ariadna Gutierrez to Miss Philippines Pia Wurtzbach during Miss Universe 2015. Even the Miss Universe Twitter account offered assistance.
Have your people call our people – we know what to do. #Oscars #MissUniverse

— Miss Universe (@MissUniverse) February 27, 2017
Steve Harvey: I can't believe someone screwed up bigger than I did. #Oscars pic.twitter.com/13voAoFSew

— Ed Boon (@noobde) February 27, 2017
#Oscars #moonlight #moonlightmovie #LaLaLand #ERedCarpet @ABC #SteveHarvey #WarrenBeatty
The mystery solved… pic.twitter.com/OOLIO91dyI

— Afro Deesiac (@MyAfro) February 27, 2017
STEVE HARVEY HAS A MESSAGE! 😂#Oscars pic.twitter.com/sfKi1QnUiz

— Eduardo Samaniego #FreeTheChildren (@EddyComunica) February 27, 2017
https://twitter.com/summerbromance/status/836083119820320770
La La Land / Moonlight / Manchester By The Sea #oscars pic.twitter.com/k5yosyji2D

— Roberto Ludoviko (@Ludovikoo_) February 27, 2017
Some even asked the Academy to check if Casey Affleck's Best Actor win was announced by mistake as well. Especially since Casey has two pending sexual harassment cases.
Since they announced wrong movie for Best Picture, they better check if CaseyAffleck really won over Denzel for best actor! #Oscars pic.twitter.com/xjNjOf1ktg

— Just Sunny (@SunnyDayze) February 27, 2017
https://twitter.com/itsbeccalou/status/836105732625924098
Can we check Best Actor again

— B.J. Novak (@bjnovak) February 27, 2017
If you think that's a lot to take in, we agree with you. This year's Oscars was a wild ride. But hey, congrats to both La La Land and Moonlight for winning many awards, nonetheless.
Photo courtesy of ABC
Follow Preen on Facebook, Instagram, Twitter, Snapchat, and Viber