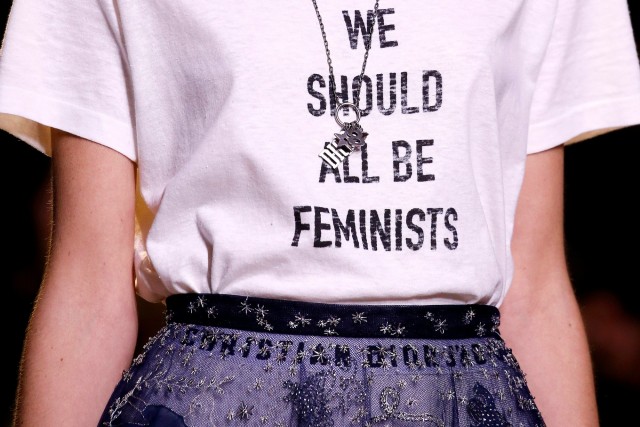 When I saw Maxine Medina open a fashion show earlier this month with a shirt that said "Vive La Femme," it was official that the feminist shirt was everywhere.
The runways are resounding what the streets have been saying, just look at the latest from Dior, Stella McCartney, and Prabal Gurung. In an interview with W Magazine, Dior's new creative director Maria Grazia Chiuri, pointed out that "Feminine is about being a woman, no? I thought to myself: if Dior is about femininity, then it is about women. And not about what it was to be a woman 50 years ago, but to be a woman today." Hence, she sent down on the runway a woman in a "We Should All Be Feminists" shirt and boho-inspired skirt, someone who could be found of any point of the planet.
The call for a more vocal stand on current issues isn't a sudden fad, however. Two years prior, Karl Lagerfeld made his models hold up protest signs that say "HeForShe" and "Feminism not Masochism" in his September 2014 show.
Now, however, it's at the forefront: feminism is the trend of the moment. New York Fashion Week was highly political. A few indie brands have churned out their own versions. But is it really helpful?
Allure was quick to point out that this is not the first time fashion has taken a societal stand. Designers have long used their collections to voice out the ideas. The trickle-down effect in fashion means that the messages from the fashion capitals reach your favorite retail brands. In terms of the current feminist movement, the message has escalated down swiftly. From the big brand names to the small, local initiatives, the feminist shirt has done its job. Allure also pointed out how some initiatives behind shirts like "Nasty Woman" have given their sales proceeds to charitable institutions.
Rihanna, the humanitarian that she is, teamed up with Dior so a portion of the proceeds from the designer feminist shirts go to the Clara Lionel Foundation.
It's all great and I'm all for designer labels joining in the big debate for equality among the sexes. My fear is how these shirts will equate the feminist movement to just a trend. With the fleeting nature of the trend, it feels a little superficial. Bullett Magazine points out the danger of how feminism is now seen on the cover of Vogue with pretty models, and on an $800 shirt, "Instead of showcasing regular women who have been fighting the fight since before it was cool, they're using famous faces to sell user-friendly feminism."
Feminism isn't just about having more models of color. It's about confronting the need for more options for health care. It's not just about re-defining how we understand the term "plus sized," it's about making sure women are paid equally for jobs they can do as efficiently as men. It's about listening to the people of abuse and rape. It's about choice. If we're stuck on the idea that it's about revamping the fashion world, we're missing the whole point.
It's not about shaming the woman who buys a feminist shirt either. In the end, the feminist shirt is going to be a passing trend, but feminism isn't. In the long run, the visibility is helpful but it doesn't stop there. Once the shirt goes out of fad, there is still a lot of things to deal with. And that's one thing fashion, and those who hold power in it, should recognize. Maya Singer writes in her Vogue piece entilted "Hear Us Roar: Finding Feminism in Fashion," "These [societal] issues may seem quite distant from the fairy-tale world of runway shows and fashion spreads. But it's all on a continuum, and just because we—meaning we Style.com readers—crowd around the top of it doesn't excuse us from considering the lives of those nearer the bottom. It's the flip side of that famous speech Meryl Streep gives in The Devil Wears Prada, about haute couture's trickle-down influence and Anne Hathaway's ugly blue sweater."
Maya emphasizes that the shirt and the power of fashion may move the conversation forward, but it's just the start of it all. "We celebrate our influence, on an aesthetic and cultural level, and we rightly query it, too. But the fashion industry, writ large, has failed to take the political responsibilities that come with its influence on board. When we do, that will be a fashion feminism for all women."
Photos courtesy of The Daily Beast
Follow Preen on Facebook, Instagram, Twitter, Snapchat, and Viber