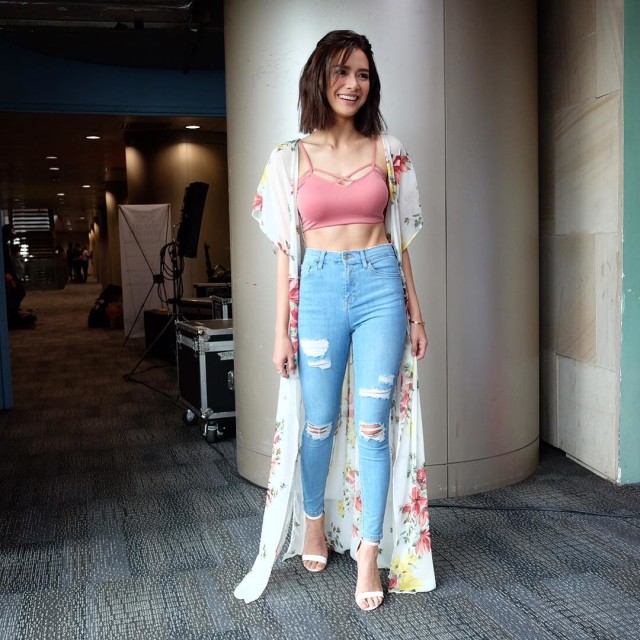 The latest photos of Erich Gonzales and her rock hard abs make me want to dump my usual donut and coffee combo in the morning. It wasn't about hating my breakfast choices, my body, and myself, I just simply felt inspired. I can totally say that Erich is my new #fitspo, but how did she do it?
A week ago, she posted a Boomerang that showed us a peek of what her workout routine was like, and it felt like something I can do for myself. Until I saw who was standing beside her and the name that was tagged in her caption: Bok Santos. He's a fitness coach and trainer known for the hashtag #SalamatBok, because not only does he provide rigorous (now you know why I got a little nervous) routines for you to do, but he also pushes you to reach your body's full potential. Hence, Erich's abs—just in case you did not know, he was also the same trainer who helped Kathryn Bernardo and Divine Lee with their super fit bodies so yes, dedication with a little help from friends really help.
Based on their Instagram posts, Bok trains with Erich regularly, focusing on her abs and glutes.
Erich reached her goal with no shortcuts. She dedicated her time to work out probably three to four times a week. I'm willing to bet she did not cheat on donuts like me.
So if you want a beach bod like Erich, get your butt moving and clean up your diet. Dedication and determination takes you far—as far as your abs. Happy Friday!
Photo courtesy of Erich Gonzalez's Instagram account
Follow Preen on Facebook, Instagram, Twitter, Snapchat, and Viber