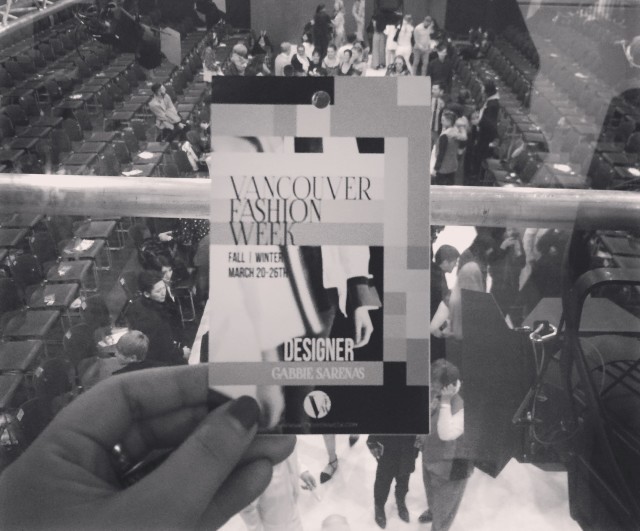 Last November 2016, I got an email invite to join Vancouver Fashion Week. It stated how they saw my previous collections and how they felt my aesthetic was very Filipino. I was excited but I also felt the pressure. I knew I had to make something better than my last creations.
I had to do a lot of soul searching. When looking for a concept for my next creation, I usually relax my mind. I believe that when you do that, something good will come out.
My last collection was about planting season. But since I was presenting for fall/winter, I decided to make the collection about harvest season. By December, I was thinking about silhouettes. We went to the beach so I could quiet my mind and focus on what I needed to do. By January, I found the traditional Filipino harvesting prayer I could use as the core of the collection and did the drafts. I was sourcing also for fabrics: mostly piña and other local materials. I also kept in mind my aesthetic: volume. This is why I also played up with the sleeves, a bit of experimentation if you will.
A month before the actual show, I shot the lookbook. Some pieces weren't ready yet. It's part of the process anyway. You have to observe how the clothes fall on an actual person. I worked with stylist Melvin Mojica for the looks. We already talked about it around the same time we went to the Preen.ph anniversary party last year. Through Melvin, I got to book my dream model: Jo-Ann Bitagcol. (Note to self: Attend more parties.)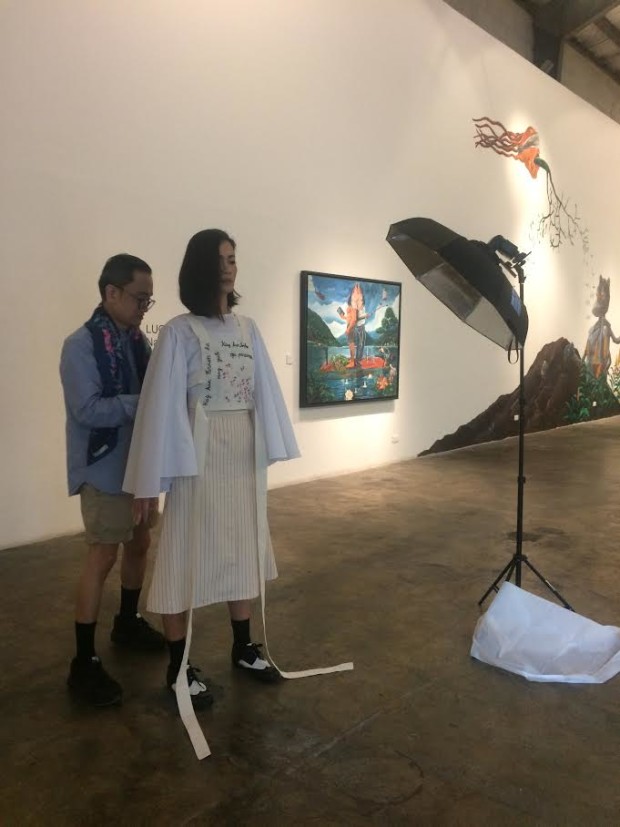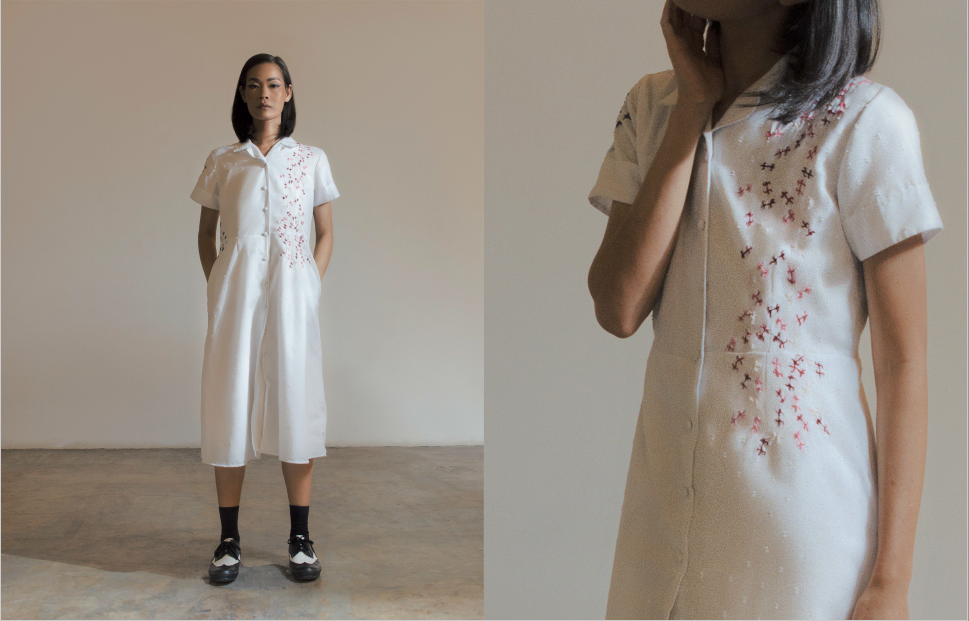 Despite all of this, it still didn't sink in that I was about to have my first international show. Mid-March, I was still accepting client work and doing deliveries. I had to make one last delivery even on the day of my flight to Canada, March 15. By this time, I had lived on the cycle of waking up at 7 a.m. and going home at 12 midnight.
Before I left for Canada, I posted the invite and the details of the show on social media. A lot of well-wishes flooded in. That added to the pressure even more.
I flew to Vancouver carrying around six luggage bags. I kind of felt like a Miss Universe contestant. There were three skirts that I didn't want to get squished so I put them in their own luggage carriers. Don't ask me how much I had to pay for add-on luggage allowance. For myself, I brought a few essentials: my huge makeup and skincare kit, some Maco Custodio Furnelas, my grandmother's heirloom earrings, and Natalya Lagdameo bangles.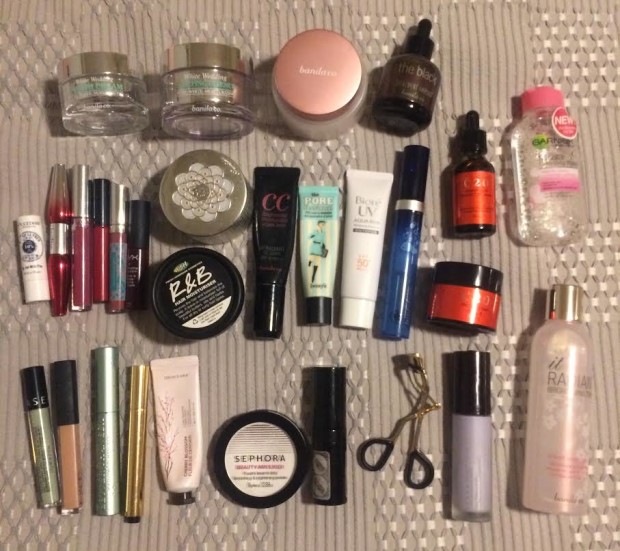 On show day itself, March 23, I woke up and got my breakfast in first. Soft-boiled eggs and coffee with milk and a tablespoon of sugar. By 11:30, we boarded the cab to the show venue: Chinese Cultural Center.
In the backstage area, I was greeted by a lot of volunteers, aged 18 to 50 years old. They helped me get the racks, put together the looks, and have the models line up. On the very same day, I had to choose 12 models out of the 15 I was given. It was hard because I didn't get to see how they walk beforehand. I wanted them to get the walk right, especially, to fit the feel of the collection. I wanted to them walk leisurely, like hacienderas overlooking the land. But you go with what you've got.
https://www.instagram.com/p/BSC1UWiFGbq/?taken-by=gabbiesarenasph
The showtime was at 7 p.m. By 6:30 p.m., I was looking over each model and their look. I was putting on lipstick on some of them, my personal Happy Skin lipstick in Morning After. My hands were shaking, partly because of the cold weather and partly because of my nerves.
The show soon started. I was lucky that model Shermaine De Ramos was in town. She's the one who opens all my shows and with this, that streak of ours continues. I watched all the models walk via a TV screen set up backstage. The show was nine minutes long. I soon found myself going out and bowing to the audience. I heard the clapping.
Backstage, the volunteers were efficient in packing up. They didn't stop looking for the two bags which were misplaced. I then attended to some interviews. I approached one fashion blogger, Marilyn Wilson, and thanked her for cheering and clapping for me. What she would write later on about it was so personal, it meant so much to me.
Days later, I would see the features on different publications. There's one by MNE and another one by Vogue China. I also just saw the small piece the Department of Foreign Affairs published about my show. Until now though, I couldn't believe that it happened. It felt so surreal from the day I got the invite, to the backstage, and as I write this.
I learned so much. I learned what the Western audience wanted from the brand. I learned how they are still so amazed by piña and hemp.
On a practical note, I computed how much I spent from start to finish of this project. This is because my aunt emphasizes how I should know my budget for the next endeavor.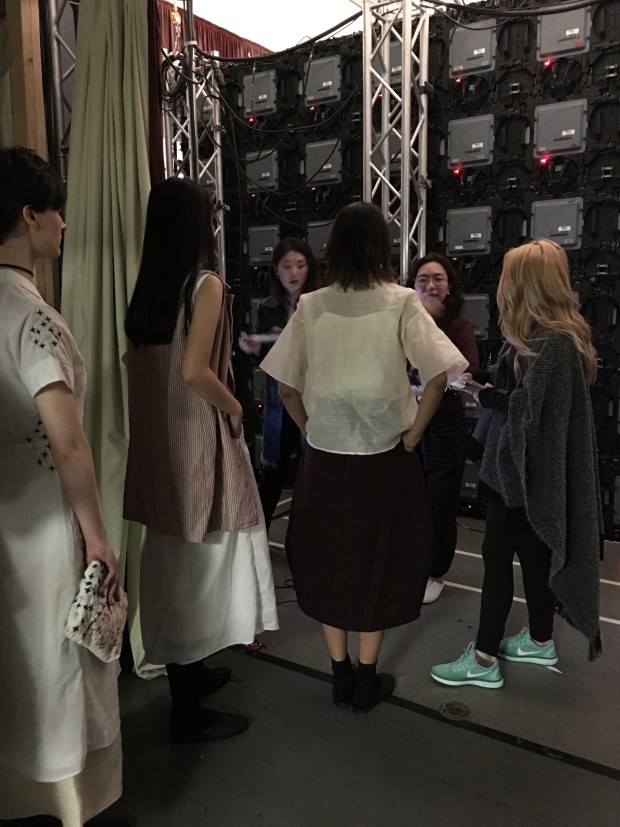 My aunt reminds me about honing my creativity and at the same time knowing my numbers so in the future, I would know how much I would spend for an international show. She would always tell me that I should do my best no matter how small it is. She would always remind me that I'm an artist. That's a compliment coming from a gallerist. At this moment, I am investing in my brand, which is a joy and at the same time a sacrifice. I continue to sharpen my knowledge and observe the world around me. This is just the start of something promising and I am beyond thankful for the support especially morally, emotionally, and psychologically.
Above all, I learned how the whole experience is such a validation for me as a designer.
And with that validation, I have my work cut out for me. It doesn't stop. I've got to work on the upcoming Maarte Fair and a few other projects I'll be revealing soon.
As told to Olivia Estrada
Photos by Gabbie Sarenas 
Follow Preen on Facebook, Instagram, Twitter, Snapchat, and Viber