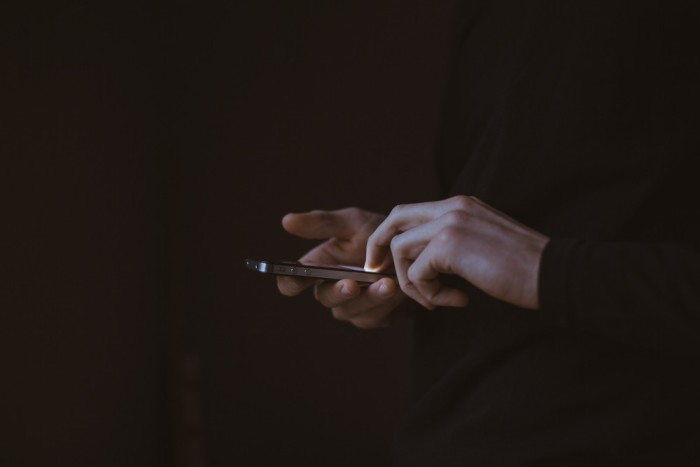 This column may contain strong language, sexual content, adult humor, and other themes that may not be suitable for minors. Parental guidance is strongly advised. 
How many sexting scandals does it take to realize that sending images of your genitals via a messaging app to a person you've never met outside of the virtual world is rarely ever a good idea?
You would think that Anthony Weiner's sextcapades would be enough to remind you about the virtues of keeping your private parts private even in an ostensibly secure, encrypted messaging environment. The disgraced former congressman may have lost his bid to become mayor of New York City, but he tops in all lists of "cringe-worthy celebrity sexting scandals," being a serial sexting offender who, while married, still insisted on sending photos of his bulge straining against his tidy-whities to various women he had met online. He described himself to his sexting partners, after all, as "cranky, horny, and ready to get laid." Clearly, he was also ready to be played, because anyone who believes dick pics and nudes are safe from discovery or blackmail in the virtual nebulae that is the Internet is either naïve or trusting or stupid or all of the above.
Even when the suggestive photos are sent to someone you are in a relationship with, there's always the risk of being hacked, especially if you're a celebrity like Scarlett Johansson, or being exposed as revenge porn fodder by your spurned lover once you've broken up. And then there's Justin Bieber, who reportedly sent ex-girlfriend Selena Gomez a photo of "what she'd be missing" when they broke up, based on some of his nasty break-up text messages to her that have surfaced online. She called him a drug addict who needed help and he responded by saying, "Come on. Don't tell me you don't miss this," and sending a photo, according to the ever-reliable source Perez Hilton, of "him grabbing his erect peen."
"The problem with sexting is that it leaves behind a document of the sexual act," notes a report on yourtango.com. "If you're not doing anything with anyone you shouldn't be doing it with, then it can still lead to huge embarrassment. If you're trying to be sneaky about your sexual exploits, however, sexting is the worst way to go about it."
Former college basketball heartthrob Kiefer Ravena is certainly ruing the day he chose to begin a conversation on Viber, of all things, with an online acquaintance, a model with the Twitter handle "Geng Paltrow." This was while he was overseas with his girlfriend Alyssa Valdez, college volleyball superstar now playing pro in Thailand. He didn't seem to need much prodding to bare his boner and send photos of it to the mysterious Ms. Paltrow on Viber, who, it would appear from the message thread that was made public, had sent some rather revealing images of her own private parts. The conversation quickly turned from playful to desperate as Kiefer pleaded with her to delete the photos "para walang gulo." (So there's no more mess.)
As we all know, sexting is practically an invitation for "gulo."  Screenshots of Kiefer's conversation were leaked, everyone was shocked, the gays were thrilled (mga beki nagpiyesta), and there was some debate as to whether Kiefer's actions were tantamount to cheating on Alyssa or not. And then, in a bizarre twist, it emerged that a certain Kristoffer Ng, an Atenean like Kiefer, was arrested in a sting operation for robbery and extortion. It's not clear whether Kristoffer actually catfished Kiefer, posing as the model and con-artist Geng Paltrow, but he had attempted to blackmail the basketball player with promises to take down the posts if the athlete would send him a video of himself performing a sexual act.
Kiefer fortunately had the good sense not to do that.
True to the sex scandal playbook, Kiefer issued an apology:
"Yeah, I entertained. I made a mistake, in doing so. I'm very sorry, I'm really sorry for what happened. It's something that I really regret doing. It messed a lot of people's lives, not just mine. Mas nahihiya ako sa mga naabala kong tao (I'm more ashamed that it affected other people), more than anything else."
In yet another twist, it was reported that Kiefer's Instagram account was hacked; it has now been deleted. Instagram, if you recall, was James Franco's app of choice for sending lewd messages to an underaged girl. Not that Kiefer used his IG in the same way, at least as far as we know.
Huhuhu someone deleted my IG. 😓😓😓

— Kiefer Ravena (@kieferravena) April 4, 2017
All these scandals point to the risks involved in sending messages of a sexual nature via messaging apps. Forget Viber, forget Whatsapp, forget iMessage. Is there any app there that's safe for sexting?
Considering that messages and photos can be stored in the cloud indefinitely and live online forever, the ephemeral nature of Snapchat, one would think, would make it the preferred messaging platform for sexters.
According to Gawker, "Snapchat was supposed to be the consequence-free iPhone sexting app everyone had always hoped for: you take your nudie pic, you specify a time limit (10 seconds or less), and you send it to your sext buddy, secure in the knowledge that it would be deleted from his or her phone when the time limit ran out. Sure, Snapchat's CEO publicly claimed he didn't think the app, currently among the iPhone's most popular, would be used for sexting—'I just don't know people who do that. It doesn't seem that fun when you can have real sex,' he told TechCrunch—but we all knew the score. What else would you use an photo app with a built-in Mission: Impossible self-destruct timer for?"
Yet it didn't take long for Snapchat sexting scandals to emerge, seeing as 10 seconds is enough time to take a screenshot of your snap. While there are built-in alerts designed to notify you that someone you sent your photo to has attempted to screenshot it, you still can't stop the other person from taking a screenshot. And there are ways of taking screenshots without you being notified at all—such as setting your phone to flight mode just before you open the snap.
After being catfished, exposed, and blackmailed, the wary Kiefer has some words of advice: "Siguro, mag-ingat. Hindi lang doble ingat kundi triple ingat, lalo na mundo ng social media." (Maybe, it's to really take care. Not just careful, but very, very careful especially in the world of social media.)
Besides, isn't sex better in real life than in the virtual world?
B. Wiser is the author of Making Love in Spanish, a novel published earlier this year by Anvil Publishing and available in National Book Store and Powerbooks, as well as online. When not assuming her Sasha Fierce alter-ego, she takes on the role of serious journalist and media consultant.  
For comments and questions, e-mail [email protected].
Disclaimer: The views expressed here are solely those of the author in her private capacity and do not in any way represent the views of Preen.ph, or any other entity of the Inquirer Group of Companies.
Photo courtesy of Pixabay
Follow Preen on Facebook, Instagram, Twitter, Snapchat, and Viber